Amazon can't kill Walmart, it's online and does it well

Walmart is one of the biggest companies in the world and capable to resist the competition.
The stock price dropped but it easily can go up very soon
Walmart (NYSE:WMT) is transforming and this retailer is ready for Black Friday and Cyber Monday. Everything is in place, so shopping can start. These two holidays are a great test for Christmas. After Black Friday and Cyber Monday, the possibility for Walmart's stock price to rise is real and even before Christmas. The current price is $118.92 and it dropped by 0.37% from the previous price. But the price rose after hours to &118.95.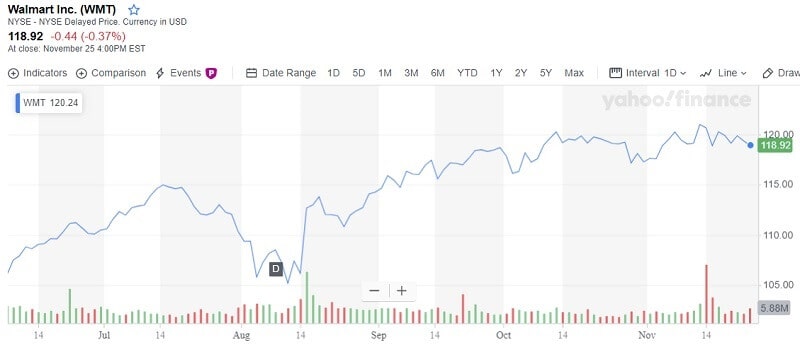 What makes us think shopping will increase?
First of all, the unemployment rate is lower than in the last 50 years, job growth is stable, salaries are rising. The St. Louis Fed published that the personal savings rate is at 8.3% which is the highest level since 2012. So, Americans will spend their money on holidays, there is no doubt. 
The holidays are great for retailers and Walmart plays a big role since it has been transforming and has been aggressively investing in online. Three years ago Walmart bought Jet.com, a US online retailer and took a large stake in the JD.com, online retailer in China.
Walmart grew its annual profit forecast because quarterly earnings beat estimates. Its shares have risen 26% and trade at 24 times earnings. 
Well, when it comes to food, Walmart is ready. The grocery is very important for the company's online business. Walmart customers can purchase groceries online, with unlimited delivery for $98 a year or $12.95 a month.
E-commerce is a field where  Walmart can get this holiday season since online shopping is supposed to grow by 14% to 18% gaining $149 billion.
But Walmart has already made profits. Walmart reported third-quarter e-commerce sales rose 41%, driven by growth in online grocery shopping. But Thanksgiving falls on Nov. 28 and the holiday shopping season is shorter by six days. This gives the company less opportunity for sales. 
As always there is Amazon, Walmart's rival. To beat the competition, Amazon announced some beneficial for its Prime members. Not for all, but still the grocery delivery will be free of charge.
Management at Walmart announced the lower prices from electronics to playthings. Walmart, also, has shown that it can balance the other features of its businesses despite the Trade war.
Walmart started offering holiday sales almost a week before Halloween this year. Well, the company called it Early Drop Deals, not Black Friday sales. The company opened its doors for the customers and made their Black Friday purchasing available earlier. Making this, the company actually spread Black Friday's shopping over more days. 
Walmart stock price and its future
Walmart's stock price dropped by 0.37% on  Monday, November 25. Now it has 3 days of dropping in a row. This could be an early signal the risk will be raised somewhat for the next few days and the stock price may slightly drop further. 
Walmart is currently in the lower frame of a small and weak rising trend in the short term. This is usually a signal for a good buying opportunity. This short-term trend shows the stock is likely to rise by around 5% in the next 3 months and stay between $124 and $128.
But Walmart stock is a good long-term investment since, as Traders Paradise can see, this stock is going to be profitable over a long period offering the revenue of almost 65%. Speaking about 5-years investment, for example, if you invest $1.000 right now your investment may grow to $1.600 at the end of that period. 

Company's ABOUT
Walmart is one of the most profitable retailers in history. It is one of the most successful and well-known companies in the world.
The company was founded in 1962 by Sam Walton, in Rogers, Arkansas with one store. To the end of 1968, the Walmart chain was expanded outside Arkansas and later opened the stores in every US state. In 1995, Walmart opened its first stores in Canada.
From 1990, Walmart is the largest retailer in the U.S. and began to expand abroad, opening a store in Mexico and opened stores in the U.K., Germany, China.
By 1999, Walmart wasn't only the biggest private employer in the U.S. but in the whole world. Today it is the 29th company in the world, as Amazon, Alphabet, Microsoft or Apple with a host of Chinese companies, have passed Walmart by.
By the second decade of this century, the chain had increased to over 11,000 stores in 28 countries.
When unsure what's the right move, you can always trade Forex
Get the number #1 winning technical analysis ebook for trading Forex to your email.
Containing the full system rules and unique cash-making strategies. You'll be surprised to see what indicators are being used and what is the master tuning for successful trades. Including case-studies and images.