Amazon's workers are under pressure, afraid of being punished if take time off, don't talk to each other during working hours
Over three months 28 ambulance calls were made from just one of Amazon's fulfillment centers asking for medical help. Over the years several were made way too late to save people's lives
by Gorica Gligorijevic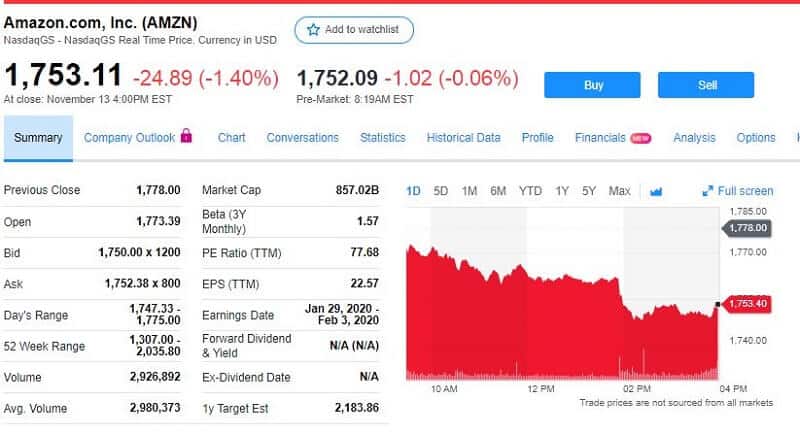 First of all, I don't need toxic toys, diet books, self-help books, or clothes that don't match the picture from the catalog. And moreover, I don't understand people who are still buying on Amazon after the reports of the inhuman treatment of their employees. For me, as an investor, is extremely important that the company has good vibes with employees. That it takes care of them, and that it is honest. 
Recently I was reading some articles about Amazon's PR "headaches" and concerns about work conditions in its fulfillment centers. The stories I found were true horror.  
The company has installed a stupid advertising campaign featuring employees saying things like: "I bake cakes every Tuesday!" 
What does it mean, for God's sake? Should it have to show us how happy they are? What's wrong with you people? Workers are not robots (yes, I know Amazon prefers robots), workers are human beings, with problems, emotions, ambitions, life outside the workplace.
Amazon's invisible army of hundreds of thousands of employees secures millions of packages are delivered every day. The employees' testimonies, I have been reading, were scary.
They expressed their long work hours as a "brutal", labor slavery, compulsory 60-hours work weeks, they are afraid to take time off, report workplace injuries, and the enormous pressure even during regular days not only around the holidays. And moreover, the company doesn't care.
For example, Business Insider reported that ambulance callouts increased during the company's busiest weeks of the year to three Amazon warehouses in the UK.
Amazon's $15 minimum wage per hour
What Amazon's workers have to do for that amount?
Amazon stated it is satisfied with its "great working conditions, wages and benefits, and career opportunities." Really?
Should we ask Nick Oates from Kansas City?
Prior to Cyber Monday in 2018, it was ugly weather in Kansas City. The governor at the time, Jeff Colyer, had to declare a state of emergency on November 25, and people had to stay off the roads. But Oates and his colleagues had to work without excuse. For several months he was living in his car and worked in the fulfillment center since he took medical leave from Amazon for depression. Nobody cared!
Amazon stated at that time: the staff is advised to stay at home if they think it's not safe to travel and can do so without fear of punishment. But Oates said his experience showed how far employees will go to provide Amazon's ability to operate. I would like to add: and how afraid they are to take time off or refuse the overtime. 
Barely these workers had been in the spotlight.
In September this year, Billy Foister, a 48-year-old warehouse worker in Amazon, died after a heart attack at work. His brother told media that an Amazon human resources representative said to him that Billy had lain on the floor for 20 minutes before getting attention from Amazon's internal safety responders.
"How can you not see a 6ft 3in man laying on the ground and not help him within 20 minutes? A couple of days before, he put the wrong product in the wrong bin and within two minutes management saw it on camera and came down to talk to him about it," Edward Foister said to The Guardian.
How is possible that the worker is on the floor 20 minutes and nobody notice that? It is unbelievable! If you have co-workers, colleagues, working with you, you are talking from time to time during the shift, you can see each other, even if you are working in some lab, not in bloody Amazon's warehouse.
More accidents to Amazon's workers 
This case isn't the first the company has been accused of providing delayed medical attention to a warehouse worker during working hours. In January this year, the widow of Thomas Becker filed a lawsuit against Amazon. She claimed that management hesitated to provide medical attention during a cardiac arrest. Becker worked at Amazon's warehouse in 2017 in Joliet, Illinois. 

From January to March 2019, over three months 28 ambulance calls were made from the warehouse in Etna, Ohio. Five employees with suicidal concerns and five on-the-job injuries. About 3,700 workers are employed at this fulfillment center.
An Amazon spokesperson said: "Safety is a fundamental principle across our company and is inherent in our facility infrastructure, design, and operations." Really? With reports of temperatures reaching 45 degrees Celsius during summers in some warehouses and workers who work in them for stretches of 4-5 hours without a break, worker safety doesn't appear to be "fundamental principle".
Bottom line
Horror stories of working conditions in Amazon and Amazon's workers have overwhelmed the news, walkouts have erupted across Europe, and lawmakers in the US have lobbied for pay raises. Amazon's founder and CEO, Jeff Bezos, has turned Amazon into a $790 billion worth company. Yes, he is the richest man in the world. But I don't have to make him richer. Not me. I wish him luck but my money will stay with me. I'll never invest in such a cruel company. Profit is important but human lives are more so. 
I don't want to say that Amazon isn't worth investing in, these are my personal reasons why I want to stay away from it.
When unsure what's the right move, you can always trade Forex
Get the number #1 winning technical analysis ebook for trading Forex to your email.
Containing the full system rules and unique cash-making strategies. You'll be surprised to see what indicators are being used and what is the master tuning for successful trades. Including case-studies and images.