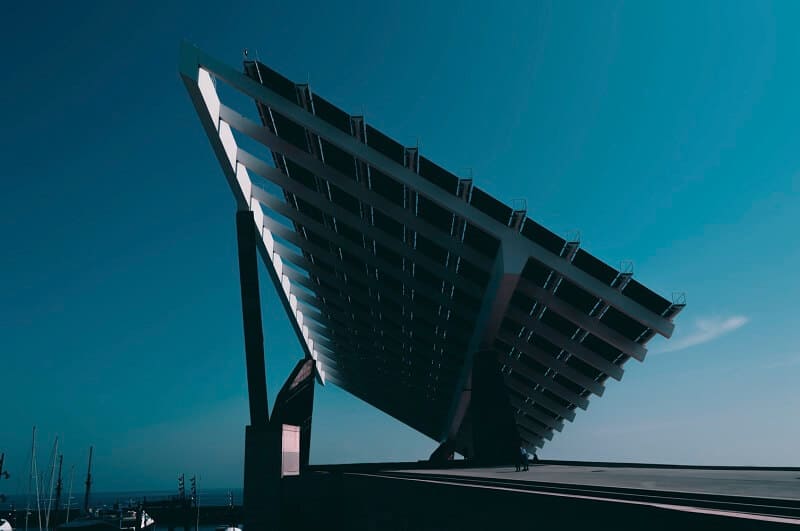 Canadian Solar (CSIQ) is a producer of silicon ingots, cells, wafers,  solar panels, and custom-designed solar energy applications. It has a 3-5 year EPS growth rate of 32%.
Market cap – 1.015B
Current price – $17.12
Volume – 819,112
 Canadian Solar Inc CSIQ will report Q3 for the 2019 result on Nov 12, before the market open.
The last reported quarter was surprising in a positive meaning. The company released huge earnings of 234.78% with an average of 115.66%.
Since the company is a producer of solar panels it is expected that the biggest growth in Q3 results will come from the sales of solar modules. We didn't notice any change in the company's fundamental business. It is still strong due to the stable average selling prices and stable demand. So, what we expect is the company will declare a rising in sales.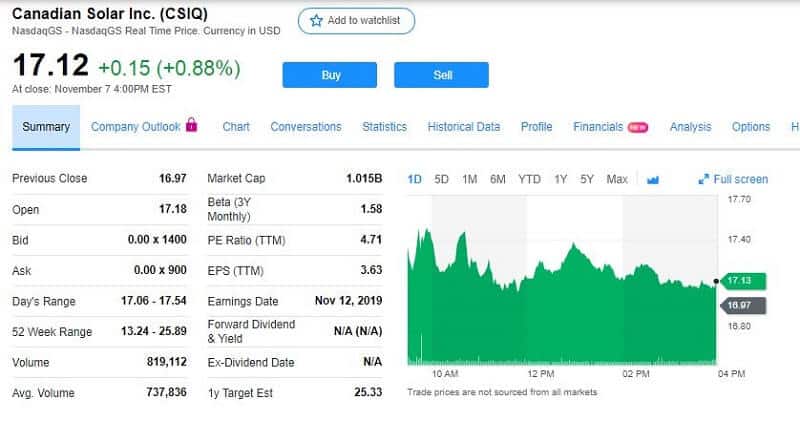 There were some interesting sales in the last quarter. Canadian Solar Inc finished the sale to Duke Energy Renewables. It was a big project, a 266 megawatt-peak solar. Also, it looks that the company finished the sales of its projects in Brazil. That is the reason to believe that the company's main growth is coming from that operations.
Some experts estimated the company's Q3 revenue at almost $800 million. That would be an increase of around 4% in comparison to the previous quartal.
But, the company had an important rise in operating expenses in the past several quarters, and the income tax expenses have risen in the same period. Speaking about a year over year earnings, it might be a decrease of around 8% in comparison to the same quartal last year.
Should you sell or buy Canadian solar stock
The CSIQ stock price:
30 day high was $19.04 and low was $16.72.
90 day high was $24.82 and low was $16.72.
52 week high for Canadian Solar Inc.  $25.89 and low $13.24
A buy signal was issued from a pivot bottom point on Wednesday, November 06, 2019. That shows further profits until a new highest pivot has been found. But some negative signals were issued too. So there are some possibilities of impact on short-term growth.

                                                                                                           Image source https://walletinvestor.com/
Hence, there is a general sales signal (the long-term average is above the short-term average) but also sales signals from the short-term and long-term average moving averages.
The resistance level could be somewhere between $17.18 and $18.52 when corrections up. The buy signals will be issued with break-up above these levels. Since the volume fell possible "turning point" is noticed.
Canadian Solar Inc. is in the middle of a very wide and falling trend in the short term. There are signals of further fall within the trend. The experts expect the price to drop almost 27% in the next 3 months and that there is a 90% possibility hold price in the range from $10 to almost $14 after these 3 months. The experts estimate that CSIQ stock is a strong sell candidate. Anyway, we will wait for its Q3 report and see the plans for the future.

When unsure what's the right move, you can always trade Forex
Get the number #1 winning technical analysis ebook for trading Forex to your email.
Containing the full system rules and unique cash-making strategies. You'll be surprised to see what indicators are being used and what is the master tuning for successful trades. Including case-studies and images.