Qorvo shares rose 20% last week.
Its current-year earnings increasing almost 10% over the last two months
Qorvo (QRVO) shares had been trading higher last week. Have you ever been thinking about owning a tech company's stock? No? Well, it's time to think about it. Avoid some regrets later. The people that didn't recognize the potential of holding stocks of Apple or Microsoft are regretting now. 5G profit is unquestionable now. 
5G stocks are in focus now. Technology has great potential and tech companies are always a good choice. 5G networks easily can be a sign of the opening of a new golden era for this technology.
Investors who are able to recognize the potential in early-stage could profit a great. One of them could be QRVO.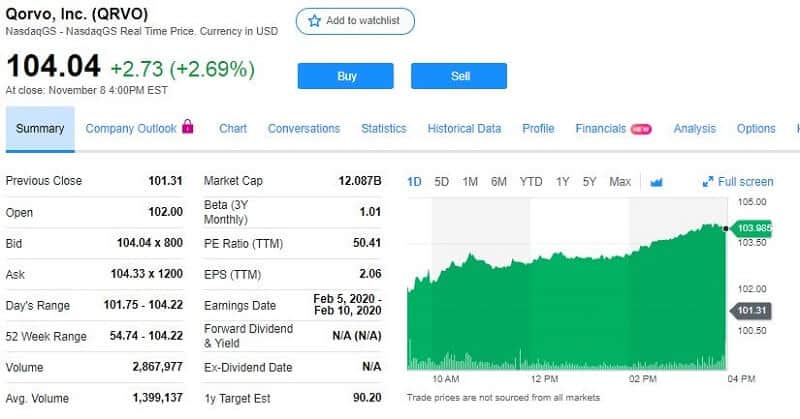 What is Qorvo
Qorvo Inc. develops, produces, and sells scalable and dynamic radio-frequency modules for mobile, infrastructure, and defense applications. It is a wireless semiconductor industry and high tech. Qorvo designs amplifiers, integrated modules, optical components, oscillators, filters, duplexers, frequency converters, switches, and other facilities for apps that run wireless and broadband communications.
Qorvo, Inc. is a provider of technologies and RF solutions and markets its products to the United States and international original equipment manufacturers and original design manufacturers. Its sections cover Mobile Products and Infrastructure and Defense Products. It works design, sales and manufacturing departments located in Asia, Europe, and North America.
Qorvo stock
The company trades on NASDAQ and its headquarters are in Greensboro, North Carolina. Its products end up on other products almost everywhere. The wireless industry is still expanding and it will be part of our lives for a long time.
The 5G stocks are better than ever and last week's earnings from Qorvo showed it is a great beginning. Its current-year earnings growing almost 10% over the last two months.
GAAP earnings weren't quite great but they are still notable strong. In the Q2 earnings report, the company reported GAAP earnings of $0.70 per share. That is almost three times the $0.25 Qorvo earned last year. But, also, the company reported sales to drop 9%.
The news looks like it's going to get better as the year advances. In its financial guidance for Q3, the company's management stated the expectation that sales should rise regularly from $840 million to $860 million. It will be much over the almost flat revenues of $758 million, which is the Wall Street prediction.
Earnings should be about $1.67 per share which is a great discrepancy with Wall Street is looking for $1.35.
Does Qorvo's stock has potential? 
Mobile demand is healthy and increasing which is good news for this company. Investors who are buying this stock are truly right. If we have info about the developments of 5G in our mind and how Qorvo plans its role among other companies, it sounds like a good choice. As we had the opportunity to see, Qorvo shares climbed 20% last week and it was aligned with its progress over the past two months.
In the third quarter of fiscal 2020, the company expects a non-GAAP gross margin of nearly 48%, and non-GAAP diluted earnings per share of $1.67 is stated in its guidance for the third quarter. 
For mobile, the company expects December quarter sales to grow as 5G handsets launch with its integrated solutions. There are also other contracts, for example, sales will increase on higher-defense business volumes. Also, increasing 5G infrastructure customer demand promises good days for Qorvo.
When unsure what's the right move, you can always trade Forex
Get the number #1 winning technical analysis ebook for trading Forex to your email.
Containing the full system rules and unique cash-making strategies. You'll be surprised to see what indicators are being used and what is the master tuning for successful trades. Including case-studies and images.