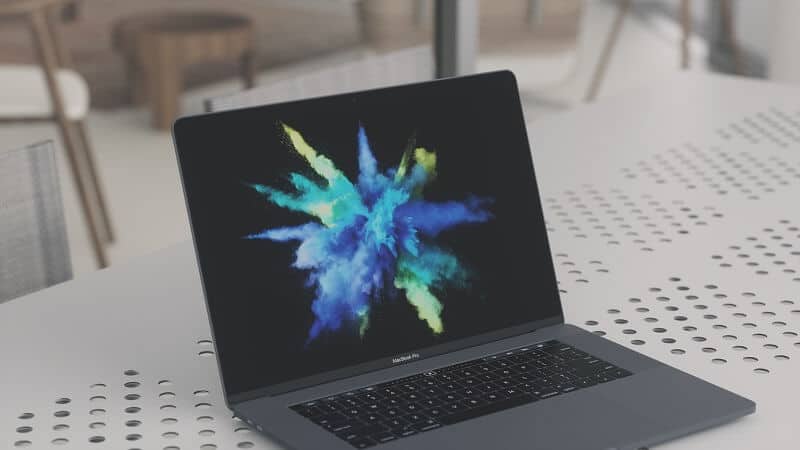 What 5G stocks will get an increase?
What are the telecom companies in the advanced stages of developing 5G wireless networks?
Faster phone speed isn't the only benefit, developing a new network is a great opportunity to invest.
Is it possible to make money in 5G stocks? It's assumed to help the next surge of technological progress. Some market analysts expect the market for 5G infrastructure to rise to $26 billion in 2022. Estimations from a few years ago foretold that 5G would be 1,000 times as fast as 4G. Anyway, it is something we have never seen before. So many companies are involved in developing 5G and almost all of them are in investors' focus. The tricky part is that we can not for sure which one will make it. Whatever appears, some 5G stocks to buy will come from the big companies, the leaders in the modern networks. 
Traders-Paradise opinion is that you should look at several companies if you want to make money in 5G.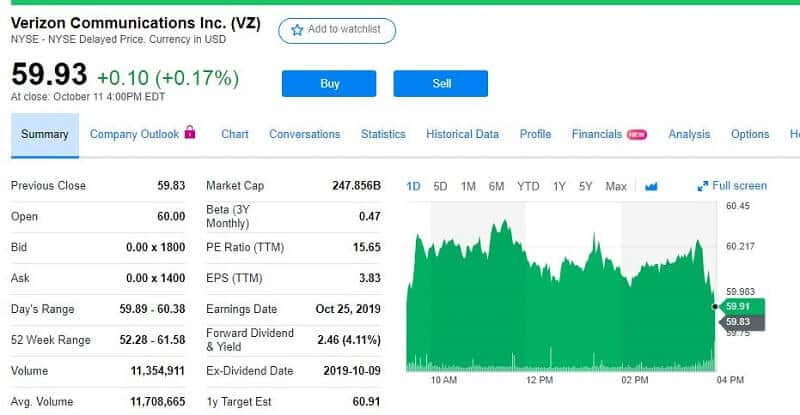 Verizon is a wireless provider company. They stated on its website: "We're building the most powerful 5G experience in more places around the country right now, so more people can experience it together."
Verizon stock is interesting for investors seeking income. Verizon 5G  stocks could have much greater demand in the future. Last month was very good for Verizon, it climbed strongly above its 50-day moving average. Moreover, this telecom titan was on the top growth stocks. The broadband companies are investing in Verizon's 5G.
In the top 50 markets, Verizon controls the ownership of key 5G spectrum bands. VZ is one of the best stocks to buy for 5G mainly for its spectrum holdings. Dividends paid at 4.2%.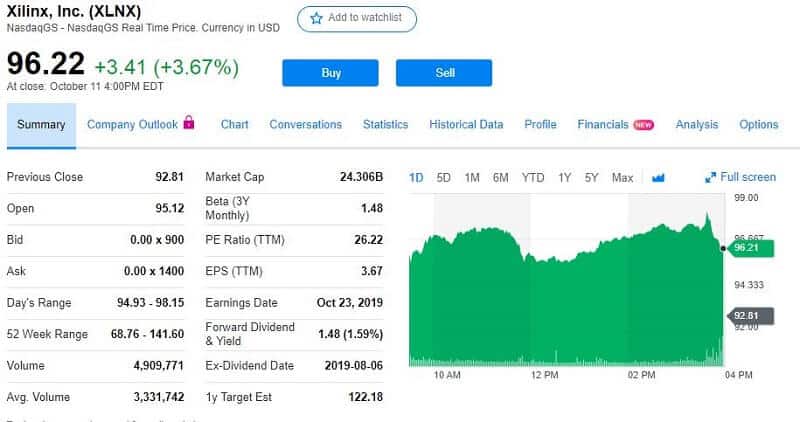 Xilinx is a chipmaker worth $29 billion. It was one of the pioneer companies to invest in the new generation of wireless networks. So it honestly gains a place as one of the best 5G stocks to buy. While the new 5G network is developing more and more, along with that infrastructure demands will rise. There will be Xilinx to sell its chips. Their chips are used as components for 5G.
The revenue in XLNX's communications division rose 74% year over year. 
According to our estimation Xilinx stock is a good long-term investment since it can be a good and profitable investment. Some analysts predict that Xilinx's stock price could reach $213.528 in the next 4 years. The revenue for a 5-years investment could be about +122% If you invest $1,000 today after 5 years it is possible for your investment to rise up to $2200,00.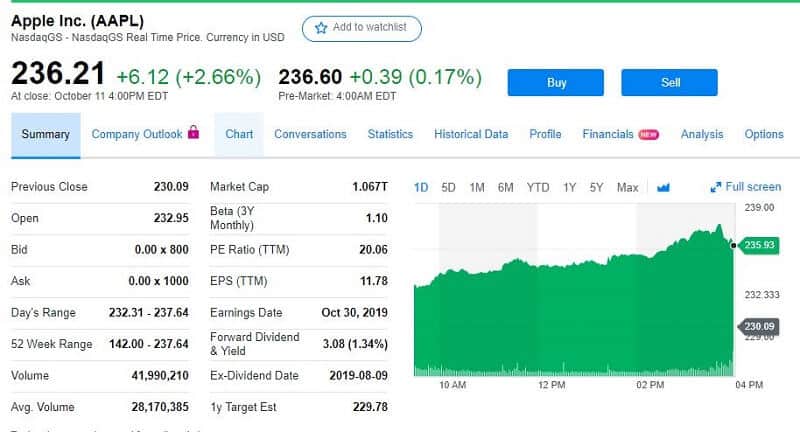 The newest version of the iPhone did not offer 5G abilities but Apple will be one of the more notable 5G stocks in the coming years. We believe that Apple will not lose the race in this field and it will have a solid appearance in this industry. Apple is one of the initial innovators in the wireless market.
Its stock trades at a P/E ratio of 20 and gives a firm record of dividends. The current yield 1,34% maybe isn't so attractive for investors, but its dividend is higher and higher every year. Apple stocks are good for long-term holding. When Apple enter the 5G market with the new iPhone offering 5G facilities, its 5G stocks will increase. Remember this, you can make money in 5G stocks.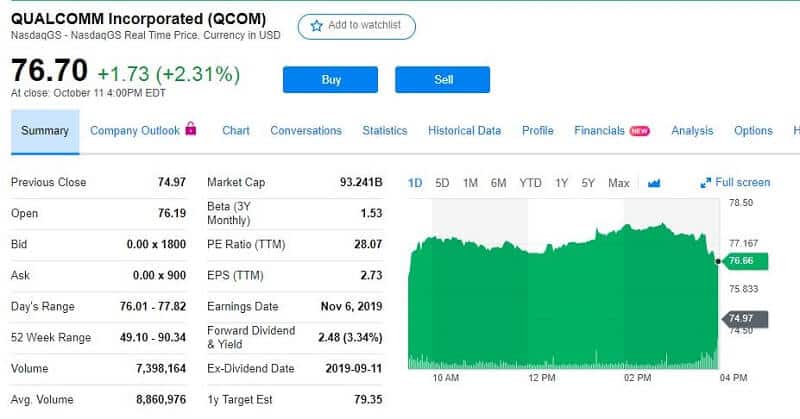 Whoever wants to produce millimeter-wave network equipment will likely to buy their chips. At the moment they are the only producer of network chips that use radio spectrum of 30GHz and above, which is the main advantage of 5G over the other technologies.
The list of 5G stocks is inadequate without Qualcomm. This chipmaker has an amazingly powerful portfolio of property related to 5G tech. A worth contract with Apple enables Qualcomm to provide chips for the iPhone for the next 6 years. So, there are no barriers for Apple to launch the new 5G compatible iPhone. 
Qualcomm spreads its 5G patents, royalties should be important to shareholders in the coming years. Qualcomm offers a 3,34% dividend.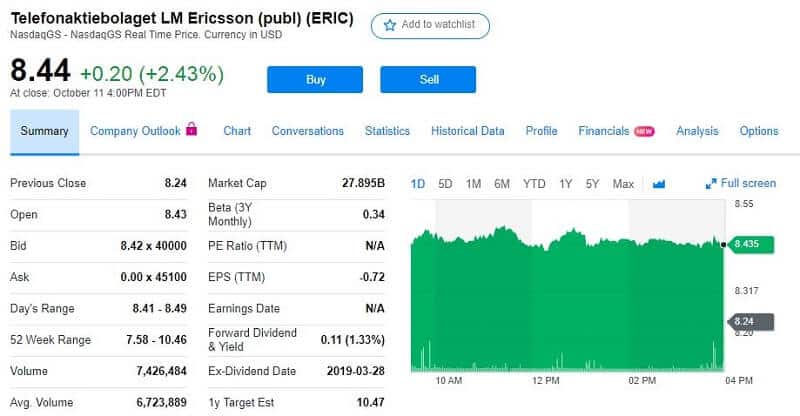 This Swedish communications equipment company is a pivotal actor in the global rollout of 5G technology.
It provides telecom companies to upgrade their networks to the new higher-speeds. Ericsson provides software and radio network hardware. Recently gained a licensing agreement with Chinese smartphone maker Oppo. Ericsson could have benefited from banning Huawei due to US national concerns.
In June this year, Ericsson estimate global 5G subscriptions to be 1.9 billion by 2024. Much more than it estimated last year.
Bottom line
The coming change from 4G to 5G cellular networks is supposed to promote the next stage of technological development and innovation. That is a great opportunity for investors in the high-tech industry. The new wireless network will be something incredible. Something with great potential for further technological developments. So, if you ask can you make money in 5G stocks, the short answer is – yes!
When unsure what's the right move, you can always trade Forex
Get the number #1 winning technical analysis ebook for trading Forex to your email.
Containing the full system rules and unique cash-making strategies. You'll be surprised to see what indicators are being used and what is the master tuning for successful trades. Including case-studies and images.