Why this stock is a good choice
Could AT&T really beat a recession? According to historical data, it is a company with very good performances, a true winner. But let's go a bit deeper.
The high dividend yield of more than 6% is awesome
35 years of continuously increasing
More than 100 million customers in the US and Latin America 
AT&T Ticker symbol T (NYSE)
Market Cap $276.278B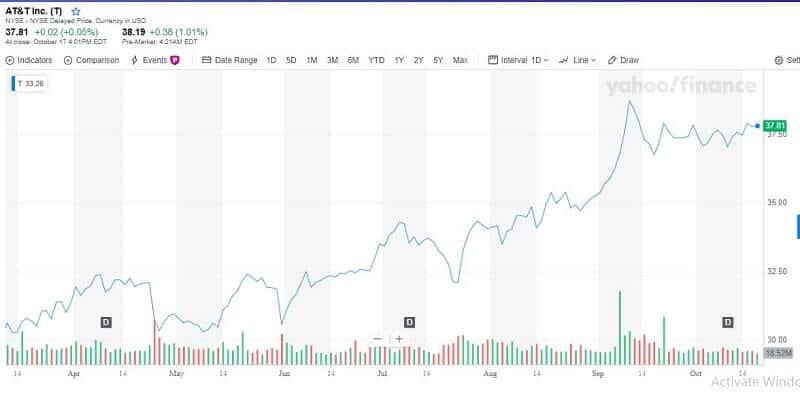 AT&T Inc. has a great history, actually, it is the history of modern civilization. When 1874 Alexander Graham Bell invented the telephone. Two financial backers found the company that became AT&T. One year later the Bell Telephone Company, the first forerunner company to AT&T, is set up and issues stock to the seven principal shareowners. In 1946 AT&T started offering pre-cellular mobile telephone service. With only three channels available for operation, it was able to provide12 to 20 simultaneous calls in a whole area. But still…
Next year AT&T develops the theory of cellular telephony. At that time, the technology to realize the theory did not yet exist. Actually, AT&T pioneered almost everything in telephony and communications. 
A century and a half long history, visions, development, continuously ups, beating the crisis, and becoming greater and greater. 
AT&T stock today
Today, AT&T Inc. is one of the best investments you can imagine. The company offers various services like cable, wireless, satellite TV, and broadband telecommunications. This means the company has an extremely well-diversified portfolio. Revenue at more than $170 billion was up by 18% in the most recent quarter. In the same period earnings per share expanding 1.2%. 
The company's important $85 billion investment in Time Warner will provide AT&T access to mass-media brands such as HBO, CNN, TBS,  and TNT. Additional competitive edge comes from programming from the NBA, the NFL, MLB. Also, its acquisition of DirecTV in 2015, constituted it among the world's biggest media companies. The management's expectations are that this will produce earnings per share of $3.60 by the end of the fiscal year.
AT&T dividends
The annual ongoing dividend makes it a top pick for income investors.
Those businesses give AT&T a wide moat, but it still has gaps. The company's long term debt is about $158 billion, reported last quarter. The company is maybe too large scope and its wireless growth is a bit slow, the news about the number of its pay-TV customers is not good. 
Moreover, the activists are forcing AT&T to consider some new opportunities for streamlining its stretched out business. First on the list is a spin-off of DirecTV. 
Several weeks ago Elliott Management revealed its stake in AT&T and pushed the company to lower costs and make management reforms. One of them is to boost the stock price. Elliott stated its programs, which incorporate an important study of assets that could be traded or spun off, could raise the stock by at least 60% by the end of 2021.
Relationship with Elliott Management 
On Thursday, 17/10/19,  AT&T shares rose 0.74% in premarket trading to $38.09. The stock has increased 32.48% year to date and 16.34% during the past 52 weeks.
The agreement could be reached very soon, maybe by the end of this month. But there are possibilities for agreement to fall apart, also. We will see.
Nevertheless, analysts anticipate AT&T's revenue to stay approximately the same next year and that earnings could rise just 2%. Those increase rates look weak, but the stock pays a yield of 5.5%. It's also boosted its dividend annually for over 35 years.
The company spent just 50% of its free cash flow on its dividend over the past 12 months. It expects to produce over $28 billion in free cash flow this year. That will be up from $22.4 billion in 2018. 

AT&T and 5G 
That could have an important influence on the company's outlook and earnings next year. AT&T already started deploying 5G in 2018. In April this year, 19 cities had access to the company's 5G network.  AT&T says the network will be more broadly available across the country next year.
Investing in AT&T is a great opportunity to grow and there is an extraordinary dividend too. Having its history in mind and its penchant for developing new technologies, AT&T is the obvious winner. Moreover, it is a company that can beat any recession.
When unsure what's the right move, you can always trade Forex
Get the number #1 winning technical analysis ebook for trading Forex to your email.
Containing the full system rules and unique cash-making strategies. You'll be surprised to see what indicators are being used and what is the master tuning for successful trades. Including case-studies and images.