Shefa Gems Ltd is a multi-commodity gemstone mining exploration company

Shefa Gems is an Israeli company, a miner concentrated on precious stones.
Shefa Gems projects are taken in Northern Israel. It is the explorer of globally recognized Carmeltazite. It is from Israel and listed on the London Stock Exchange.
Market Cap £8.6mln
Price: 5 GBX
Updated: October 29, 2019
Shefa Gems Ltd (LON:SEFA) Death of Director Abraham Ben Leah (Avi)
Shefa Gems announced that Avi Taub, Chief Executive Officer of the Company, has passed away following a short illness.
Vered Toledo, Chief Operating Officer said: "We all stayed with Avi vision and we have a mission to fulfill now – open the first alluvial gems mine in the Kishon Mid Reach northern Israel – I'm sure that with the help of God we will do it all for Abraham Ben Leah blessed memory."
Our condolences to his family and the Shafa team.
Is Shefa Gems publicly listed
Shefa Gems is listed on the London Stock Exchange (LSE) under the ticker: SEFA
In the USA trading in the Shefa Gems Shares is available via brokers such as Fidelity or Charles Schwab
Shefa Gems Ltd (LON: SEFA) is an Israel-based exploration mining company with its operations orientated to the north of the country.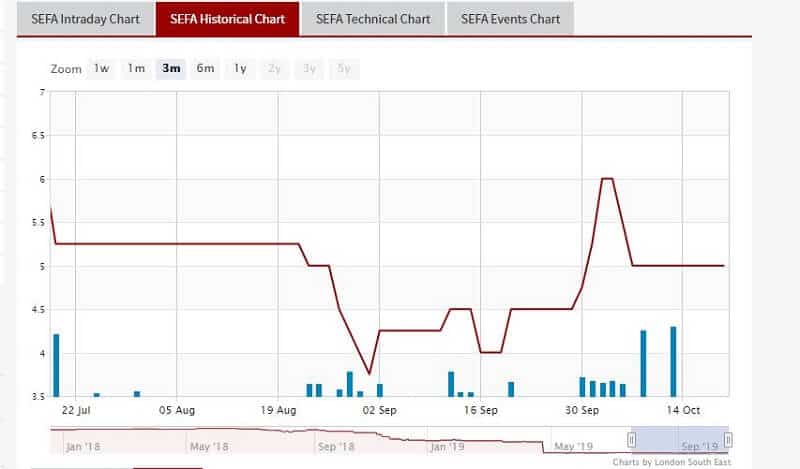 About Shefa Gems Ltd.
Shefa Gems, formerly known as Shefa Yamim, is essentially a precious stone miner. It discovered rubies, sapphires, Carmel sapphires, and diamonds.
Shefa Gems' focus is on exploration targets that it believes to have the highest upside and can be taken into production at an almost low cost. The company offers its services in Israel where founded in 1999.
Shefa Gems is a pioneer in precious stones exploration in Israel.
We found on its official website: "The first and only company in Israel focusing exclusively in mining exploration of precious stones in the North of the holy land."
Shefa Gems Ltd (LON: SEFA) has delivered the highest grade results to date from Zone 2 of its Kishon Mid-Reach project in Northern Israel.
Shefa Gems (LSE: SEFA) is currently moving towards trial mining and revenue generation at its Kishon Mid-Reach project in the Mount Carmel region of Northern Israel. Besides regulatory and operational works to reach the result, the company is developing an intelligent marketing strategy. They are creating a jewelry collection in cooperation with the internationally acclaimed designers.
The company is a multi-commodity explorer and the Kishon Mid-Reach is its primary asset. It a 4.5km-long and 150m-wide ground. The company has separated this field into three zones. Every zone is at different stages of exploration and development. Currently, most of the work is in Zone 1
Shefa Gems finished an independent technical-economic evaluation on Zone 1 in February 2019 and found that the first mine should be able to process 1.5Mts of gravel over 11 years. This capacity can probably be doubled, showed the result of the evaluation, by halving unit operating costs to $10.15/t.
The Possibilities
The company owns two prospectings and one exploration permit in northern Israel, covering a total area of 614 square kilometers. The main exploration spots are the primary volcanic sources on Mount Carmel and the secondary sources of valley-filled sediment deposits everywhere the Kishon River.
At Mount Carmel, the company has permission for 4 sources: Rakefet Magmatic Complex, Muhraka, Har Alon, and Beit Oren.

To date, most of the exploration work has been carried out on the Rakefet Magmatic Complex. The geological mapping and rock and soil sampling are completed. The gems and industrial minerals are found.
At Kishon, the main exploration target is the Kishon Mid-Reach. There is the company's most high-level exploration project and open-ended exploration activities are being initiated to determine a SAMREC compliant Mineral Resource. 
In October this year, the company performed its highest degree results to date from Zone 2 of its Kishon Mid-Reach project in Northern Israel. A sample yielding resulted in a mineral collection grade of 467 carats per 100 tonnes.
The company renewed its license for Zone 1 in August this year for added 12 months.
Shefa Yamim, today Shefa Gems Ltd. is listed on the London Stock Exchange in December 2017 after a placing and subscription at 110p per ordinary share. The company's initial market capitalization was approximately £15.3mln. The company was 75% in the ownership of the subsidiary of Shefa Yamim Ltd, listed on the Tel Aviv Stock Exchange. After the London entry, the shareholding of Shefa Yamim Ltd has reduced to 48.9%. Traders-Paradise's opinion is that investing this stock can have potential in the future.
When unsure what's the right move, you can always trade Forex
Get the number #1 winning technical analysis ebook for trading Forex to your email.
Containing the full system rules and unique cash-making strategies. You'll be surprised to see what indicators are being used and what is the master tuning for successful trades. Including case-studies and images.