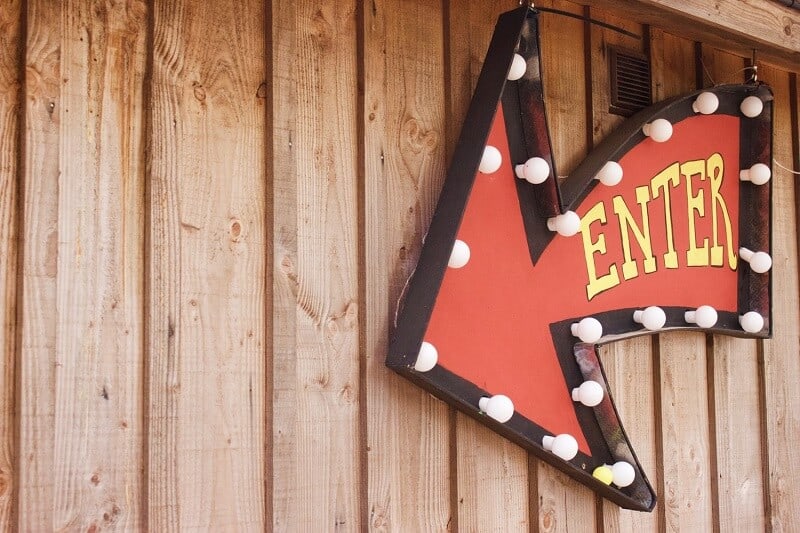 European stocks pulled back on Wednesday. Headlines on Britain's last efforts to progress a deal with the EU left investors attached to the outcome
.
The pan-European STOXX 600 index closed down 0.1% with London's exporter-laden FTSE 100. FTSE index, which tends to fall when the pound increases, closed with 0.6% of the decline. It looks that the expectations of a no-deal Brexit weakened.
Germany's GDAXI. DAX gained 0.3%, and France's CAC 40.FCHI was flat.
The interesting thing is that investors' focus turns to Europe's earnings season. Analysts assume an earnings recession to expand. Several reasons are behind this expectation. The companies fight with uncertainties about Brexit, a U.S.-China trade and Germany's recession.
Experts are expecting for STOXX 600 companies to report a fall of 3.7% in third-quarter earnings. Just a week ago they were forecasting a decline of  3%, so the result will be worse.
We said this before but investing in European undervalued stocks can be very profitable despite the media reports. After Traders-Paradise gave you and short view on Asian undervalued stocks, there are some European undervalued stocks worth buying.  
Ticker symbol HENKY
Market cap $42.215B
Current price $23.49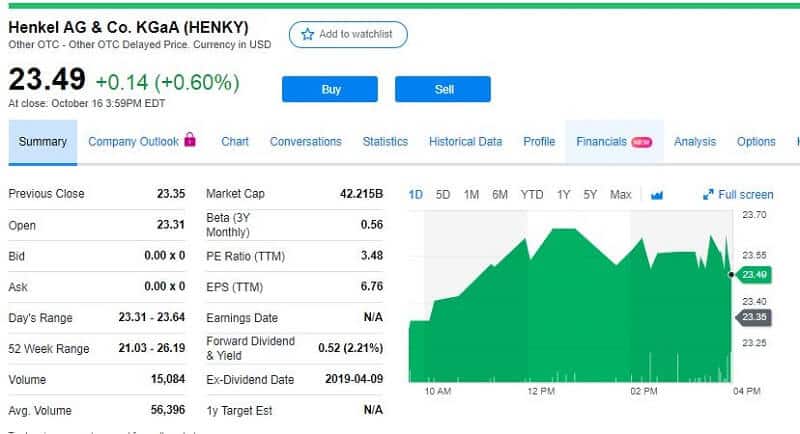 Here is the last half-year report for 2019 from Henkel. The company was founded in 1876 in Aachen. They marketed his first product a universal detergent with silicate used as a base.
Today it is a big company, the German glue, and detergent maker with headquarter in Düsseldorf, Germany.
At the beginning of this year, Henkel has warned profitability will fall in 2019. The company redirected investment to encourage growth in "a challenging market". The performance last year wasn't good and shares in Henkel dropped more than 10% after the announcement in January. Despite the company's announcement that planned a more generous dividend policy from this year. The producer of Persil and Loctite had to informed investors that adjusted earnings per share growth would be lower than in 2018.
Henkel still has organic growth. In the first six months of this year, sales rise by 2.8% to 4,969 million euros, organic growth +0.7%. The free cash flow in the first quarter of this year was considerably higher than in the previous year when it was 22 million euros. The company is investing in growth and improving competitiveness.
Compared to Procter & Gamble Henkel is quite cheap. Its stocks are a very good long-term investment.
Ticker symbol RHHBY
Market Cap $245.384B
Current price $35.74

Roche Holding was founded in 1896 by Fritz Hoffmann-La Roche. In the beginning, the company was known as the producer of various vitamin preparations. Later, in 1934, the company was the first to mass-produce synthetic vitamin C, known as Redoxon. In 1957 it started production of benzodiazepines, for example, Valium and Rohypnol are the best-known. Roche has produced different HIV tests and antiretroviral drugs. Today it is the leader in manufacturing and selling various cancer drugs.
It is a research-based healthcare company. The company operates businesses organized into two parts: Pharmaceuticals and Diagnostics. Roche develops medicines for oncology, immunology, infectious diseases, ophthalmology, and neuroscience. Its best known pharmaceutical products are Avastin, Bactrim, Bondronat, Cotellic, Dilatrend, Dormicum, Invirase, Kadcyla, Lariam,  Madopar, Neupogen, Pulmozyme, Rocaltrol, Roferon-A, among others. 
The suggestion is to buy stock in Roche Holding AG. The company has a steady rating since September.
Ticker symbol BASFY
Market Cap $67.285B
Current price $18.27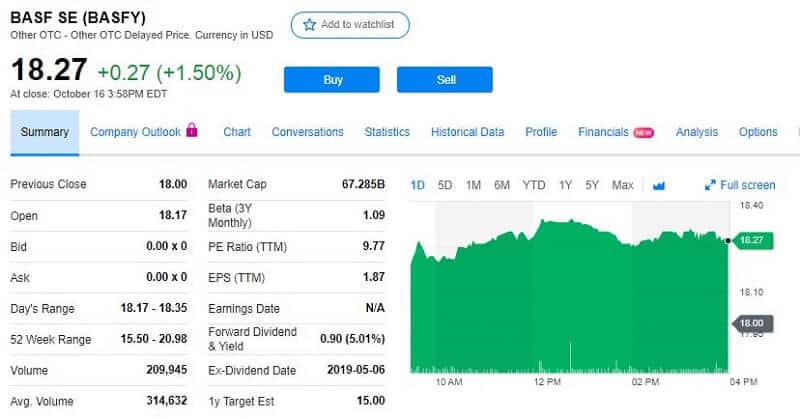 Its headquarters is in Ludwigshafen, Germany. The company was founded in 1865, as Badische Anilin-und Soda-Fabrik AG. There are some facts connected to its operations, actually not the bright one.  BASF was extremely influenced company from 1924 to 1947, also BASF was helping to secretly rearm Germany, at that time being a part of IG Farben. Near the end of WWII, the BASF production facilities at Ludwigshafen were bombed. 
Today BASF SE is a chemical company and one of the largest chemical producers in the world. The BASF Group operates in more than 80 countries and contains almost 390 production sites in Europe, Asia, Australia, America, and Africa. The company has customers in more than 190 countries. 
At the end of 2017, the company hired around 115,500 workers. The company developed its international enterprises in Asia, for example in places near Nanjing and Shanghai, China and Mangalore, India.
The investment analysts suggest buying or holding stock in BASF SE. 
Bottom line
These European undervalued stocks are the companies with good competitive power, with stable balance sheets, low debts, and good cash flows. They are the cheapest in the same industry but the range of their increase can be huge and hence the profit along with it. Anyway, they are undervalued now for different reasons. That can be re-structuring, investing in researching, or something else. Everything influences the stock price as investors already know.
Traders-Paradise chooses these three European undervalued stocks based on their market potential.
When unsure what's the right move, you can always trade Forex
Get the number #1 winning technical analysis ebook for trading Forex to your email.
Containing the full system rules and unique cash-making strategies. You'll be surprised to see what indicators are being used and what is the master tuning for successful trades. Including case-studies and images.