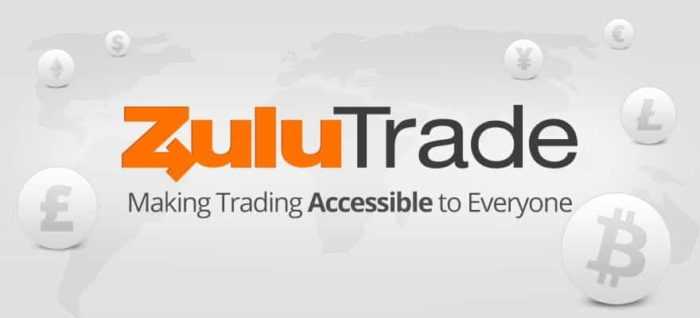 Trading conditions:
Tradable assets: more than 100
Option profitability: up to -%
Minimum deposit: $300
Minimum trade amount: $10
Demo account: yes
Online registration: yes
Call support: no
Chat with support: yes
ZuluTrade is a very unique and innovative online social and copy trading platform. It brings traders from over 50 trading brokers together on one single platform- ZuluTrade. It allows traders to connect with one another and copy their every trade automatically in a safe and secure environment.
ZuluTrade was founded in 2007 by Leon Yohai and Kosta Eleftheriou. Leon Yohai wanted to build software that allowed him to copy the trades of the best traders. By 2009, the company has over 4,500 'expert' traders (signal providers), and it was their portfolios who users could copy to make money.
What's new about their site?
By the time 2014 rolled around, ZuluTrade had re-designed their website. They added a number of features, such as ZuluGuard, and had 120 employees, 40 of whom were in customer support.
In May of that year, the company announced a partnership with SpotOption, to create a social trading platform for binary options.
2015 brought with it a success as the platform was awarded an EU Portfolio Management License from the European Union. The resulted in the company becoming both legitimate and respected in the trading world.
Platform 
Leon Yohai had the vision to create a web-based platform that could connect traders, enabling them to share their strategies while at the same time auditing traders globally.
Therefore, ZuluTrade is not your traditional trading brokerage as it is primarily a platform enabling traders to collaborate and copy one another.
 Essentially, it allows traders to copy the trades of experienced traders in the forex and financial markets to achieve a level of automated trading.
However, the social element also enables traders to leave feedback and share ideas. Today it boasts around one million users and executes a trading volume in excess of $800 billion.
With the popularity and publicity around ZuluTrade and social trading at the moment, we've seen the question on whether ZuluTrade is a scam or whether it's "real" raised a few times. Based on vast amounts of experience with other social trading networks and Forex trading in general, we thought it might be useful to share our point on view the 'scam or not' debate.
The regulation
The ZuluTrade platform is regulated in two regulatory jurisdictions; Greece's Hellenic Capital Market Commission (HCMC) and Japan's Financial Services Agency (FSA).
As well, they have obtained a Portfolio Management License from the European Union and are partnered with over 50 online trading brokerages, many of which are regulated from regulatory agencies from around the world.
In addition to being a highly regulated investment service, ZuluTrade has also won various awards for their proficiency in online copy trading services and customer service.

Today the company continues to innovate and strives. It wants to reach its goal of becoming the world's largest financial community. They to provide customer-focused investment solutions and the largest social trading community in the world. 
Minimum Initial Deposit
ZuluTrade has a relatively low minimum deposit requirement. Certain brokers available with ZuluTrade require a minimum deposit of just $1, others may require more.
You can sign up for their demo simulation account for free.
Spreads and Commissions
The spread will vary between brokers. The currency pair and time of the day can also influence the spread. For instance, brokers often widen spreads during periods of high volatility.
A commission is charged per trade by the brokers, in addition to the normal spread, for linking your account to ZuluTrade. This can be as low as 0 with ZuluTrade's own broker, AAAFx, and up to three pips elsewhere.
Leverage
Most people are aware that leverage can be used to increase potential earnings.
But before you download an account, you should also note trading on leverage can amplify losses and open you up to margin calls.
However, the higher the leverage, such as 1:1000, the lower the used margin. This means an increase in the free margin and margin level. However, this can lead to overtrading and with a high drawdown, your account may strike a stop out level.
It's recommended to use 1:100 leverage in order to avoid risk.
Other trading fees
You can be charged an overnight rollover/swap fee. The amount will depend on the currency pair you are trading. While these costs can cut into profits over a considerable time period, intraday traders shouldn't encounter these fees.
Besides that, we didn't find any other additional costs. ZuluTrade explained on their website that the traders you copy are paid directly by ZuluTrade. As part of the commission.
Also, when you visit their website, you may find deposits bonuses and promotions.
From the point of investors, we found ZuluTrade is very transparent about all the data they share with investors.
We found they share:
Every single trade with time and date stamp a trader has done in the past. Most other networks only supply a sub-set.
Only ZuluTrade currently provides information on how many actual investors (followers) have made per trader and in total.
Only ZuluTrade shares average historical spread per broker and per trader.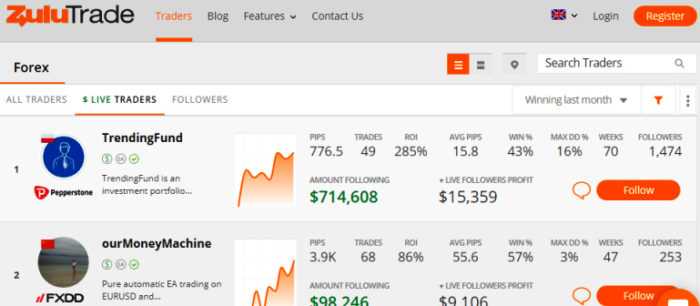 The other networks remove traders from their listings because they blew their accounts.
Only ZuluTrade gives us their full profiles and trade data
As far as we know, ZuluTrade is the only network trying to identify and show when the trader sends signals from multiple accounts. They all are linked and displayed, so it is easy to detect traders who tried multiple failing systems in the past.
ZuluTrade provides you with all the data to recalculate any of the statistics they provide in the trader profile screens. In addition, they're not hiding accounts from traders who lost money or remove negative feedback from followers.
In our experience, there's no other major social trading network as transparent as ZuluTrade in terms of the data and information they share with their customers.
To call it a scam because of the very poor quality of some of the traders/signal providers on their social trading network would be unjustified.
Would you call the DOW, NASDAQ, DAX or LSE a scam because they listed companies which went out of business or who's share prices dropped significantly?
No, we don't think you would, since the stock exchange is the enabler. But it's the investor's responsibility to understand the risk when buying shares.
The same goes for ZuluTrade. No one can predict which traders will be successful and which ones won't.
If you think that historical trades are not real and are manipulated, you have to compare the results you see from copying the trades on your live account with the results displayed in the ZuluTrade interface.
And you will see.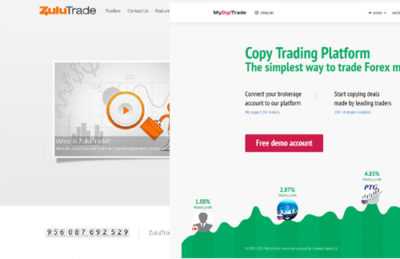 They offer a fully functioning demo account which anyone can try. There are no limitations on the functionality of the demo account. It is very important before investing, the possibility to try and copy some traders and see what the results would be after a few weeks or months.
The trading platform currently provides trading for stocks, forex, binary options, commodities, such as oil. And indices, such as the NASDAQ. The platform allows you to clone the strategies of top traders.  
The user base is split into two essential categories:
Signal providers –  traders who are willing to share and be copied by their followers. Their compensation fees are determined by the success of their strategies.
Followers – users who copy the strategies of the signal providers. They can also copy strategies of the portfolios created by other followers.
The ZuluTrade platform is fully compatible with all mobile devices such as Apple, Android, Windows, and Blackberry. The platform features full functionality with a tweaked but similar interface to allow for a seamless experience on mobile.
Main features
Margin Call-o-Meter – This estimates the chance your account will run out of money, for example, if you get a margin call. This helps you establish how much of your capital you are actually risking. However, this is just an indicator and should not replace an effective money management system.
ZuluScript – This enables you to create scripts that form the parameters for trading bots. These are also commonly known as expert advisors (EA). This gives you trade automation, allowing you to execute far more trades than you ever could manually.
Cryptocurrencies – Traders can take a view on whether cryptos are the next big thing or a bubble.
ZuluGuard – A unique feature that protects Copy Traders if erratic trades are opened by traders they are following. An excellent risk management addition.
Lock Trade – This allows you to verify the execution of a trade after the signal has been received.
Automator – 2016 saw the introduction of 'The Automator'. This notifies you by email or automatically executes actions when events occur. This function acts on rules that you add. For instance, if profit and loss from Trader X are more than $1,500, then lock the current profit. This can all help you to minimize risk and free up time. 
You can use the ZuluRank calculation too.
This proprietary algorithm ranks traders by a number of different factors, including:
Sharp ratio
Low drawdowns, high profits
Age of signal provider
Amount of trade activity
The Frequency that trader logs in
Length of time trade stays open
ZuluTrade has a clean interface design. The operating system allows users to understand everything.
The great user experience.
You can open the account with a low entry fee of only $300. This is much lower than many other social trading platforms.
We don't believe ZuluTrade should be labeled as a scam.
They're probably the most transparent of all major social trading networks in terms of sharing the historical trade information of the traders on their network. They also don't censor negative comments or feedback on their own website.
There's a free demo to try and anyone wanting to invest ZuluTrade with real money can do so from $300.
You can try everything first and no one will force you to make massive investments (which is what serious scams or frauds are often about).
The bottom line
True is that the quality of plenty of the traders may be poor. But it's up to the investor to decide who to copy.
And to understand the risk. It's also up to the investor to decide whether this type of investing is right for them and if unsure to contact a financial advisor.
No, Zulutrade is not a scam. Actually, we can highly recommend ZuluTrade.
Risk Disclosure (read carefully!)
When unsure what's the right move, you can always trade Forex
Get the number #1 winning technical analysis ebook for trading Forex to your email.
Containing the full system rules and unique cash-making strategies. You'll be surprised to see what indicators are being used and what is the master tuning for successful trades. Including case-studies and images.