Tweet and discover trouble crowd.
1 min read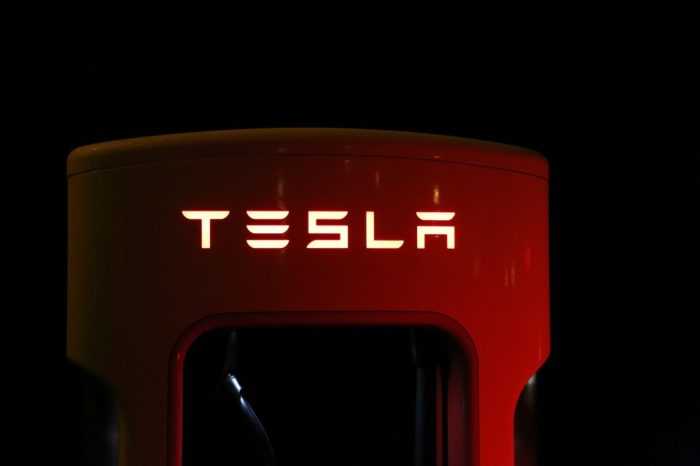 Short of it would be that Elon Musk is in trouble. Long, that he's really really in trouble.
It all started on August 7th when he tweeted that he is considering taking Tesla company private at $420 per share buyout and that he has secured the funding needed to do so. From there the things just snowballed. First, the price of Tesla stocks sharply raised to $379 from $341, then short-sellers started voicing their concern that Musk has attempted to manipulate the price of stocks of his company in an effort to hurt them financially and the USA Security and Exchange Commission has started an inquiry into his tweets.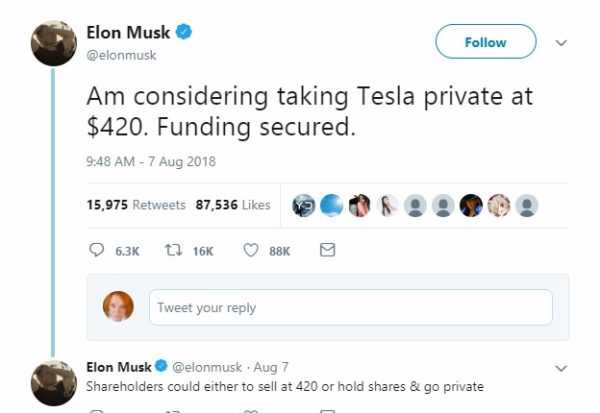 Elon Musk – The naughty guy in the world of white collars
But the Musk's troubles do not end here. In a bit longer Instagram story, of which post is now deleted, rapper Azealia Banks claimed that she witnessed over the weekend after 7th August, while visiting her Canadian colleague and Musk's girlfriend Grimes, entrepreneur's meltdown and him being scolded by Grimes for tweeting about the buyout while under the influence of LSD. That tale continued with a bizarre string of posts made by Banks in which she demands from Musk to return her phone so she could retrieve her "quality nudes" and go home. A phone which allegedly Musk's lawyer blackmailed her and paid off her lawyer into handing over to "delete evidence".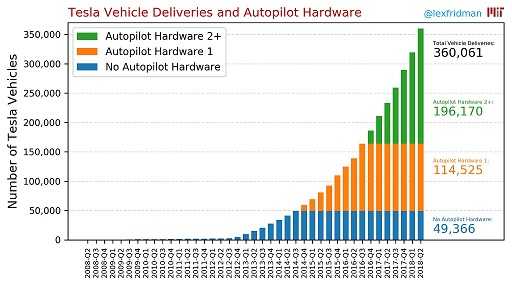 The tweet is a trick?
Elon Musk is known for taunting short-sellers on Twitter, and many of them observe the situation with that knowledge in mind. In the light of that fact they are seeing the tweet about taking Tesla private, and some have decided to file a class action suit against Musk as they see this tweet as a securities fraud. Such also may be the conclusion of the SEC investigation, but with the regulators being customarily tight-lipped about their investigations we may wait up to a couple of years before finding out whether they will take any legal actions against Musk or not. For now, the only thing which can be concluded about it is that SEC is under great public pressure to take legal action against Musk.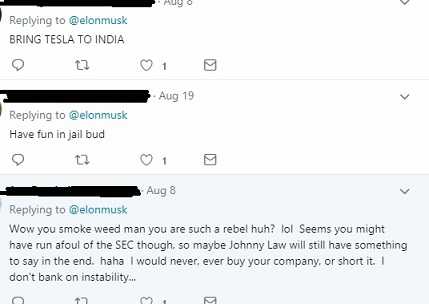 Whole this time Musk did not sit idle. He has already given a lengthy interview to the New York Times defending his actions. Going as far as to claim that he just added customarily 20% premium on top of the then current price and that he just rounded it up and came up with $420 per share. And that it has nothing to do with marihuana and drugs sub-culture iconography. He self-effacingly lambasted own over-reliance of automatization of production as the reason for not meeting the production goals. Also in recent days, there was a deluge of articles and op-eds written in big financial media glorifying Musk's work ethics and lamenting about his pains of having to work on his own birthday. Alas, Musk might be an entrepreneurial genius but the math is not his stronger suit as 120% of $341 is not $419 as he claims.
What will happen with Elon Musk and Tesla we will find out in the future, for now, one can only see this tale as a cautionary one.
Kids do not do drugs, and if you do them do not mix them with social networks.

Risk Disclosure (read carefully!)
When unsure what's the right move, you can always trade Forex
Get the number #1 winning technical analysis ebook for trading Forex to your email.
Containing the full system rules and unique cash-making strategies. You'll be surprised to see what indicators are being used and what is the master tuning for successful trades. Including case-studies and images.