Trulieve Cannabis Corp reported higher-than-expected revenue in the Q3 earnings report. The company started trading in the U.S. on the OTCQX markets under the ticker symbol TCNNF and trades on the CSE as TRUL.
Trulieve Cannabis Corp. reported higher third-quarter revenue at $70.7 million which is a surge of 150% and a net income of $60.3 million. Trulieve Cannabis (CSE: TRUL) (OTCQX: TCNNF) published earnings for the third quarter of 2019 yesterday (November 18) after the closing bell. The company reported its revenue increased 22% quarter over quarter and 150% over Q3 2018. That was quite a surprise in comparison to the analysts' expectations since they projected revenue of $64.6 million The company reported revenue of $57.9 million in the prior quarter.
Trulieve Cannabis Corp. stock was traded at $11.30 yesterday.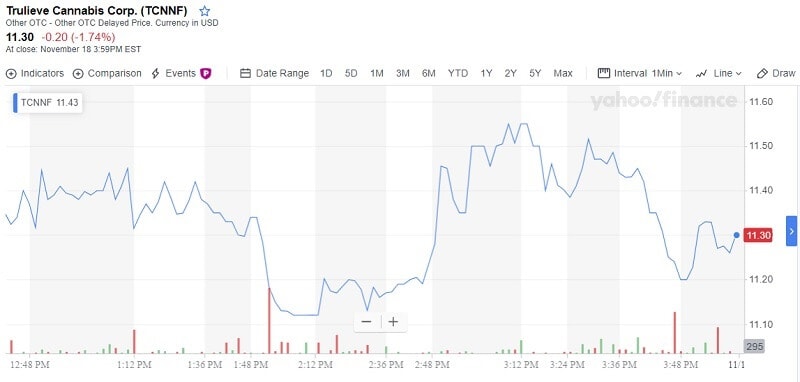 Market Cap  $972.79 M
Last price $11.500
The excellent part, Trulieve posted a net income of $60.2 million. This was the second strong quarter for Trulieve.
What did the Trulieve report?
First of all, an increase of 19% of Florida patients. The company opened six new dispensaries there and now it has 35 in total with almost 215,000 patients or users of the smokable flowers.
Further, the company completed its second public debt deal and received $61 million in gross.  The company had available cash of $100.8 million. Trulieve reported cultivation capacitance of approximately 1.6 million sq ft after made deals in Quincy, Florida, and Massachusetts, Holyoke.
"Trulieve's strong brand, wide-ranging access to stores, and authentic customer experience have resonated with our customers and patients. The third quarter was also successful in further strengthening our position in our existing markets as well as preparing for new market entry. We continue to build operational efficiencies and financial discipline to ensure a solid foundation, cash reserves, and the right tools at our disposal to expand our footprint. Looking ahead, this is an exciting time as we execute on our strategic vision to be one of the top-performing cannabis companies in North America," said Trulieve CEO Kim Rivers.
Also, Trulieve stock has increased by 40% this year as the S&P 500 index grew by 25%.
Trulieve Cannabis Corp. increased adjusted EBITDA of $36.9 million
Why is this important?
EBITDA stands for Earnings Before Interest, Taxes, Depreciation, and Amortization. It is important because EBITDA is the primary source of all reinvestment in the operations and for returns to shareholders.
EBITDA is the highest level of cash flow that provides businesses to grow. If the company wants to grow it is necessary to reinvest. EBITA is a measure of cash flow.
Investors and analysts are focused on EBITDA because it shows the company's capacity to produce cash flow enough to meet all of the demands of the business. Also, to provide fair returns to shareholders.
So, we can say, the higher the company's EBITDA, the better the value of the company. That's why Trulieve Cannabis Corp.'s increase in adjusted EBITDA of $36.9 million so important.

Trulieve Cannabis Corp. ABOUT
Among multistate operators, Trulieve is the most profitable. It is largely present in Florida.
Trulieve Cannabis Corp. operates as a holding company in the United States and Canada. The company operates in the cultivation, possession, sale, and distribution of medical cannabis through its subsidiaries. It is the leading medical cannabis company in Florida. 
Trulieve went public in Canada via a reverse takeover with a past mining company.
"There are some complications with being a cannabis company in the United States and having primary operations in the United States. So an RTO was the way that we needed to go," said  Kim Rivers, the CEO of Trulieve.
Trulieve managed to avoid the traps of acquisitions because it can be exceptionally costly. This kind of careful fiscal management, and not usual for cannabis businesses, is a big help to Trulieve's successful operations.
35 Ways to make money online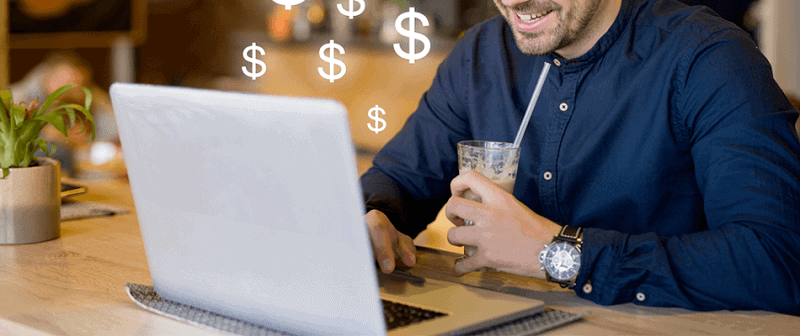 Bottom line
Trulieve Cannabis Corp stock is not for long-term investing. TCNNF stock can be a bad, high-risk long-term investment option. The current price is $11.500, date 2019/11/19, but your investment may be decreased in the future. These kinds of stocks are very risky but may produce high returns.
When unsure what's the right move, you can always trade Forex
Get the number #1 winning technical analysis ebook for trading Forex to your email.
Containing the full system rules and unique cash-making strategies. You'll be surprised to see what indicators are being used and what is the master tuning for successful trades. Including case-studies and images.