Shares Of AT&T dropped temporary and could easily reach $40 to the end of the year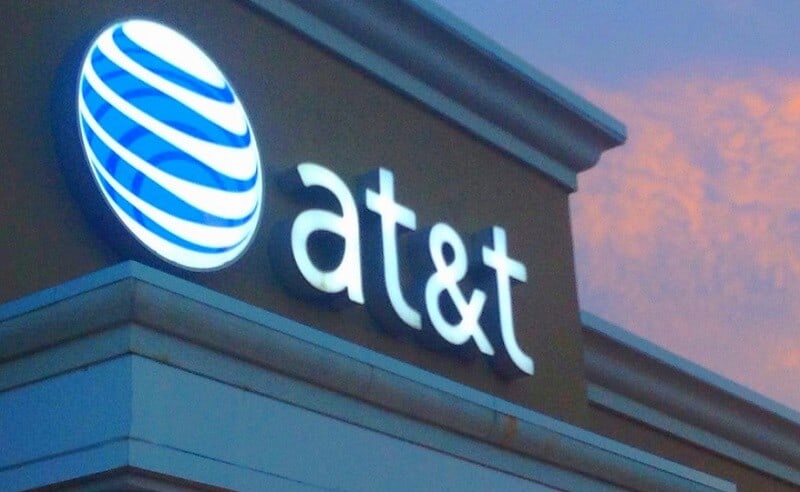 T stock has dropped more than 4% on Tuesday. The current price is under $38.00.
UPDATE 2019/11/22: Telefonica (Spain) has signed a contract to use the last-mile network of its U.S. competitor, AT&T, in Mexico. Spanish Telefonica has signed a deal to use some of AT&T's infrastructure in Mexico.
AT&T stock price was up and traded at $37.60 on Thursday, November 21 which is a 0,42% increase in comparison with the previous day.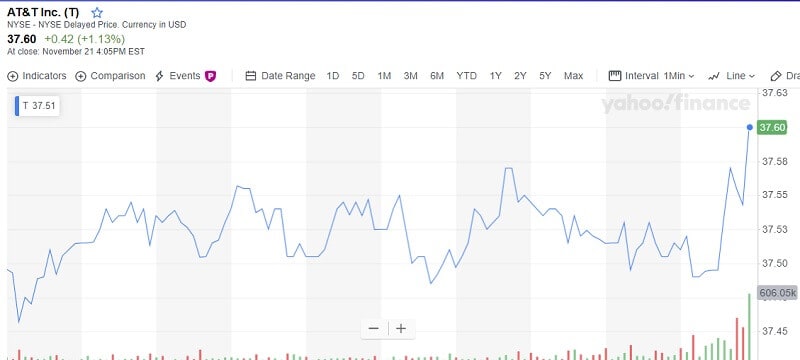 T stock has dropped more than 4% on Tuesday. It happened after MoffettNathanson's Craig Moffett lowered the stock to sell. Behind this stands the understanding thatAT&T has bigger problems than the other participants in the wireless scene could be. 
The truth is that the wireless industry is growing and there are more and more competitors out there but Craig Moffett wrote to investors that "the real problem is everything else" pointing the 60% revenues: "Everything else is 60% of revenues. Wireless will have to do an awful lot of heavy lifting."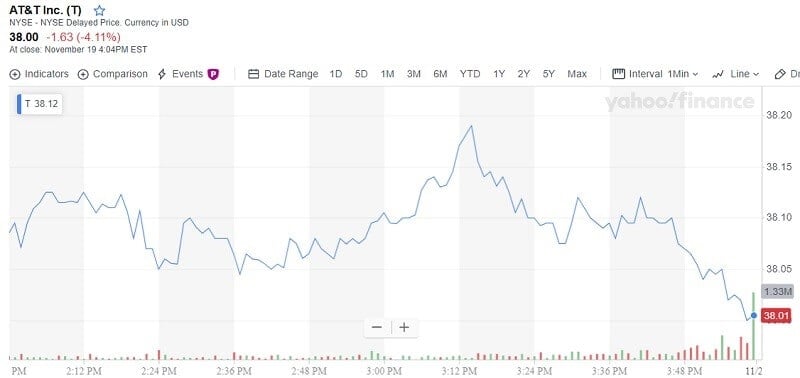 T stock is downgraded from sell to neutral
Moffet wrote: "Despite a target price well below AT&T's recent trading range, we've remained Neutral since our upgrade from Sell last November, based largely on the view that global yield starvation would attract capital to AT&T irrespective of its fundamentals."
T stock has dropped on analyst's skepticism that the company is able to score its 2020 revenue target. This recommendation on the shares is very unusual and even more, he repeated his estimation at $25 per share price target on AT&T. Moffet's opinion is based on decreasing growth, a declining number of users and dropping video revenue at the company's entertainment segment, especially at Warner Media.
As Moffett sees the last chance for AT&T is the wireless business, but that job, according to Moffett, is questionable due to the intense rivalry in the area.
Moreover, HSBC, Investment banking company, also published an announcement, in which they are predicting that difficult times are ahead for the telecom companies. AT&T is on the list.
"AT&T's new offerings are "a bit aggressive," wrote HSBC analyst Sunil Rajgopal.
Shares of AT&T is up
Moffett said this is in spite of declining fundamentals and he is suspicious of what is the future company's outlook. Moffitt admitted that AT&T has de-lever its balance sheet, as they promised and maintain stable EBITDA, but also he stated: "But even as the company has delivered on its promises for 2019, the picture for 2020 and beyond has gotten cloudier."
AT&T's dividend yield is 5.15%. AT&T shares have increased by 39% this year. Yes, the competition is bigger than ever and AT&T will have a lot of pressure on its wireless business to produce great results.
Bottom line
AT&T stock price has been showing a rising tendency. 
What we think is the future price of this stock could surpass $43 after a year. As we can see, this current decline in price is temporary and the stock could recover in the next two weeks and reach $40 to the end of the year. So, try not to sell in panic and hold your AT&T stock. If we are right about price growth of 13% and you have invested $1000 in AT&T stock, your investment might be worth $1130 at this time next year.
Yes, AT&T Inc holds sales signals. Current resistance is at $39.11 and $39.24. If break-up occurs above any of those two levels the price will go up and it will be a buy signal. Our opinion is that this stock's price may slightly decline further until finding a new bottom pivot. The price will fall because the volume increased on falling prices on Monday, November 18, 2019. But as we said, it could be just temporary.

When unsure what's the right move, you can always trade Forex
Get the number #1 winning technical analysis ebook for trading Forex to your email.
Containing the full system rules and unique cash-making strategies. You'll be surprised to see what indicators are being used and what is the master tuning for successful trades. Including case-studies and images.