Builders FirstSource Inc is a good long-term investment with the possibility to produce almost 30% of revenue
Builders FirstSource Inc BLDR stock is, according to analysts, rated as a buy. In November it was upgraded from a hold rating.
This third-quarter earnings season, many companies reported better earnings per share and beat the experts' estimations and expectations. There were a lot of outperformed stocks and investors are interested to add them in their portfolios because they want strong returns. But which one or few to choose? The market noise is enormous and it so hard for individual investors to make such a decision.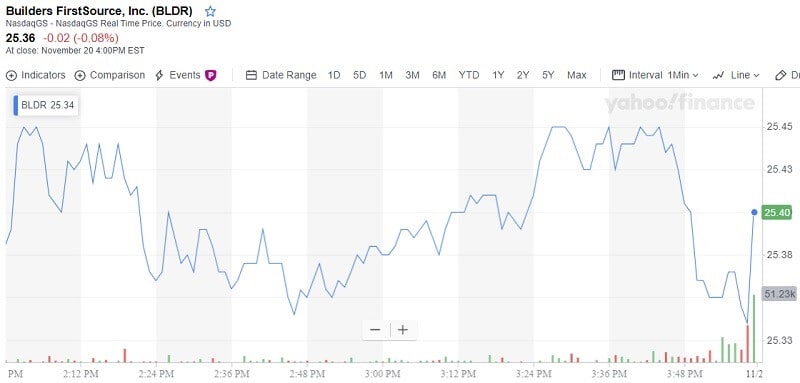 Builders FirstSource (BLDR) is currently recommended as a buy. This stock is trading with a P/E ratio of 12.74. Meaning, at current prices, you have to pay $12.74 for every $1 in trailing yearly profits. Over the past 52 weeks, BLDR's P/E ratio has been as high 25.65 and low 10.15. But value investors use the P/S ratio as a metric also. You can find the P/S ratio when divide the stock price by sales.
On the last day of October Builders FirstSource issued its Q3 earnings report.
Builders FirstSource's quarterly earnings were $0.72 per share, meaning it beat experts' expectations. The earnings per share were $0,67 for the same quarter last year.
So, we can easily see earnings of 20%. Surprised? For the previous quarter,  it was supposed that this company would report earnings of $0.48 per share. But it delivered earnings of $0.63, showing an increase of 31.25%. For the last 12 months or 4 quarters, Builders FirstSource has exceeded consensus EPS estimates 4 times.
The company posted revenues of $1.98 billion for the third quarter. This compares to year-ago revenues of $2.12 billion. The company has beaten consensus revenue estimates two times for the last four quarters.
"Our strong third-quarter growth in sales volume and margins combined with our focus on working capital management generated another quarter of strong cash flow.  We were also pleased to deploy capital on an accretive acquisition, while at the same time, further improving our ratio of net financial debt to Adjusted EBITDA to 2.5 times," said CFO Peter Jackson.
BLDR stock is currently trading at $25,36.
What's next for the Builders FirstSource stock?
The tricky question indeed. The price made a slight decline of 0,02% yesterday. You can use one simple measure: the company's earnings outlook. You have to examine the current earnings expectations given by the experts but most importantly you have to check how their predictions have changed.
The stock is bullish and Traders-Paradise opinion is the price can go up from $25.50 to $27 over the next 12 months. So, we can say it is profitable to invest in Builders FirstSource stock since the long-term earning potential is about 7.00% in the same period.
The company's ABOUT
The company is a supplier and manufacturer of building materials, components, and construction services. 
Builders FirstSource provides an integrated solution to its customers offering manufacturing, supply, and installation of building products such as windows, doors, and millwork lines.
Its products are the factory-built roof and floor trusses, wall panels and stairs, vinyl windows, millwork and trim, and engineered wood designed, cut, and constructed. It constructs interior and exterior doors. 
The company is headquartered in Dallas, Texas.

Should you buy the Builders FirstSource stock?
Traders-Paradise predicts a future increase in values of Builders FirstSource, Inc (BLDR) stock. If you want to hold stock with good return, Builders FirstSource, Inc might be a good option for you. Builders FirstSource, Inc quote is $25.36 at 2019/11/20. Based on previous performances this stock may be worth up to $32 with revenue of almost 28% after a five years period. If you invest $10.000 today in this company, after 5 years, it is possible to have about $12.800.
When unsure what's the right move, you can always trade Forex
Get the number #1 winning technical analysis ebook for trading Forex to your email.
Containing the full system rules and unique cash-making strategies. You'll be surprised to see what indicators are being used and what is the master tuning for successful trades. Including case-studies and images.