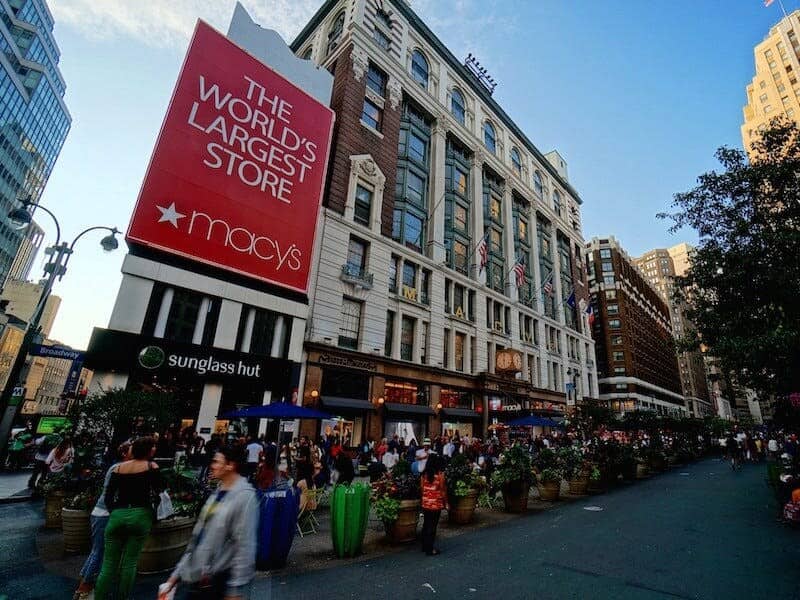 Bargain hunting indicates that a stock is undervalued and is therefore worth less than it should be. Being ready to choose undervalued stocks is pretty much a talent. How stock can be undervalued? This one is.
Macy's Inc  (NYSE:M) is undervalued stock. How do we know that? We all could see, now almost at the end of the year, it was the worst-performing stock in the S&P 500 in 2019. The company cut its earnings guidance and the stock fell for 48%. 
But here is the tricky part. Don't you dare to think that some stock is worthless when it touches the bottom? Don't! When some stock is cheap it is still an opportunity to buy it. Such stock doesn't deserve to be ignored. You must have a bigger picture and evaluate the market capitalization, the price of the whole company. The market cap of Macy's is $4.813 billion. Not too much but still. Let's go further. Macy's is still a profitable company that makes almost $1 billion in profits this year. The company was forced to cut its guidance because the gross margin has fallen from 38.5% to 39.7%. That was one of the reasons.
But its sales proceed to drive in the right way with a rise of 0.4% over the last 11 months. 
Moreover, Macy's has a lot of expensive real estate that it's slowly twisting capable to consolidate the value.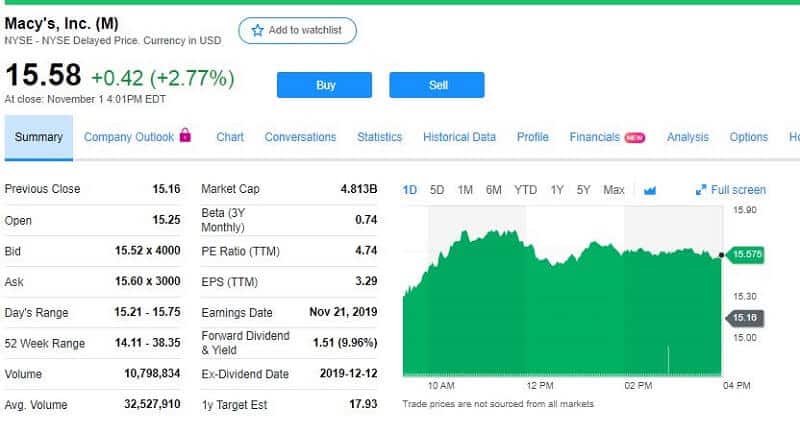 The company's market cap isn't mentioned accidentally. Macy's expects to sell assets for $100 million profit and already has a real estate that was priced at about $16 billion by the investment firm Cowen. It was 3 years ago. Compare this value in real estate with its market cap. If you calculate the company's real estate, plus $100 million in asset sale gains plus future rising sales, plus dividend yielding 9.96%, what can you conclude?
Macy's is the candidate for the bargain hunters
.
The real lure for value seekers. To reveal all about Macy's we will tell you that it is risky stock regarding the change in retail. The whole truth is the stock is currently trading at a P/E of less than 5. 
A stock's price is a mixture of investor estimates for future growth/revenue/dividends/ and it is only a matter of belief as to whether some stock is undervalued. It is always a question will your estimation for the company's future growth be firmer than the estimation of other investors. 
The point is to be able to notice the value. The value investing will help you to improve long term returns. 
Normally, value investors are looking for stocks with low-value multiples and ratios. The most popular variant is the P/E or stock price to earnings ratio. That will not account for growth, of course. A low P/E seems good.  
Why analyze Macy's stock as a candidate for bargain hunters?
The stock market is an almost all-time high, and value stocks are often ignored. But recently, the investors are paying more attention to value stocks. So, maybe it is a good time to analyze some of them. Our first suggestion is Macy's Inc but there are more value stocks out there and worth your attention. They are lately undervalued which makes them favorable if your estimation shows the growth potential in the future. Macy's has a great history. It was founded in 1858 by Rowland Hussey Macy. Moreover, in 2015, Macy's was the largest U.S. department store company by retail sales. Today it has 584 stores throughout the US, Guam and Puerto Rico. 
In the second quarter of 2019, Macy's shares dropped more than 13%. On August 14, shares were worth $15.82. That was their lowest since February 2010. 
Our current pick for a candidate for bargain hunters is Macy's Inc. Watch this stock.
When unsure what's the right move, you can always trade Forex
Get the number #1 winning technical analysis ebook for trading Forex to your email.
Containing the full system rules and unique cash-making strategies. You'll be surprised to see what indicators are being used and what is the master tuning for successful trades. Including case-studies and images.