3 min read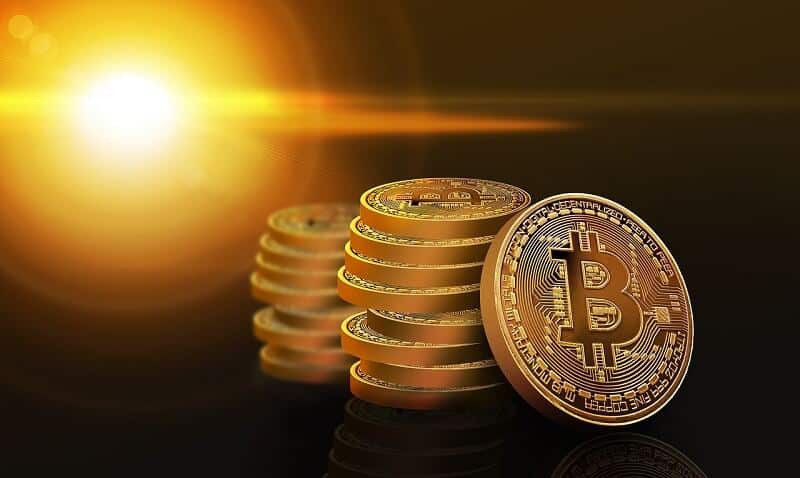 Bitcoin has been growing of the new week after a drowsy weekend. The Chairman of the Federal Reserve revealed the chance of Bitcoin becoming the globally dominant currency. Hence, the current reserve assets could be worthless, admitted Fed.
Let's see first how Bitcoin performed in the past days. The Bitcoin price showed bullish signs this past week. But why now seems all of that real energy has vanished once again. What can we expect in the following days?
Take the quiz at the end!!!
Bitcoin made a drastic turnaround from where it was six months ago. At that time the prices pined around $3,500. But enthusiasm over broader mainstream approval has increased the hum about cryptocurrencies. The result was: the prices have the flight.
John McAfee made a bet on July 17th, 2017: One single Bitcoin would be worth $ 500,000.00 in three years. Later he made some corrections and foretold $ 1 million by the end of 2020.
Is that prediction really reasonable?
Bitcoin price is about $11,300. To gain $1 million by the end of 2020, BTC should have a permanent-growth rate of almost $ 0,5 per day starting from the price level $2, 250 how much it was in 2017. on McAfee's date of prediction.
Yes, Bitcoin price so often changes the value so the 0,5% doesn't sound too much. The charm of exponential increase.
Bitcoin is limited. There is 21 Million BTC. Period. You see, we have more millionaires on this planet. There are not enough Bitcoins for each of them.
The principle of how Bitcoin rise is simple.
The more people are buying it, the price is higher.
The market capitalization of bitcoin is still small. Of course, if we make a comparison to the stock market or gold for example.
There is no need to buy one Bitcoin as a whole. You can buy a part of a bitcoin, so-called bits. And what will happen? The more people are buying, the price will grow more.
There is no need to buy one Bitcoin as a whole.
You can buy a part of a bitcoin, so-called bits. And what will happen? The more people are buying, the price will grow more. Moreover,  the popular fiat banking system is too complicated and you will find that bitcoin is a lot more practical. The price will jump again.
Bitcoin against the politicians
U.S. President Donald Trump on Thursday said he's "not a fan" of cryptocurrencies. Moreover, he recommended that Facebook may need a banking license if the company wants to launch Libra. Sic!
May any president have an influence on crypto?
Well, Bitcoin doesn't care about their opinions.
Anyway, Mr. Trump tweeted: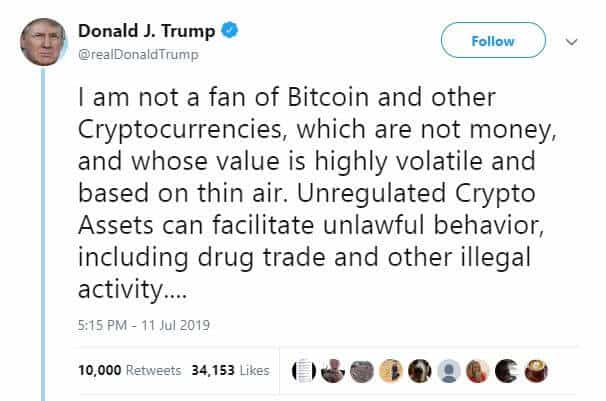 Take the quiz at the end of the post!!!
… and about Facebook's Libra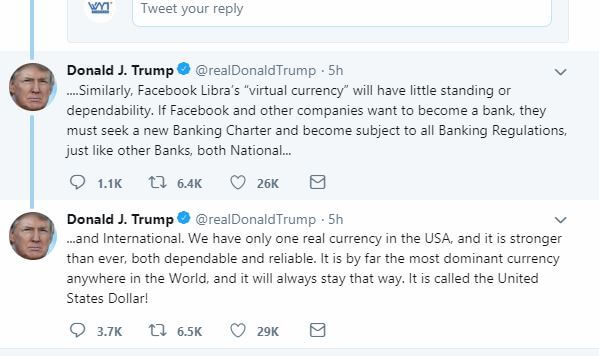 In the past 24 hours, the price of Bitcoin rose 7,9%.
The other cryptocurrencies recorded even higher increases. Ethereum rose nearly 8% and Monero more than 13%.
And BTC against the dollar marked changes that should cause the upsets. According to CoinDesk: it touched an unusual of $12,033.74 and a low of $11,142.79. Who won't be worried?
Bitcoin did not respect Trump's anti-crypto comments.
We saw the last trading! After Trump's tweets, the BTC price was higher for 1% in one day, the price was $11,447.
Even more, crypto doesn't care about the Fed's opinion. 
Federal Reserve Chair Jerome Powell talked largely about Facebook's Libra. 
Powell accented that before proceeding, Facebook needs to address "serious concerns" in regards to "privacy, money laundering, consumer protection, and financial stability."
Same old words!
The bottom line
What we can say about the future of Bitcoin price is that there are some chances to drop below $11,000. The crypto market is well-known as volatile. But it can rise to $16,000 also to the end of July.
This old guy is smarter than we think and no one should underestimate a possibility to surprise us. Moreover, many traders expect exactly that. The price to go up.
When unsure what's the right move, you can always trade Forex
Get the number #1 winning technical analysis ebook for trading Forex to your email.
Containing the full system rules and unique cash-making strategies. You'll be surprised to see what indicators are being used and what is the master tuning for successful trades. Including case-studies and images.