Why buy bitcoin on a dip, experts suggest that and my analysis shows that. Here you'll find why it is a good long-term opportunity.
Analysts from Investment bank Goldman Sachs has advised investors to capitalize on the new dip and buy bitcoin. The bank stated that its short-term target for bitcoin is $13,971. It also suggested to investors to buy Bitcoin on any dips in the current situation.
This statement was provocative for Su Zhu, co-founder, and CEO at Three Arrows Capital. He tweeted: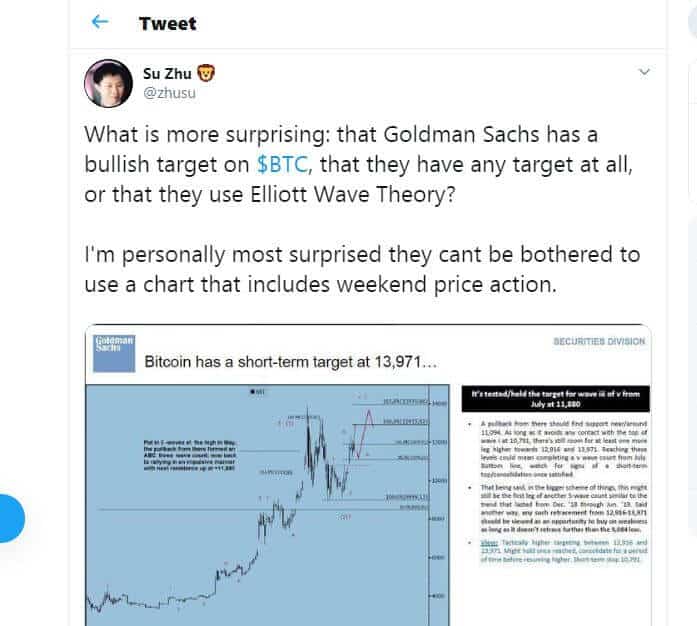 The bank concludes based on its Elliott Wave analysis, bitcoin will have support around $11,094. Also, they founded a nice scope for a move higher to $12,916, then $13,971.
"Any such retracement from $12,916-$13,971 should be viewed as an opportunity to buy on weakness as long as it doesn't retrace further than the $9,084 low," the statement declared.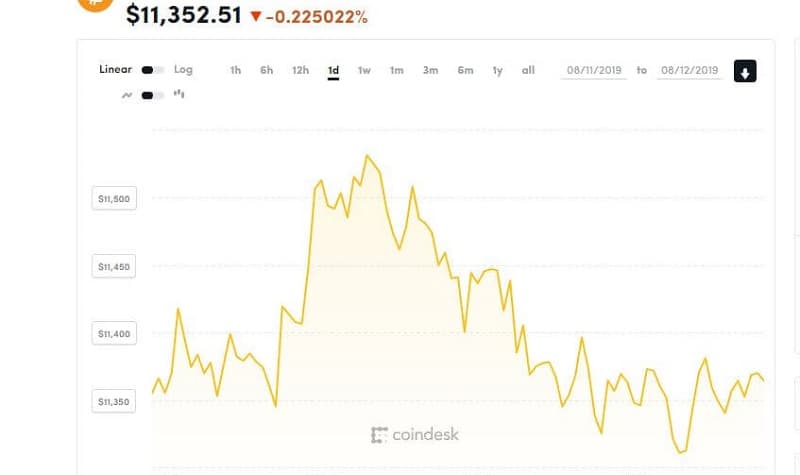 If Goldman Sachs' analytics are correct, and their advice to buy bitcoin on a dip, we will see bitcoin recovered to 2019 highest level.

Goldman Sachs' analysis is based on the CloudMiningIndex (CMI) bitcoin futures market, meaning analysis didn't cover weekend prices. Therefore, that were the gaps in the chart over the weekend at the time when futures markets are closed. If you are an individual investor you are free to neglect this advice. It is only for institutional investors.
Applying Elliott Wave theory, Goldman predicts a short-term rise that could pop the previous highs in 2019.
Buy bitcoin on a dip for long-term investment
If you are or you plan to be a long-term investor, bitcoin shows a great buying opportunity at current prices. Goldman Sachs stated that any pullback under $13,000 is a sign to accumulate. The statement implies that if the price explodes once again it will be more valuable.
"In the bigger scheme of things, this might still be the first leg of another 5-wave count similar to the trend that lasted from Dec '18 through June '19."
We saw that in the first half of this year.
Bitcoin already had such 30% pullbacks. To be honest, you will not profit at all if you buy a bitcoin during the bull market periods. Buying dips is not profitable for a long time ago. But Goldman's suggestion pushed other analysts who claim that buying bitcoin in dip from fast runups is a good idea. Goldman stated that the price will hopefully strengthen again after  $13,971price and after that point, it will be pushed even higher. Bitcoin has confusing price action for several days until now. A break is above Wednesday's high of $12,145 and that is needed to refresh the bullishness. On Tuesday Bitcoin hit a bid at $9,100 and grew to $12,325. 
In the Asian market, the bitcoin price was $12,040 during the trading hours but felt below the $12,000 mark. On Friday it hit the fourth day in a row of bull failure over $12,000.
The intraday highs of $12,325, $12,145, and $12,061 were on Tuesday, Wednesday and Thursday.

Actually, bitcoin charts show lower highs above $12,000 and higher lows since Tuesday. That restricting price range is a sign of hesitation in the market.
The consolidation is also a sign of bullish tiredness because it comes after a 35% price growth during the past eight days.
Bitcoin could possibly proceed to consolidate to the end of August but also it can fall back to $10K. The price prediction isn't quite possible because the market is still struggling at the resistance level. If bitcoin makes a break above the trend line that will be the sign of bigger movement, maybe higher than $15K to the end of this month.
When unsure what's the right move, you can always trade Forex
Get the number #1 winning technical analysis ebook for trading Forex to your email.
Containing the full system rules and unique cash-making strategies. You'll be surprised to see what indicators are being used and what is the master tuning for successful trades. Including case-studies and images.