Healthcare ETF is good for investors with less risk tolerance
Vanguard Health Care Index Fund ETF is one of the largest in the stock market
Vanguard Health Care Index Fund ETF is focused on stocks in the U.S. health care sector. It is managed by Vanguard and is covering health care stocks in the U.S. stock market. It is a big fund that holds shares of 388 companies. The Fund owns shares of Pfizer Inc, Merck & Co, AbbVie Inc., Johnson & Johnson, UnitedHealth Group Inc., and Abbott Labs. Its 10 top holdings account for almost 45% of the portfolio. But the fund has an extremely good diversified portfolio. It has holdings in pharmaceuticals, biotechnology, health care equipment, health care, supplies, facilities, services, technology, distributors, and life sciences tools and services.
Healthcare stocks are hot
Everyone needs health care and everywhere. But the main source comes from boomers. We have nothing against them, but the truth is that as people are aging, they need more health care. Correlated with this is the increased demand for medical products. But this isn't the whole truth. 
Also, there is great progress in new technologies that are likely to create great growth for companies in this industry. 
For example, pharmaceuticals. You can see drugmakers that are developing new procedures, new methods, and drugs. Today we have personalized therapy, based on personal genetic data for each patient individually. This is especially important for cancer treatment, for example.
Today, biotechs and pharmaceutical companies are practicing gene editing as the treatment for rare genetic diseases.
The healthcare field is huge and connected. For instance, for early diagnosis of cancer, the liquid biopsy is very popular today and accurate. But someone had to develop it. The same is with AIs and robotics, medical device companies are developing new types of high-tech equipment. So many companies are involved to improve healthcare services. Look at the telehealth, it is adopted broadly. We have robots as surgeons. Monitoring patients with chronic diseases out of hospitals is easier than ever.  
These products are not aimed at older populations only. Also, we have great progress in aesthetics, skincare, body care, hygiene, etc. 
Can you see now why healthcare is a hot zone of interest for investors?
Vanguard Health Care Index Fund ETF Shares 
Vanguard discovered the ETFs. 
It tracks the performance of the MSCI U.S. Investable Market Index (IMI)/Health Care 25/50.  
This ETF has delivered an average annual return of 9.47% since it started in 2004. It has generated average annual returns of 9.78% over the last three years and 9.2% over the last five years.
The Fund's dividend yield is of 2,1%, the expense ratio 0.10% which is one of the lowest among ETFs.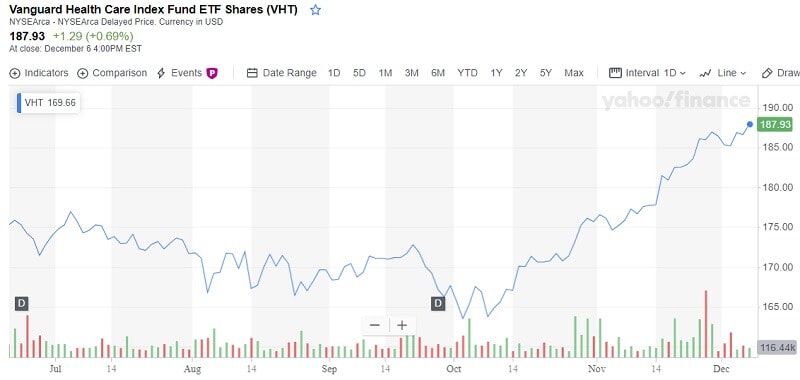 Vanguard Health Care gives wide exposure. VHT stock is cheap to hold. Its liquidity is strong. The problem is the same as with other Vanguard funds. It is restricted transparency since the holdings are published monthly with 2 weeks delay.
Still, for the long- term investors a reduction of transparency shouldn't so much important. VHT fell by -0.13% on Thursday, December 5, but rose for 0,69% on Friday, December 6. The current price is $187.93, $1.29 more than the previous one. Daily fluctuation of stock was 0.79%, a day high was $188.50, a day low was $187.02.
During the last 2 weeks, the stock price was shifting up and down but still, the 2-weeks gain was 2.78%.
Since the volume has increased by 47 673 shares on falling prices, you should take this as an early sign of increasing risk in the next several days. Anyway, the price is dropping so it is time to buy it.
According to analysts, the stock is in the upper line of a rising trend in the short term. This can be a very good selling chance for the short-term traders because the move towards the lower band of the trend can be expected.
If the price breaks up the top trend line at $188.45 it is expected to increase by 11.09% in the next 3 months with a price between $195 and $210 at the end of this period.
Bottom line
Investing in a healthcare ETF decreases the risks for investors thanks to a diversified portfolio across various stocks.
Moreover, ETFs can modify their holdings when it is necessary. Also, healthcare ETFs can resist during economic downturns because we will all need medical care no matter if it a crisis or not. But keep in mind, ETFs can drop during the crisis or recession too. They are not immune. But as the lesson from 2008, when some ETFs dropped by two-digit percentages, they had been rising again and did it fast.
For trading stocks use our FREE Trading Exit Strategy, to calculate and optimize the numberless exit strategies, an app that you have for the first time in history.
Featured image credit: *Total Shape*
When unsure what's the right move, you can always trade Forex
Get the number #1 winning technical analysis ebook for trading Forex to your email.
Containing the full system rules and unique cash-making strategies. You'll be surprised to see what indicators are being used and what is the master tuning for successful trades. Including case-studies and images.