Investors are expecting that a draft bill for an updated EVs tax credit could become law.
UPDATE 18/12: Tesla stock closed up 3.74% yesterday and was priced $393.15. It was a new all-time high. Over the past 6 months, TSLA rose by almost 74%, making it up 11% in the last five days alone and up 60% over the last 3 months.
TSLA is on pace for its best quarter.
Last time, the stock was near these levels last year after the "funding secured" failure of last year.
What's behind this bullishness?
Bloomberg reported Wednesday that the company is planing cutting the price of Tesla's China-built Model 3 sedans by 20% or even more. The next few weeks will be interesting.
Take a look at the new chart.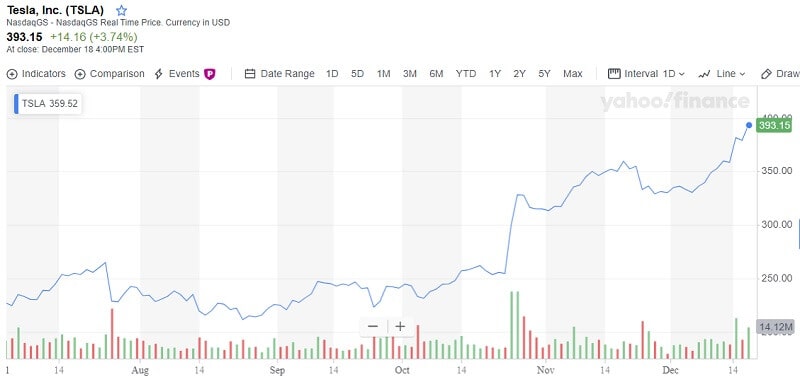 Shares of Tesla (NASDAQ: TSLA) hopped on Monday, approaching their all-time high and were up 6.45%.
The stock jumped on the investors' belief that House Democrats are going to vote on a bill that would renew the federal tax credit for purchasers of EVs. The news triggered the stock price.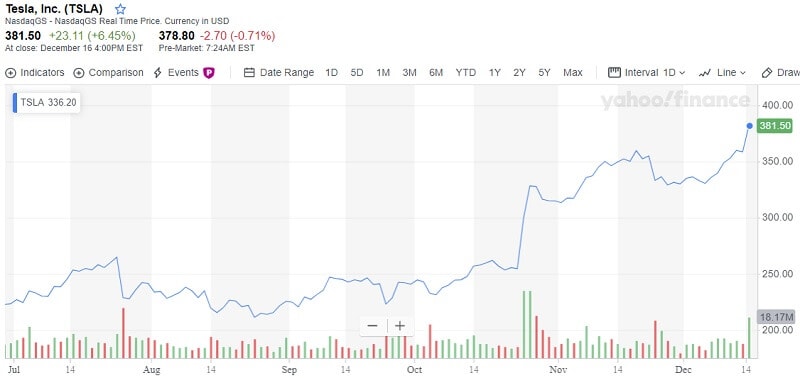 General Motors Company (GM) shares marked the rise in price after a sharp decline in November. The stock price rose by 1.29% Monday.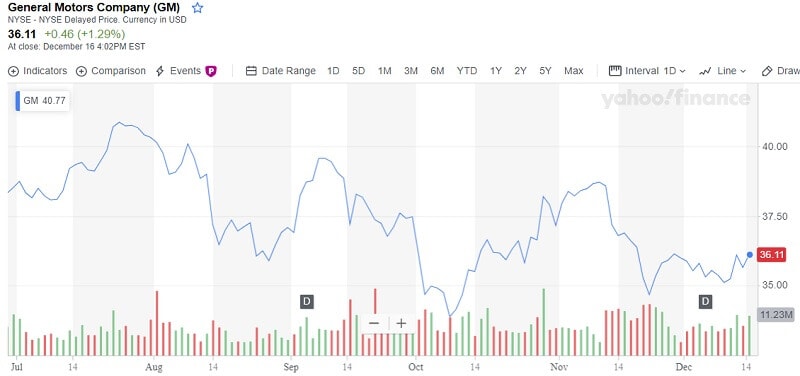 The new draft energy tax package supported by Congressman Mike Thompson would increase the limits on the federal tax credit for EVs.
The current tax credit is not available to buyers when a producer has sold 200,000 EVs in the U.S. That number was reached by both Tesla and General Motors. 
The updated credit would begin to phase out after the producers reach 600,000 EV in sales. Moreover, the tax credit deductible would be decreased from $7,500 to $7,000. This would provide this benefit to more EV buyers.
The bill is called the Growing Renewable Energy and Efficiency Now (GREEN) Act. It is expected to increase demand for Tesla and General Motors EVs. But nothing is officially finished yet. The investors should wait for it. But it looks that they are pretty much assured that the renewed tax bill will become the reality.
A tax-credit extension was asked by Tesla
Many of the companies and groups that had earlier lobbied on similar acts of extending the credit, all settled on the "Driving America Forward Act" as their prime goal.
The current tax credit, first passed in 2008 and revised in 2009, increased buyers' interest in EVs and also urge the production.
But it looks like the industry demands a new portion of the support.
Tesla hit the 200,000 in sales, and without a new tax-credit bill, it is hard for the electric vehicle maker to grow further. Earlier this year Tesla's sales have dropped since its per-vehicle credit decreased to $3,750. The tax credit was lowered to $1,875 in July again.

Shares of Tesla are rising
Tesla stock is rising, up more than $23, or 6.5%, in Monday trading. That's a new 52-week high. But why shares are rising nobody knows for sure.
The new U.S. federal EV tax credits law seems to be the only reason for investors' optimism.
Tesla is a heavily-shorted stock. The investors borrow shares and trade them, speculating on price drops. That could create more stock volatility. 
Closing at Monday's prices was the highest close since August 7, 2018. On that date, shares were closed at $379.57. Moreover, shares are increased by more than 110% from their 52-week lows of $178.97 on June 3, 2019. It has been an extraordinary run.
Shares of Tesla are up about 14% per year but Tesla stock is up nearly 57% over the last three months.
When unsure what's the right move, you can always trade Forex
Get the number #1 winning technical analysis ebook for trading Forex to your email.
Containing the full system rules and unique cash-making strategies. You'll be surprised to see what indicators are being used and what is the master tuning for successful trades. Including case-studies and images.