Traders Paradise's picks of three best stocks for the next year

2019 is almost done, so it is time to think about where to invest next. These three stocks could be the top stock picks to buy in 2020.
It is always hard to point three best stocks to buy or pay attention to, but the next year could be really challenging. Firstly, this year that is almost ending, was extremely exciting in the stock market. While some economists and analysts predicted market crashes and economic downturns, crisis, and inflation, the others claimed totally opposite. 
The facts are, over this year the stocks boosted prices to the levels we could see only several times in history. 
Our opinion, at Traders Paradise, is the next year could be even more volatile than this one. So, we paid a lot of our attention to pick three best stocks to buy in the next year.
First of all, we had to examine which stocks will have a possibility to grow but also, stability too. Thousands of stocks are trading on the stock markets but we wanted to find the very best stocks able to generate massive gains. Matching these two criteria wasn't so easy but we pick them. Here are the three best stocks to buy in 2020. Our opinion is based on news available about these companies and their stocks.
Trading stocks based on news
The market cap $268 billion
Current price $148.46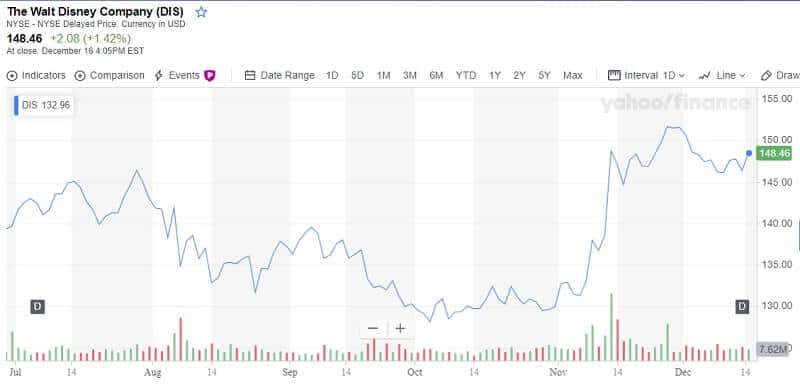 No, we didn't pick Walt Disney company among three of the best stocks to buy in 2020 from sentimental reasons. Instead, we did it based on the fact that this company generated almost $70 billion of revenue over the last fiscal year. 
It's marvelous to imagine how this all empire is founded by Walt Disney, started from a small studio in 1922 and a secondhand movie camera. With his brother, Roy,  Walt created Oswald the Lucky Rabbit. After that, the new character was born. A lively, dynamic, and a naughty mouse called Mickey. It was planned to create only two movies with Mickey Mouse but Disney created at least 25 but Mickey appeared in at least 130.
Today, Walt Disney (NYSE: DIS) has a valuable group of entertainment franchises. The great revenue for the company comes from TV networks, movies, Hulu, merchandise, and theme parks. Disney's ideas have delivered shareholders a bunch of money. 
Disney's studios' solely generated an awesome $11 billion in revenue in fiscal 2019, which is an 11% increase from the last year. The company's Board of Directors announced this summer a semi-annual cash dividend of $0.88 per share.
The most interesting part with DIS, the stock is more popular with time. So, the stock will likely continue to hit new highs and generate satisfying returns. Traders Paradise thinks that DIS is a good mid and long-term investment. 
The market cap of $18.1 billion
Current price $107.24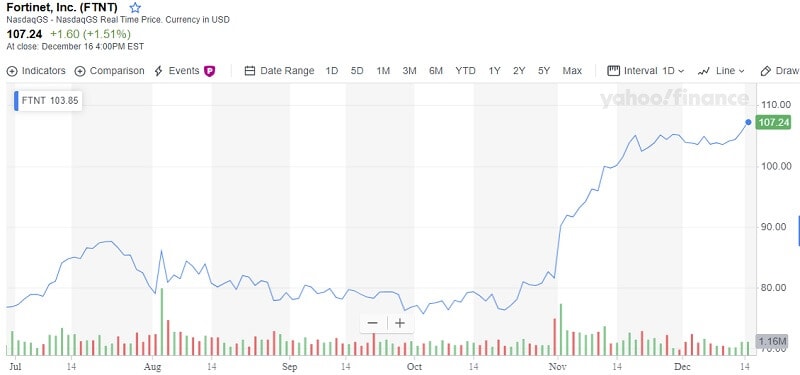 Fortinet, Inc. is a provider of network security devices and Unified Threat Management network security solutions covering enterprises, service providers, and government entities.  Its shares attempted to break out on December 13 but closed just below the entry.
The estimated earnings growth rate is 31% for this year.
For the current quarter, Fortinet estimates revenue from $595 million to $610 million. The analysts' estimated $584.7 million in sales. It's easy to explain why this stock takes place among the three best to buy in the next year.
Fortinet FTNT also announced the acquisition of SOAR provider CyberSponse but for an unrevealed amount.
CyberSponse is Fortinet Security Fabric's partner for some time and this acquisition will support Fortinet sin its security operations especially in incident response capabilities. This covers Fortinet's offerings FortiAnalyzer, FortiSIEM, and FortiGate.
The market cap of $130 billion
Current price $49.31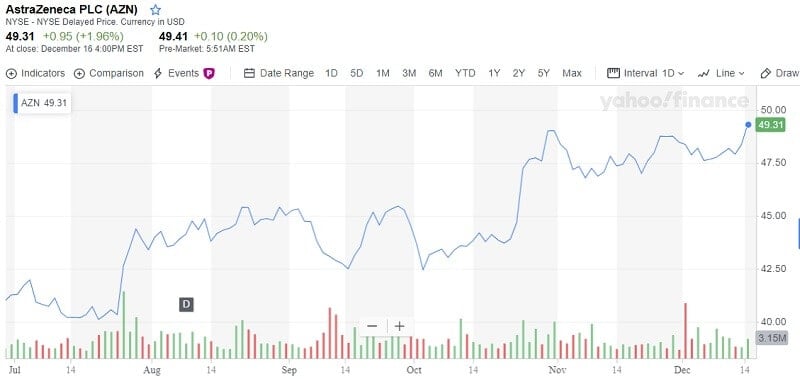 AstraZeneca (AZN, $49.32) is a biopharmaceutical company based in the UK.
It is focused on treatments in oncology, cardiovascular, renal, respiratory, and others. It has a lot of approved drugs. But the main advantage comes from a 155 trial-stage treatments, and nine new molecular testings in late-stage.
Among its leading products are several cancer drugs. For example, Tagrisso is approved in 87 countries, and it is AstraZeneca's best-selling drug. This particular product generated $2.3 billion in sales over the first 9 months of this year. It is 82% growth in the past 12 months in sales and represents 13% of the company's annual revenue. 
AZN stands out among the three best stocks to buy in 2020.
The company recorded strong growth in China. Over the first 9 months this year, the company had $3.7 billion in revenues. That was 30% more than in the same period last year. AstraZeneca should work well in the next year.
Trading stocks right now
Here are the three best stocks to buy in 2020, that Traders Paradise thinks will shine. Some of them are typical defensive stocks able to resist possible recession. Some have characteristics that could shield them from trade turbulence. But all of them deserve a place in stock portfolios in the next year.
For the stock market, 2019 was a fantastic year. The S&P 500 rose by almost 25%. The tech sector has done especially well.  But it's not the time for complacency. Soon, 2019 will be over and all eyes will be on the year ahead. 
So, it's time to start watching some of the best stocks to buy in 2020.  With that in mind, we are suggesting you three best stocks that may be top stock picks to buy in 2020.
Just follow the trading stocks rules.
When unsure what's the right move, you can always trade Forex
Get the number #1 winning technical analysis ebook for trading Forex to your email.
Containing the full system rules and unique cash-making strategies. You'll be surprised to see what indicators are being used and what is the master tuning for successful trades. Including case-studies and images.