Nike reports Q2 2020 results on Thursday, Dec. 19, after the close

During Q2 reporting everyone will look at Nike's direct-to-consumer business. The company's revenue is expected to be $10.08 billion and EPS $0.58 
Nike is prepared to report Q2 earnings on Thursday, December 19. It will be interesting to see will the famous sportswear producer sustain success which made over this year and what is the new plan. Nike (NYSE:NKE) shares have risen 34.2% this year, exceeding the S&P 500's 27.5% rise.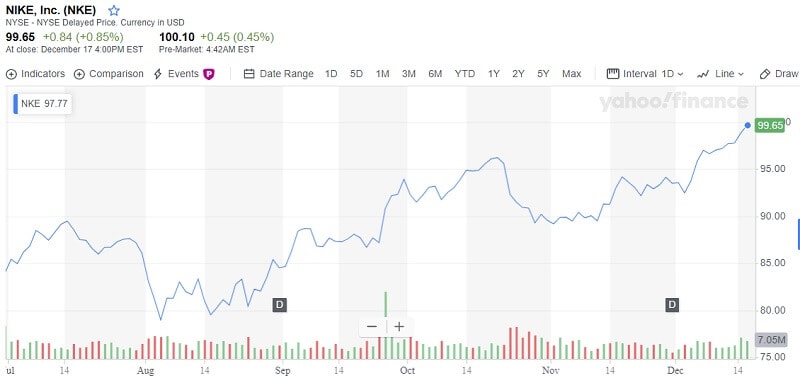 So, a lot depends on its Q2 2020. Will the gains continue? It looks like a lot of things depend on the company's digital and direct-to-consumer efforts.
Nike continued to fund its Direct strategy, the rollout of its apps to other countries and its partnerships with e-commerce platforms. For example, Tmall and WeChat Chain's services. Nike dealt more acquisitions, such as NFL star Russell Wilson's TraceMe startup. This startup has one important feature, a built-in sports-prediction service.
Nike revenue
The revenue is expected to be $10.08 billion and EPS $0.58.
Nike shares have risen in 2019, despite the overall trade and economic slowdown. The company's performance this year indicates the management is doing right. The stock rally will have a great test tomorrow after Nike issues its fiscal 2020 Q2 earnings.
During this year there was no reason to believe that the company is doing something wrong. 
Nike's growth strategy showed good results
The leading Nike's efforts is "Triple Double Strategy." The goal is to double its resources on its digital features; more and faster innovation and product creation, and increasing one-to-one connections.
Nike has established a powerful track record of delivering on its strategy. Nike has beaten quarterly earnings estimations more than 90% for the past 11 years. And the company made it at the same time when Amazon got a major portion of customer spending. Moreover, this famous brand became more powerful, by spreading sportswear out of gyms to the street. 
The result was that Nike grabbed a larger market share from its main EU rival, Adidas. Also, its presence on the home market is larger too and with increasing sales. The same result comes from the markets of Asia.
For example, in Nike's Q1 earnings report, the company released that sales in China rose by 27%. It is an impressive result because this success came during the trade war, and having such a good result in this communist country means that Nike, as an American brand, was doing well.
The break out with Amazon 
Recently, Nike ended the relationship with Amazon that lasted the past two years. This break appeared as part of a continuing effort to improve digital selling. 
The first change at a stock price after the announcement showed how right they were. The stock increased by more than 7%. 
Nike's idea of digital selling is more idea of creating a personalized experience for customers. Some media reported that Nike spent about $1 billion on this strategy. The company's digital loyalty program, NikePlus has more than 170 million subscribers and it is still growing. Thanks to app customers can find the perfect shoes for their feet because this app has a fantastic feature – it scans the foot in a few seconds. Of course, the app has other features too, from reserving some products to the mentioned one.

Nike and Michael Jordan
Nike is the official uniform supplier of the NFL and the NBA. Its Micheal Jordan brand is still going strong, fans all over the world like the latest Jordan shoe model. That's why it made more than $3 billion in revenue for fiscal 2019, which is more than 7%  in comparison to last year.
Bottom line
Nike's stock price might seem as expensive. Its gain for this year and  P/E ratio at 37, may cause such thinking.
The current share price of $99.65 and the stock is traded at $100.10 at the pre-market. The point is that the stock price is very close to the analysts' estimation of $103.60 so some investors may think there is a small space for the rise. But, it is expected Nike to report great data on digital and direct-to-consumer sales. The natural movement in shares will be to bounce higher.
Nike's stock could easily hit $150.00 or even $160 in the next 12 months. So, NKE is considered to be a good long-term investment.
When unsure what's the right move, you can always trade Forex
Get the number #1 winning technical analysis ebook for trading Forex to your email.
Containing the full system rules and unique cash-making strategies. You'll be surprised to see what indicators are being used and what is the master tuning for successful trades. Including case-studies and images.