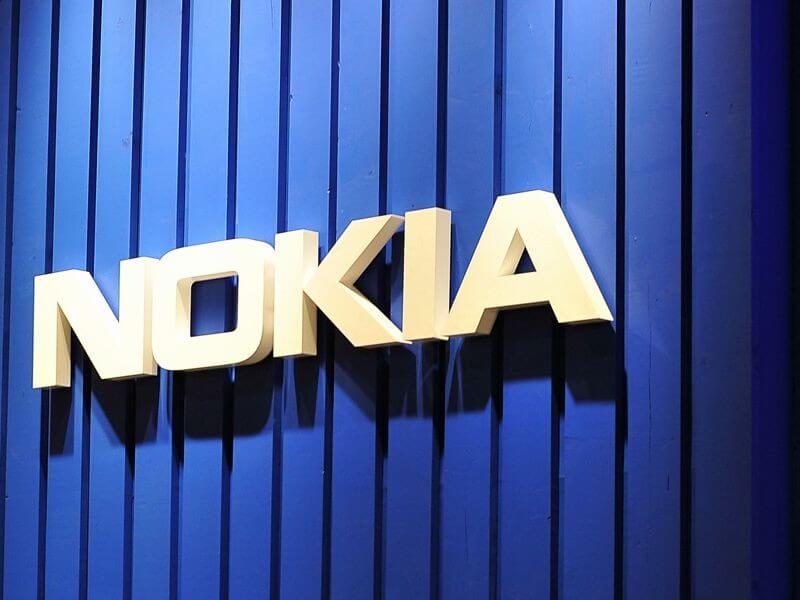 Nokia's problems around 5G networks may lead to sustained per share loss and limited margin expansion over the next 12-24 months
Nokia stock is falling. On Friday, November, 8 shares of Nokia Corporation, (NYSE: NOK) displayed a change of 0. That day session it closed at $3.57. Nokia Corporation, a Finland based company, is the technological and communication equipment business. The shares of Nokia Corporation was among the active stocks on that day.
The famous manufacturer of telecom-grade networking equipment posted on October, 24 a Q3 report. And shares of Nokia fell 27.9% in the aftermath. The stock price fell due to disappointing undershooting of the guidance targets. Also, it fell in the Helsinki trade because Credit Suisse downgraded Nokia to neutral from outperform. Credit Suisse lowered Nokia's target price to 3.85 euros from 5.70 euros. Credit Suisse thinks that Nokia may also lose 5G market share due to product delays and high costs.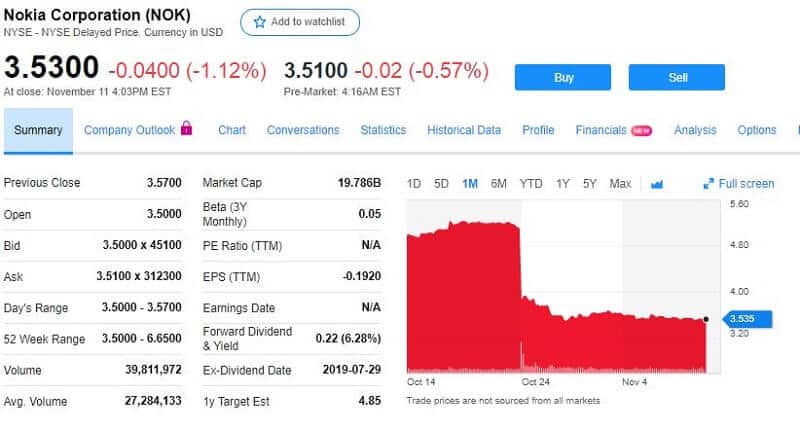 The Q3 report points to the 5G network as the main problem. 
The company's revenue rose 4% to $6.31 billion. Adjusted earnings lowered from $0.06 to $0.05 per American depositary receipt. Nokia also cut its earnings guidance by 22%. The reason behind, as the report declares, are the growing costs of keeping the company competitive in 5G business.
Nokia also redirected its dividend funds into even more 5G investments. But don't be so happy if Nokia is your favorite one. This move will not make Nokia a titan among others because the company is losing 5G contracts with important network operators, for example with Telecom Italia.
The sudden drop in price isn't recognized as a buying solution for Nokia shares. Wall Street issued some downgrades too and critical statements after the Q3 report. J.P. Morgan cut its price target on Nokia by 44% and excluded this stock from the list of top recommended.
It is hard for Nokia's stock to survive under these difficult conditions. The dividend cut is a clear sign for many investors to stay away and sell stocks, cheaper and cheaper.
Nokia is suffering now due to stupid business decisions and strong-minded competition. It looks that 5G is a too big bite for this company. Do you remember what did Nokia with the possibility of develope smartphones? It was almost 10 years ago. Instead to took part, Nokia stepped away and made space for others. Only to enter the market late in the game with the Windows Mobile platform, which was dead on arrival due to illogical design decisions. It looks that market shifts with the speed that Nokia isn't able to catch.
This became obvious in late October when Nokia made important cuts in its guidance and suspended its dividend. 
Are there better times for Nokia stock?
Well, the company made all these moves with an explanation that Nokia has the goal: huge capital investments into 5G networking. That could be a good hunch. But, on the other hand, Nokia may place a big bet, bigger than the company can afford at this time. Increasing investments in the way Nokia is doing may produce some income in the long term, but it has to survive on that path. Is it able? 
Investors say no. Nokia stock is currently displaying a down return of -2.46 all last week and we can see the bearish return of -27.73 for the last 30 days.
Some can ask why decreasing the Nokia stock price is not a good buying opportunity. Well, it looks that Nokia came too late on this battlefield.
5G technology is in development for some time and the biggest players in tech were preparing for a long time to take advantage. Despite the thinking that a low price is a good chance to buy stock, this stock looks very suspicions. Maybe it is better to stay away for some time and watch in which direction the company will go. 
Bottom line
Today is November 12, 2019. It's Tuesday and the current price of NOK stock is $3.535. Our data shows that the price is in a downtrend during the past 12 months with a sharp drop after the Q3 report. This stock should tend to fall more. Should you add a Nokia stock to your portfolio now? It's up to you. Our opinion is that NOK may decline further in the next 12 months, even to 35%. But in the long run, NOK may be a good investment if you can wait for several years.

When unsure what's the right move, you can always trade Forex
Get the number #1 winning technical analysis ebook for trading Forex to your email.
Containing the full system rules and unique cash-making strategies. You'll be surprised to see what indicators are being used and what is the master tuning for successful trades. Including case-studies and images.