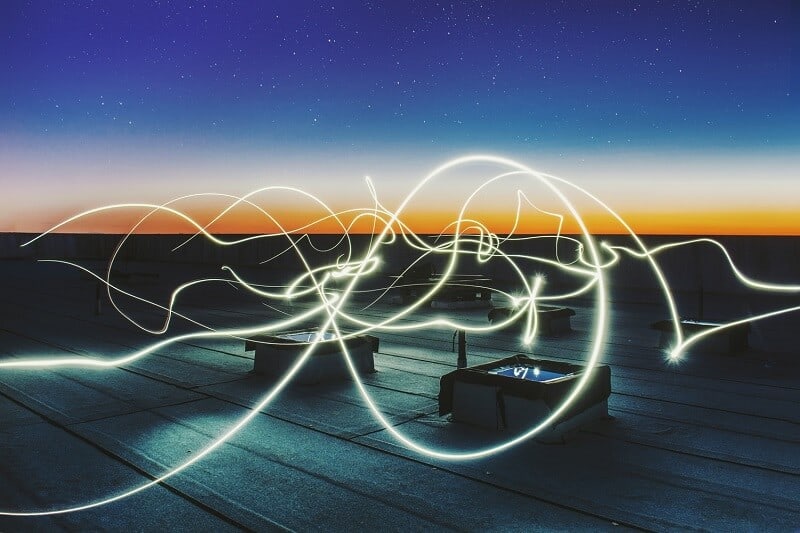 Brookfield Renewable Partners trades on the Toronto Stock Exchange under the ticker symbol BEP.UN and on the New York Stock Exchange under the ticker symbol BEP.
On November, 11. Brookfield Renewable Partners, a Canadian company, reported financial results for the three and nine months ended September 30, 2019. 
The company has been doing great work last year to sustain its renewable energy portfolio and its balance sheet. The work showed great results over the third quarter. Brookfield Renewable Partners presented important cash flow growth. Moreover, the company plans to keep that success and to continue growing its 4.6%-yielding dividend.
The company proceeded to execute on strategic priorities in the third quarter. There were many new investments, operations, and creating liquidity to reinforce its strong balance sheet.
The stock is strongly bullish.
Market Cap): $13.42 B
Current price: $43.485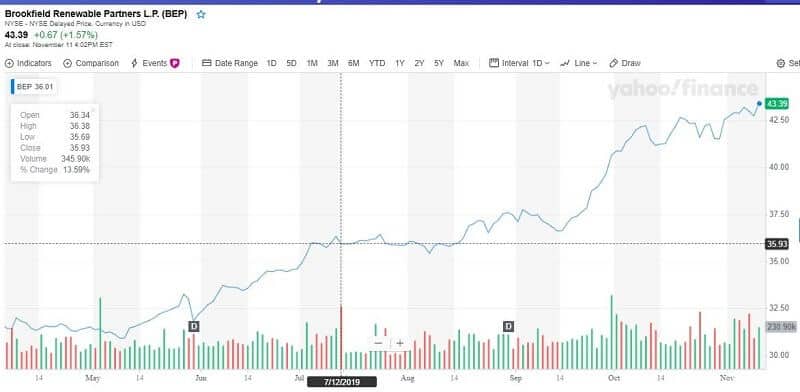 Sachin Shah, CEO of Brookfield Renewable said:
"We are also pleased to announce our intention to create a Canadian corporation with publicly-traded shares that we expect will be economically-equivalent to the units of the partnership. This should position us well to continue attracting new investors to our globally-diversified renewable power portfolio."
Brookfield Renewable summarized Funds from operations (FFO) growth of 27% which is in currency $133 million or $0.43 per unit. It is for the last three months, until September 30, 2019.
The net loss for the same period was $53 million or $0.17 per unit. These results were backed by recent acquisitions and the execution of its operating initiatives.
The company's portfolio is growing
This Canadian company invested $100 million BEP equity into TerraForm Power and there was the acquisition of a 200-megawatt wind farm in China. Also, it sold two mature European wind portfolios for $74 million net to BEP,  from selling five of its six assets in South Africa, BEP gains $42 million of net profit. That selling of, returned nearly two times its capital invested.
Brookfield Renewable Partners completed a C$600 million green bond issuance. That is the largest corporate level green bond ever issued in Canada. This transaction provides the company to increase the average duration of the corporate debt by 5 years to 10 years and to maintain a strong total available liquidity of $2.5 billion.
Canadian Corporation
The company announced an intention to form a Canadian corporation "in order to provide investors with greater flexibility in how they invest in Brookfield Renewable's globally diversified, multi-technology renewable power portfolio" as they said in a statement. 
The new entity will be publicly listed on the same exchanges as BEP. The quite interesting idea will give investors the possibility to invest in Brookfield Renewable Partners through a partnership or Canadian corporation. That could increase demand and improved liquidity for the company.
Moreover, Brookfield Renewable Partners plans to distribute on a tax-free basis to the majority of unitholders, class A shares of the new corporation, Brookfield Renewable Corporation (BEPC). This will be an adjustment for the number of shares outstanding, without changing the aggregate cash flows or net asset value 
The class A shares will be convertible for one BEP share. 

The success of Brookfield Renewable Partners operations
Its hydroelectric operations increased its cash flow by 20%. Although the company produced less electricity in the U.S. Northeast and Canada due to climate issues, BEP balanced that problem by making better results in its operations in South American and boosted the profitability of its businesses in Brazil and Colombia.
Its wind business grew its cash flow by 24%. The benefits came from the acquisition of 210 megawatts of wind capacity in India and a 51 MW wind farm in Ireland. At the same time, its investment in TerraForm Power proceeded to pay dividends.
Brookfield's solar, storage, and other sections were flat for many years. But this year its solar business grew 16% thanks to growth at TerraForm.
On the other side, earnings from storage were down 45.5%. That is the result of a 33% drop in actual production over the period.
Bottom line
Brookfield Renewable Partners' third-quarter results reveal that its strategic plan manages to pay dividends. Hence, it is reasonable to expect that the company will be successful in the future.
Its aim is to increase its cash flow at a more than 10% annual rate in the next 4 years. So, it will be easy for them to increase their high-yielding payout to 9% per year. So, what do you think, is this a good choice for investors willing to invest in renewable energy? For us, it looks like a good pick.
When unsure what's the right move, you can always trade Forex
Get the number #1 winning technical analysis ebook for trading Forex to your email.
Containing the full system rules and unique cash-making strategies. You'll be surprised to see what indicators are being used and what is the master tuning for successful trades. Including case-studies and images.