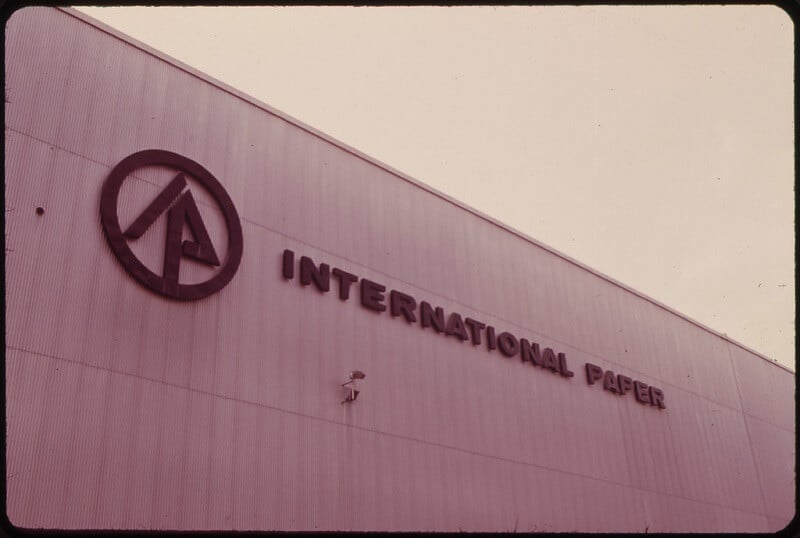 International Paper Company is quite capable of surprise, it is undervalued due to its EPS growth, but dividends are steady
Market Cap: $17.7 billion
Yield: 4.5%
Revenue: $22.8 billion
International Paper Company (IP) is a producer of packaging, paper, and pulp, based on fiber. You might think how a paper producer can be a good choice for investing in when everything around us is already digitized, who and why would need paper. Well, that is true, but only this part about digitalization. The usage of paper isn't dead and the paper isn't going to lose the battle in the digital era. Okay, we are ordering things online but do they come to our doors? Packed in one of International Paper's products. Or from some other producer, of course, but we are talking about IP now.
Not to be forgotten, some news appears that IP is about to go ex-dividend on November 14. So, you have to buy their shares before that date to receive the dividend. It will be paid on December 16.
International paper dividend
The company's next dividend payment to shareholders will be $0.5 per share. That is less than the last year when they paid $2.1. If we take a look at payments from the past year, the company has a trailing yield of about 4.4% on the share price of $46.21.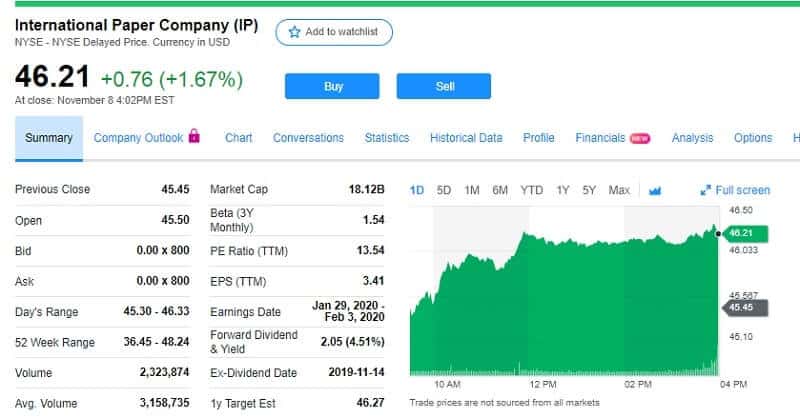 Some data is very important when you have to decide to buy or not some stock because of its dividend. 
The International Paper paid out 58% of its profit to shareholders last year. Nothing strange with that payout,  it is a regular level for most companies. But take a look at its cash flow since it is more valuable than profits when estimating a dividend. Well, IP did it well last year, it paid 35% of free cash flow. It's good to see that the dividend is well covered, so the dividend is sustainable. Of course, it will be until earnings drop sharply.
Is it a good dividend stock?
International Paper shareholders have seen a support expansion from the money managers in the past several months. After the second quarter of this year, about 30 hedge funds held IP in their portfolios. But the surprising thing is that IP stock isn't amongst the 30 most popular. That has to be noticed.
This company is paying dividends over 10 years now. For long-term investors, the companies that are paying dividends can be worthwhile.  International Paper Company is yielding 4.8% so for some investors it is a good opportunity if they want to buy the stock because of it.  The company has significant debts, so you will need to check its balance sheet to see if there is any debt risks.
International Paper has a net debt of 2.61 times its EBITDA. Yes, debts are good to stimulate business growth but can boost the risks. During the last 10 years, the IP dividend has been constant. That is a sign that the company had a consistent earnings dynamic. 
International Paper Company paid $1,00 per share in 2019, last year it paid $2,00 which is a CAGR of about 7.2% a year. This is very worthy over the long term investors if the rate of growth can be kept or increased. Also, IP would have a better result if earnings per share could grow too. Instead, the company's EPS are flat over the past 5 years. 
Bottom line
When we want to buy a dividend stock, we want to know will the dividend grow, is the company is capable to support it in different economic conditions and is the dividend payout is sustainable. International Paper company's dividend payments look fully covered. Moreover, International Paper appears like a great chance. It could be a good fit.
When unsure what's the right move, you can always trade Forex
Get the number #1 winning technical analysis ebook for trading Forex to your email.
Containing the full system rules and unique cash-making strategies. You'll be surprised to see what indicators are being used and what is the master tuning for successful trades. Including case-studies and images.