If you are able to put the policy aside, the answer to the question from the subtitle is NO.

Facebook stock gained 1.03% on Friday, 1st Nov 2019, and rose from $191.65 to $193.62. It has won 3 days in a row. FB is FANG stock and had a strong third-quarter earnings report. Over more than one decade Facebook stock rose almost 600%. There were bad and good times for this social network giant. The question is will FB continue to gain or it will pause.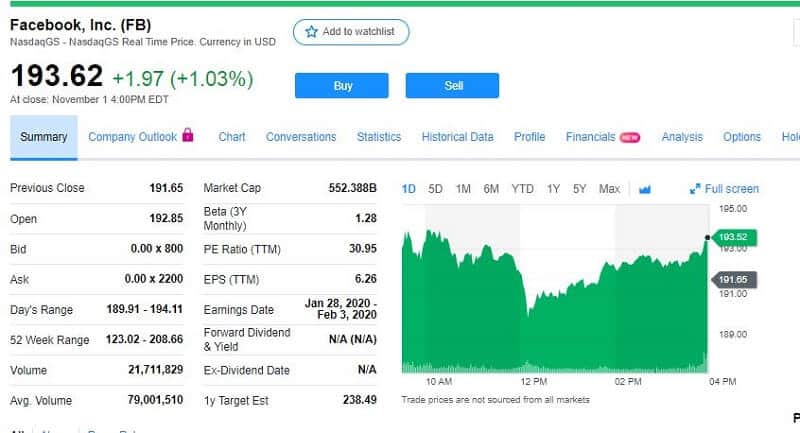 Zuckerberg's company's market cap is $525 billion, the company has a huge assortment of platforms Facebook, WhatsApp, Messenger, Instagram and every day attracts more and more users. In recent years its advantage for marketers and advertisers persists extremely valuable. Maybe today more than ever.  More than 2.2 billion people use its services every single day.  
Is Facebook Stock Good to Buy Right Now?
Do you know what is interesting? This giant is still growing. All of these make it favorable to the investor who knows to respect the low price of the stock. Currently, it is $193.62, at that price the stock was traded on Friday, 1st Nov 2019.
The company's earnings potential showed in its Q3 earnings report that earnings per share surged 20% to $2.12, and was estimated by experts at $1.91 earlier. Facebook had to pay penalties and everyone knows why but the company earned $8.38 per share. Investors don't lose faith so easily. The company's P/E ratio is 23. 
That follows two quarters of decreasing Facebook earnings but as we mentioned the company had important legal expenses. But if you exclude those expenses Facebook had 5 quarters in a row with a wide margin.
Revenue grew a faster 29% to $17.65 billion. 
Facebook management warned again of a notable revenue deceleration in the fourth quarter, with a more reasonable deceleration that will continue during the next year.
You should view the FB stock as a long-term investment because it looks like a fantastic opportunity. The current price isn't high, which is great for investors with a large horizon. If you are seeking strong returns, Facebook is the right choice for you. But even with great performances, history has shown that it is hard to beat the market with brands, with popular companies. So, think about that.
The summary of Facebook stock:
for the past 30 days, the high stock price was $198.09, and low was $173.09.
during the past 3 months high was $198.09 and low was $173.09.
52 week FB highs were $208.66 and low $123.02.
During the last trading day, the stock changed 2.21% from a day low at $189.91 to a day high of $194.11. Volume dropped in the last trading day on Friday by -20.39 million shares. As a result, 21.31 million shares purchased and sold for about $4 125.76 million. Facebook Inc is a strong buy candidate with a potential gain of 1.03%.
Is FB stock undervalued?
Why do we are sure? To have a clear sense of stock value just make a comparison with similar companies. For example, let's compare FB stock with McDonald's. McDonald's reported adjusted revenue growth of almost 6% last quarter and Facebook grew revenues 27%. So, yes FB stock is undervalued. McDonald's stock was traded at $193.94 on Friday
Having all this in mind, we can say that FB stock is undervalued, it cannot be traded at the same valuation as McDonald's. There is no sense.
Yes, Facebook had security problems and still has to improve them. But after they finish it the focus will be on increasing profits. Facebook could clearly turn back into 40%-plus revenue growth and a 20%-plus profit growth company.

The price of $205 and more is real. This at $193 isn't.
When unsure what's the right move, you can always trade Forex
Get the number #1 winning technical analysis ebook for trading Forex to your email.
Containing the full system rules and unique cash-making strategies. You'll be surprised to see what indicators are being used and what is the master tuning for successful trades. Including case-studies and images.