FDA sent numerous warnings about the CBD, substance found in cannabis.
The stock prices of important cannabis stocks are dropping on a new warning from the FDA.
Cannabis stocks are under attack. On Tuesday the US Food and Drug Administration (FDA) published new guidance on CBD. FDA notified that CBD can cause liver damage and also, some other injuries might be caused by using CBD.
This information caused blast to the medical cannabis producers especially among those publicly listed on markets. Those companies have plans, they are investing in development, researching, and have licenses. We are talking about Canadian producers and their investors that were looking for the area for selling cannabis products and the US seemed to be that one. And now FDA issued a statement that their products are not safe for humans. Okay, even if it is true, how FDA can explain that GW Pharmaceutical's CBD products are safe. This isn't an attack on GW Pharmaceutical, it's contrary, why other companies are forbidden to make health claims for its products use. 
The FDA announced late Monday it is pointing on 15 private companies that are illegally selling products with CBD.
The regulator said, "there is very limited available information about CBD, including about its effects on the body."
What is CBD?
CBD is a non-intoxicating cannabis compound but it lives in regulations' vacuum. FDA has approved GW Pharmaceutical's GWPH drug that contains CBD, a drug for the treatment of childhood epilepsy but, FDA told the other producers that they have no permission to include this ingredient to food or drinks. The reasons are already mentioned.
"Not so fast," wrote MKM analyst Bill Kirk. "The FDA's statement includes some balloon-bursting language," MarketWatch reported.
Cannabis stocks were crashed again on Tuesday. That was the signal for analysts to make new estimations and to update the previous.
Cannabis legalization is slow both in Canada and the US. That causes the black market to grow, while the legal companies are struggling to increase revenue and become profitable. Some of them had to cut selling, cancel the agreements, and save the cash for the following days in expectation for the issue to be solved. 
But investors have different sentiment and the stock prices of these companies are dropping.
FDA influences the price of cannabis stocks
The FDA's update is in line with a note from the regulator's former commissioner, Scott Gottlieb. He tweeted: "FDA's actions on CBD show any available pathway – FDA issuing a regulation, new dietary ingredient notification for supplements, or a food additive petition for human or pet food – will require extensive studies and industry data to address serious safety concerns identified by FDA."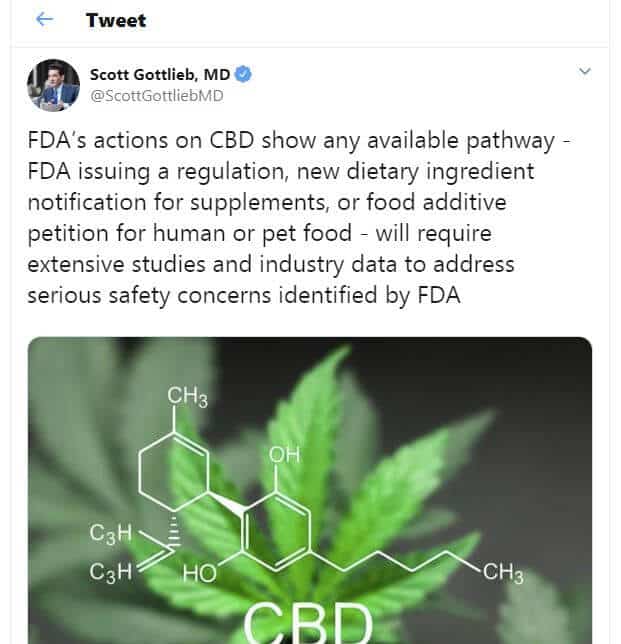 Extensive studies? Okay. Is there anything that they are working on? If yes, tell them to hurry up, the health benefit is in question. Tell them to have in mind a relief of pain and mental suffering. How about that?
And, what they were doing for all the time? Haven't yet find anything about cannabis? So many studies are already done. 
The most important cannabis stocks trade in CBD products. Some of them were failing in trading after the FDA's announcement. Canopy Growth fell by a bit more than 1%, and Tilray was falling by 3%. But they are connected to the section. The worse came for Charlotte's Web which stock was down by almost 8% and we are speaking about the leader in the CBD market. 
One stock was especially successful on that day. GW Pharmaceuticals was up.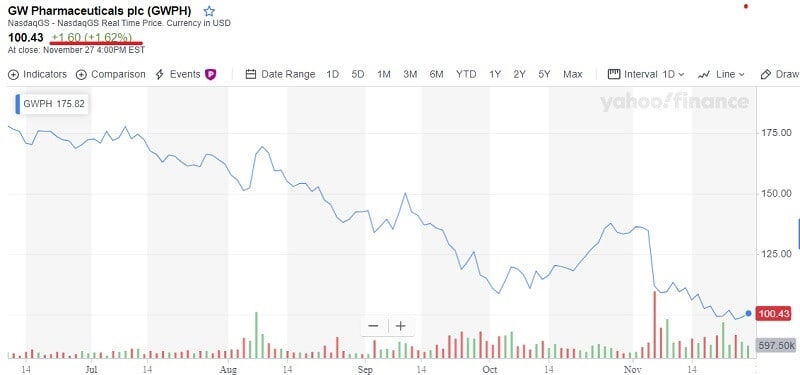 (The image was taken on Nov 27.)
Guess, it has FDA approval for selling the CBD products. GW Pharmaceuticals is a unique one. Yes, their stock price was only slightly up, if the rise of 1.62% is slight. But still.
The FDA said the next step is to make a framework to allow companies that are producing CBD-based goods to deliver them to the market. Oh, yes, they have to wait for clinical trials. Only after that, the market will be opened to them.
Until then, investors will sell in panic cannabis stocks or hold them till the better times.

When unsure what's the right move, you can always trade Forex
Get the number #1 winning technical analysis ebook for trading Forex to your email.
Containing the full system rules and unique cash-making strategies. You'll be surprised to see what indicators are being used and what is the master tuning for successful trades. Including case-studies and images.