How can anyone make a fortune working from home?
I know you will ask how is possible to make a fortune working from home.
I also have a question for you.
Have you ever heard about Jack Cornes? His engineering insane idea into a home robotics start-up showed not insane but as profitably and brilliant.
Jack Cornes is an entrepreneur. His first business was selling vegetables from his grandmother's garden. He was 8 at that time. When he was 14 online clothes retail was his next successful business with international shipping. Jack founded a successful online clothes retail. Now he is in his 20s and he started with schoolmate Harry Smith, a new business startup, and launched HausBots. They started their robot business in Smith's garage in Birmingham.
Jack Cornes said about those days:
"Harry is a self-proclaimed mad inventor. His parents asked him to paint the living room, which he found completely boring, so he let his mind wander and came up with a better solution."
Climbing painting robots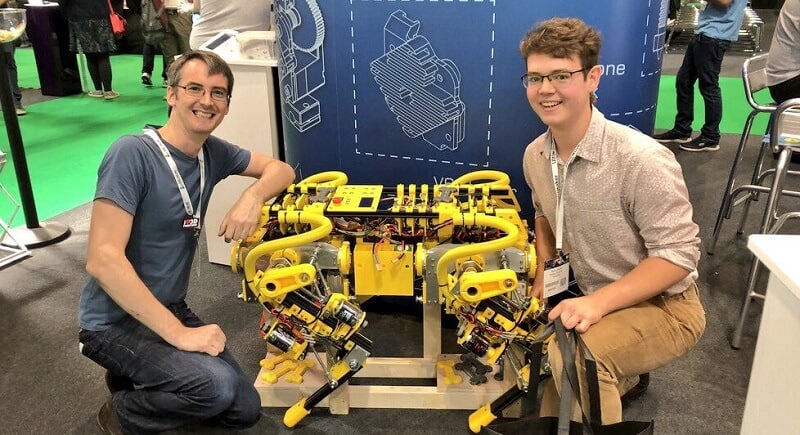 Their aim is to produce robots for the construction industry and for home use. Their first result is a painting robot. They are expecting to begin commercial trials in the next several months, actually, they want that in the next four months.
This guy raised £210,000 to realized his idea about home-helping robots. His startup HausBots develops climbing robots to automate the painting of walls.
Cornes likes being an entrepreneur. 
"It is flipping tough, but I was never very good at being a cog in someone else's machine. It is great to have some autonomy and it is amazing to be building something that wasn't here before we started," he said.  
As a measure of how this project is interesting: currently, Cornes' robots are beta testing. A large number of customers and companies are included. The companies specialized in painting outdoors, like walls of warehouses, for example, are very interested in his product. Cornes is expecting to start sells soon. 
How to make a fortune working from home as plan No1
And he is just as many Generation Z members that more than any time before are interested to start their own businesses. A lot of them want to make a fortune working from home. The benefits of this approach are numerous. They don't have to pay high rents for a place to work, the working time is flexible, and moreover, they are working for their own ideas.
According to some research young people are caught with this growth of startups. It becomes a trend among them. 
Approximately 51% of the people between 14 and 25 age answered that they would like to start their own business. Many of them already are running some, revealed a survey ordered by the Entrepreneurs Network and VC firm Octopus Group. Also, this goal is more popular in a group of 22 to 25 years old people. Almost 60% of them said they would like to run their own business. 
Tips to work from home
If you don't have a strong back, you have to start from your home. The majority never find some financial support and have to work different jobs to raise the funds and be able to finance the ideas they have. Also, they have to cut other expenses, so the best solution is to start working from home.   
Listen, I am pretty sure they will. They will make a fortune working from home.

The idea of freedom and being your own boss is powerful, and at the same time, the most popular. Having a passion is a great fuel. Desire to make success also.  If you want to start to make a fortune working from home it is wise to build a network of people who you think are doing excellent things. That will help you a lot.
Some inspirational ideas you may find in our tutorial HERE
When unsure what's the right move, you can always trade Forex
Get the number #1 winning technical analysis ebook for trading Forex to your email.
Containing the full system rules and unique cash-making strategies. You'll be surprised to see what indicators are being used and what is the master tuning for successful trades. Including case-studies and images.