2 min read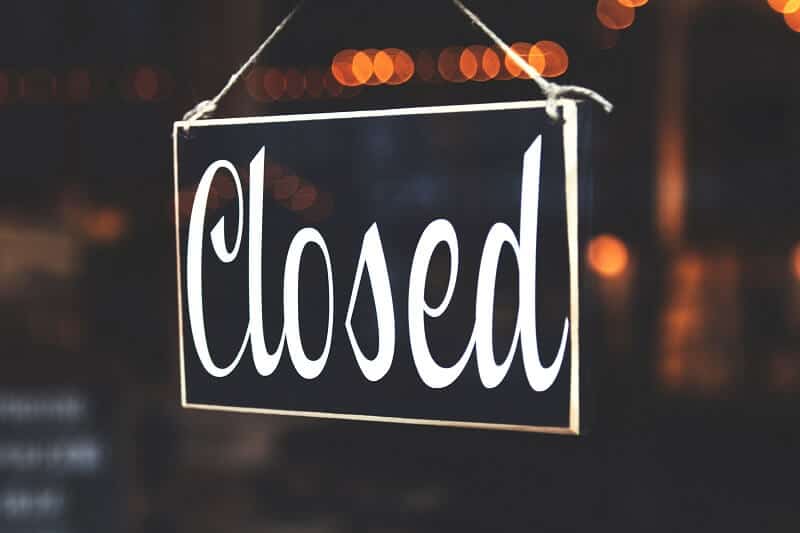 CGEX (Coinone Global Exchange) will shut down its service in mid-September. This Malta-based crypto exchange started by main South Korean exchange Coinone, will end its service. CGEX started in October 2018. 
According to an announcement on August 12, the exchange will shut down services at 2:00 a.m. UTC on September, 18 after only one year of working.
Is CGEX facing setbacks?
CGEX placed an assistance termination notice on the front page of its website. They mentioned that has decided that they can't maintain service further.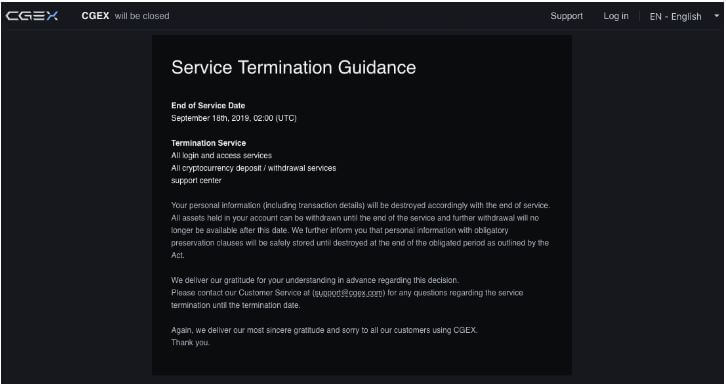 In the announcement, CGEX informed its clients that all assets on user accounts have to be withdrawn by the closing date. The additional withdrawals will not be available after that date. They stated that the personal user data, along with transaction details, will be erased with the closing of service.
Before shut down
CGEX's shut down follows after notice of temporary termination of trading and transaction services on the platform. Actually, on June 17, CGEX first stated that they would temporarily stop trading and deposit services to "prepare for a new paradigm change in cryptocurrency exchanges". At the time they planned to launch a new trading platform. The exchange told that the new CGEX would be launched in Q3 2019.
This shutdown is expected for a long time. Two months ago, the exchange suddenly halted trading operations. Well, this event isn't new or unusual. Many exchanges have the same problem from time to time. But surprise arose when CGEX recommended their users to withdraw their holdings to avoid whatever possible losses.  The former pause was temporary, but this new statement looks like the end of CGEX. This exchange has advised its clients to get their actions in order before the end. 
After the exchange closure, clients will not have the possibility to log in. Also, withdrawals and deposits will be unavailable. The client's personal records will also be destroyed. Still, some will be kept which is an obligation to legal demands.
More news about similar issues
Major crypto exchange BitMEX announced yesterday (August, 19) that it will restrict access to its platform in Seychelles, Hong Kong, and Bermuda. This action came, as they announced, to ensure the security of funds and the stability of the exchange.
The exchange restricted access from countries of its parent company, HDR Global Trading Limited. BitMex insists that this is a proactive step and noted, "This change will have no financial impact on the business and will affect very few people."
BitMEX noted that closing trading is part of a broader initiative, an effort to provide transparency to this field as it shifts to be more regulated. BitMEX is the second-largest cryptocurrency exchange. A BitMEX's  24-hour trade volume is over $2.5 billion, according to CoinMarketCap.
Also, Binance DEX, developed by crypto exchange Binance, blocked web interface access to users based in 29 countries.

When unsure what's the right move, you can always trade Forex
Get the number #1 winning technical analysis ebook for trading Forex to your email.
Containing the full system rules and unique cash-making strategies. You'll be surprised to see what indicators are being used and what is the master tuning for successful trades. Including case-studies and images.