2 min read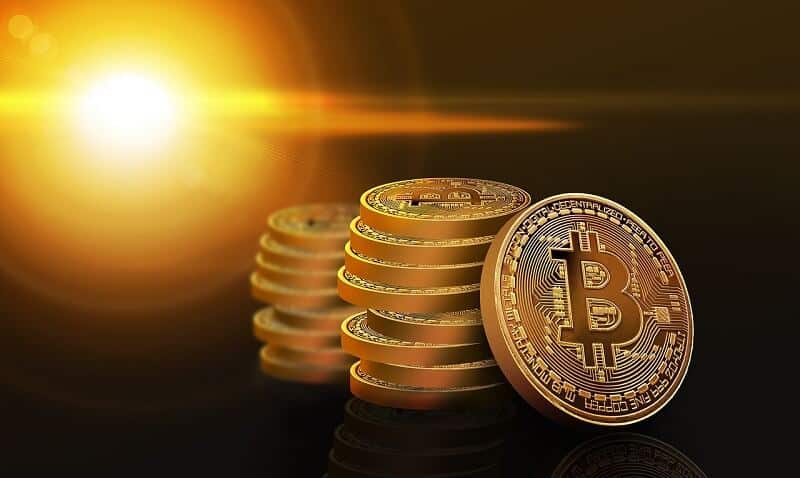 Bitcoin price dropped $1.4K in 24 hours and hit a 2-week low. Majority of the top 20 cryptocurrencies are recording losses on the day we are posting. Bitcoin (BTC) fell under the $10,100 mark.
Monday seems not to be a good day for cryptocurrencies.
Take a look at its weekly chart, the coin is dropped by 10.14%.
Some traders are awaiting the price to fall under $10,000. They say it will be time to buy.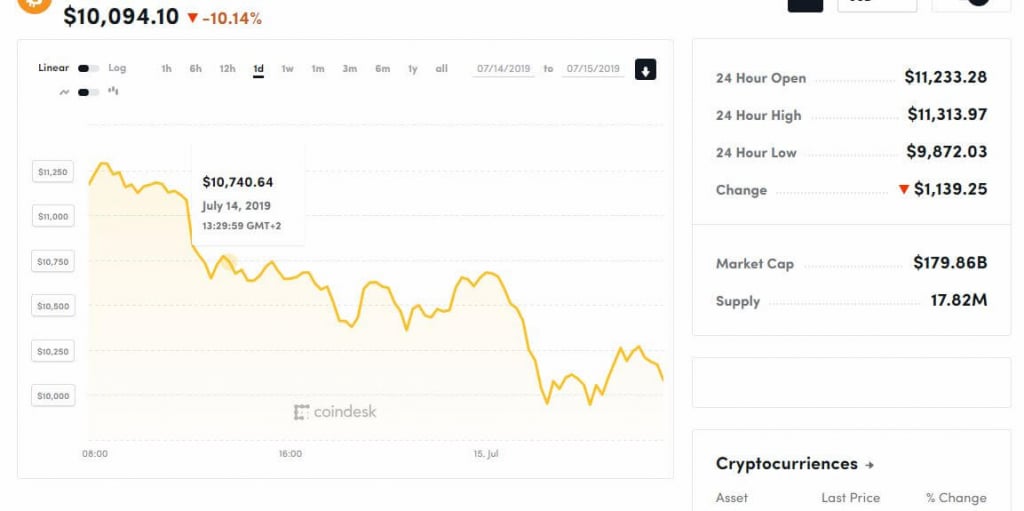 Since June 27, the bitcoin price has fallen from almost $14,000 by more than 22%against the U.S. dollar in an almost large pullback. That led to the crypto market to fall. All major cryptocurrencies recorded a decrease in value.
Yes, this is a drop-in price, but the bitcoin price grows more than 210% in comparison with its value last year. The other main cryptos tend to be more volatile. The exceptions are Litecoin and Binance Coin.
A possible scenario: bitcoin price falls below $10,000
The bitcoin price has moved from $4,000 to almost $14,000 in a time frame of four months. So, the huge reversals from the current price continue to be a possibility.
The bitcoin price slips to recover behind $10,000, a pullback to the $9,000 zone is possible.
Say, the trend of bitcoin is bullish. There are some important factors to study that could work as incentives in the next few months. For example, the block reward halving of bitcoin.
Also, after US President Donald Trump recent comments bitcoin, it's price recorded a small increase, but now we have this drop.
It is about $1,000 less than where it was 24 hours ago. 
The US President identified currencies like Facebook Libra as untrustworthy. He also said that it carries no value and that it doesn't hold on a firm platform. He also said that he doesn't care for cryptocurrencies and that they usually pull illegal action and that the cryptocurrencies are not real money.

Do Trump's words have any influence on Bitcoin price?
We don't think so. After Trump's comments, the next few days bitcoin has maintained its position despite his words. But, despite the first expectations to rise more and more, the price falls quickly and drastically. The coin has scored its lowest rate since June.

But the bitcoin price is higher than in April. Given it has retained its force, it is reasonable to expect price spikes in the following days.
Since the bitcoin price fell around 10%, many alternative crypto assets like Ethereum, XRP, Litecoin, Bitcoin Cash, fell by 4 to 9% against the U.S. dollar.
Bitcoin is down by around 43% from its highest price at about $20,000. The alternative crypto assets are down too, some by 80%, the other even to 90% from their greatest highs.
Three months ago trader and cryptanalyst Josh Ranger recommended that the Bitcoin accumulation phase will last until mid-July 2019. And then there will be a steady price increase.
According to the historical overview, the current price dynamics is alike to that seen in 2015. After Bitcoin hit the bottom, the growth period lasted 216 days. 
This price drop is good for those who would like to buy Bitcoin. 
According to CoinMarketCap data, the move down was also followed by a small rise in total trading volume of $2.8 billion over 24 hours. The traders wanted to gain profit and quick exit the markets because of declining prices.
Moreover, the total market capitalization of all cryptocurrencies experienced a $20.1 billion loss for 24 hours. It is one of the biggest losses in one day. The same happened on June 27, 2019.
In the short term, volatile will continue. 
Sebastian Sinclair in his recent article for Coindesk wrote:
"…so BTC could experience a bounce on today's momentum, but that will need to be accompanied by strong levels in growing (bullish) volume in order to end the recent sell-off still being felt from July 10."
When unsure what's the right move, you can always trade Forex
Get the number #1 winning technical analysis ebook for trading Forex to your email.
Containing the full system rules and unique cash-making strategies. You'll be surprised to see what indicators are being used and what is the master tuning for successful trades. Including case-studies and images.