1 min read
The Bitcoin price has dropped below the $6,000  after initially below the $6,000 on June 23. Bitcoin officially fell to the lowest level from the beginning of this year. This drop is almost identical to the 2014 situation when BTC experienced an 80% correction from its all-time high.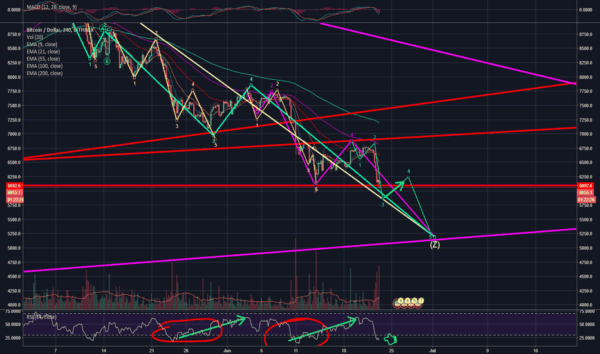 In fact, there are almost no differences, as both collapses are caused by the same cause by the eruption of a retail investor bubble. On the end of May and from the beginning of June, it seemed that the crypto market is recovered. The market was, for almost two weeks, stable.
Bitcoin price charts are an electrocardiogram
In today's article Bitcoin falls below $6,000. But crypto trader says it's not dead, Kellie Ell CNBC's author, with reference to Brian Kelly, founder, and CEO of BKCM LLC, an investment firm focused on digital currencies, write:
"Bitcoin fell below $6,000 on Friday, but bitcoin bull Brian Kelly told CNBC that the popular cryptocurrency is "not dead."
While Kelly said the drop is "painful," he also said it's not unusual.
"This is not the funeral for bitcoin whatsoever," Brian Kelly, founder, and CEO of BKCM LLC, an investment firm focused on digital currencies, said on "Fast Money" Friday.
"Let's put this in perspective," he said.
"Do you know where we were a year ago? $2,500."
How To Make Money With Blockchain Technology?
This morning value of Bitcoin was $5, 852 which is the lowest price from the beginning of the year. Now, at 4 PM CET, it is $5,927. Will, it hit quarter-million dollars. as Tim Draper said several days ago?
For sure we have to wait. The truth is that the Bitcoin price is very unstable, with big and fast ups and downs. For some crypto fans, it is the true charm of Bitcoin. For ordinary people, buying Bitcoin is madness.
You might be interested to read: Why you shouldn't invest in bitcoin under any circumstances
I'm sure we have to wait until 2022. It will be fun to see opponents how they are sad for not buying Bitcoin earlier when the Bitcoin price was much lower.



When unsure what's the right move, you can always trade Forex
Get the number #1 winning technical analysis ebook for trading Forex to your email.
Containing the full system rules and unique cash-making strategies. You'll be surprised to see what indicators are being used and what is the master tuning for successful trades. Including case-studies and images.