This is an outstanding stock with great possibilities in the future

Shopify Inc shares have more than tripled in the past year. On Wednesday, Shopify shares were up by an extra 3.4% above $400.

Shopify (NYSE:SHOP) is the fast-growing tech stock.
If you are looking for growth stocks this particular stock is outstanding. Five years ago Shopify went public and provided to many investors a real wealth. But it is not the end. This stock is likely to give more. 
Shopify's rise has been truly beautiful to investors. This commerce platform went public in May 2015 and today its shares are up unbelievable 1,400%.
Its annual GMV rose from $3.8 billion in 2014 to more than $41 billion in 2018, and grew 50%, to $225.0 million this year, driven by the growth of Gross Merchandise Volume. Its revenue rose from $105 million to above $1 billion.
The great thing with Shopify is that the number of merchants that use Shopify's tool will continue to grow. The reason is clear, e-commerce is growing and will more and more.
Shopify is a leading global commerce company that offers easy for entrepreneurs to begin a business at just $9 per month.
Why Shopify is better than Amazon?
As a difference to Amazon, Shopify gives retailers to have own brands on the packaging, so their customers can recognize them. This is a great advantage for merchants and provides Shopify with a fast increase share in the industry. You have to admit that it is better than "powerful" Amazon. Shopify may easily become a master of the game. Don't underestimate this feature  – a new fulfillment network.
Shopify prepares and sends its retailers' products over the U.S. It uses ML technology to optimize its catalog and minimize transportation costs. It is extremely helpful to small businesses but the benefit is on Shopify's side too. Its management values that small businesses represent a $70 billion opportunity. And Shopify just started to enter that field. 
By helping smaller retailers to grow their businesses, Shopify could become a more large company.
Third-quarter financial report
On October 29, Shopify Inc issued Q3 2019 Financial Results.
– Total revenue in the third quarter was $390.6 million, a 45% increase from the equal quarter in 2018.
– Subscription Solutions revenue grew 37% to $165.6 million. This increase was made by growth in Monthly Recurring Revenue1 ("MRR") and to an increase in the number of merchants joining the platform.
– Merchant Solution's revenue grew 50%, to $225.0 million
– MRR as of September 30, 2019, was $50.7 million, up 34%. Shopify Plus gave $13.5 million, or 27%, of MRR compared with 24% of September 30, 2018.
– GMV for the third quarter was $14.8 billion, which is an increase of $4.8 billion, or 48%, over the third quarter of 2018. Gross Payments Volume3 rose to $6.2 billion
– Gross profit dollars grew 45%, to $216.7 million
– Operating loss for the third quarter of 2019 was $35.7 million, or 9% of revenue
– Net loss for the third quarter of 2019 was $72.8 million, or $0.64 per share, compared with $23.2 million, or $0.22 per share, for the third quarter of 2018.
– Adjusted net loss for the third quarter of 2019 was $33.6 million, or $0.29 per share.
– Shopify had $2.67 billion in cash, cash equivalents, and marketable securities. The increase reflects $688.0 million of net proceeds from Shopify's offering of Class A subordinate voting shares in the third quarter of 2019.
Shopify's stock price
Shopify's stock isn't cheap, currently, it is $396.94. But it is the essence of growth stocks, they are expensive. But profit comes from mighty global trends that are driving its growth.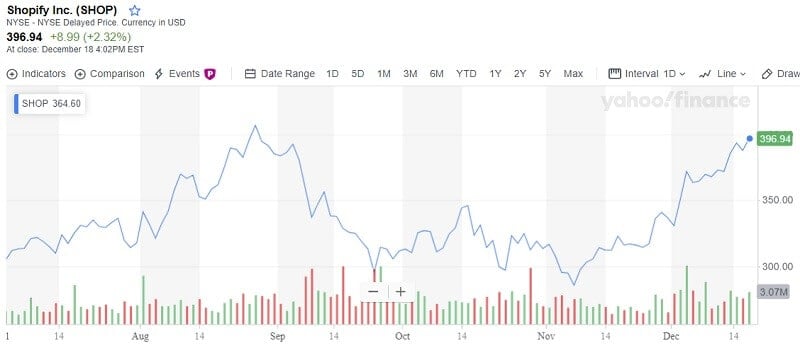 Shopify's current market capitalization is $45 billion. If you invest today in this company you will have fairly big gains in the future.
Shopify has had a great year. It surpassed the number of 1,000,000 customers, launched a new fulfillment network, and increased its outlook for annual revenue. Yes, the stock is up 165% this year.

The bright future for Shopify
Shopify is forecasted to grow revenue at 44% in 2019 to $1.55 billion. That is 7.5 times its revenue in a period of 4 – 5 years. Its extraordinary growth put the company in a third-place (measuring a share of e-commerce sales over the last year) just after Amazon and eBay. Traders Paradise thinks that it will be the second place very soon, and will be ranked in front of eBay.
The company is spending its profits very smart to improve the platform and on acquisitions which provides new growth. Shopify invested $1 billion to implement a fulfillment network that is more merchants-friendly than Amazon's. The company is investing in its operations and don't expect to be profitable soon. This e-commerce platform holds $2.7 billion in cash and securities, so it has enough space to fund its businesses.
We can see that even when some company becomes giant, it has a lot of space to grow more.
If you already bought this stock, hold it since the new increase is very possible. If you still didn't invest, it's time.
When unsure what's the right move, you can always trade Forex
Get the number #1 winning technical analysis ebook for trading Forex to your email.
Containing the full system rules and unique cash-making strategies. You'll be surprised to see what indicators are being used and what is the master tuning for successful trades. Including case-studies and images.