Kadcyla is medicine for the adjuvant treatment of people with HER2-positive early breast cancer with the residual invasive disease after neoadjuvant treatment.
Roche stock price rose for more than 21% over the past 12 months
Roche on December 19 has announced that the European Commission has approved Kadcyla for the after-surgical treatment of patients with HER2-positive early phase breast cancer. Kadcyla is a single agent for treatment HER2-positive patients metastatic breast or lymph nodes cancer. 
According to Levi Garraway, Roche's Chief Medical Officer and Head of Global Product Development, this approval of Kadcyla from the European Commission "will allow many more women with HER2-positive early breast cancer to be given a transformative treatment that may cut the risk of their disease returning or progressing."
The purpose of neoadjuvant treatment is to make tumors smaller thus enhances surgical results. Adjuvant treatment helps to eliminate any residual cancer cells and reduce the risk of cancer returning. Patients who have the remaining disease after neoadjuvant treatment have a worse prognosis and this drug should help them to improve the chances of longer and normal life.
The good results of treatment with Kadcyla are well-known in the US where women are already been treated with this drug. The US Food and Drug Administration approved this treatment on May 4 this year. Kadcyla is approved in 27 countries for the treatment of early breast cancer phase. It is recommended by the St. Gallen International Breast Cancer Conference, the NCCN and the AGO.
Learn more about breast cancer
Roche stock
Roche stock price (SIX: RO, ROG; OTCQX: RHHBY) has risen more than 21% over the past 12 months. During that time, Roche Holding AG got two approvals of new treatments for breast cancer. Kadcyla and Perjeta, both came from the large oncology drugs portfolio at Roche's Genentech group.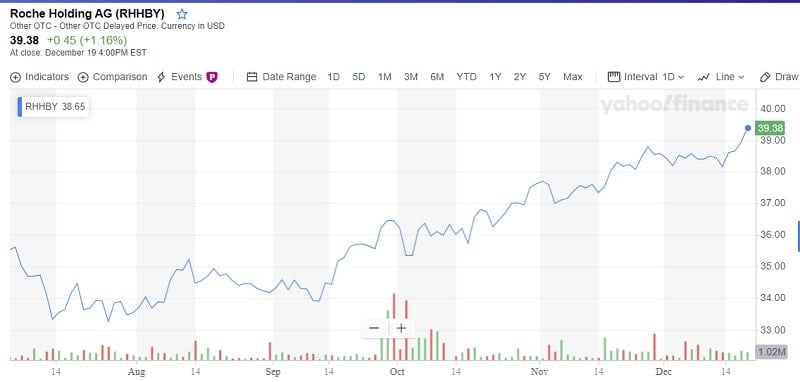 So, Roche Holding AG's stock price is higher than it was 12 months ago, with a return of about 6.4% in the same period. Moreover, it looks like it can hold up for the long-term. For investors, it may seem like very good news. But, the long-term returns were 17% over the three years. It wasn't too much.
And Roche Holding had a Total Shareholder Return (TSR) of 25% for the last year. That beat its share price return. This is mainly a result of its dividend payments! 
Roche Holding has paid shareholders with a TSR of 25% in the past twelve months. The dividend is included. As we can see the TSR for one year is better than for 3 years, which means that the Roche stock is running better in the more recent period.
The share price momentum continues strong, and it might be worth paying attention to this stock. At the time of writing (December 20), the price of Roche (RHHB) stock is $39.38 and data shows that the asset price is in an uptrend for the past 12 months with a further rising trend. That may drive the price up to $46 or $47 in the next 12 months. 
The current consensus among analysts is to buy stock in Roche Holding AG.
About the company
Roche is a pharmaceutical and diagnostics company, the largest biotech company in the world. This combination under the roof of one company made it the leader in personalized healthcare.
Its products are aimed at oncology, infectious diseases, immunology, ophthalmology and diseases of the CNS. Roche is famous for in-vitro diagnostics and tissue-based cancer diagnostics. Also, it is a leader in diabetes treatments.
The company is founded in 1896. Since then, more than thirty drugs developed by Roche are in the World Health Organization Model Lists of Essential Medicines.
By the Dow Jones Sustainability Indices (DJSI), Roche is for 11 years one of the most sustainable companies in the pharmaceutical industry.
Its headquarters is in Basel, Switzerland. Last year, Roche invested around $11.2 billion in R&D and posted sales of almost $58 billion. In the US, Genentech is a wholly-owned member of the Roche Group. Also, Roche is the majority shareholder in Chugai Pharmaceutical, Japan.

When unsure what's the right move, you can always trade Forex
Get the number #1 winning technical analysis ebook for trading Forex to your email.
Containing the full system rules and unique cash-making strategies. You'll be surprised to see what indicators are being used and what is the master tuning for successful trades. Including case-studies and images.