Despite the recent tragedy, the company's third-quarter report is strong

Ollie's Bargain Outlet Holdings Inc (NASDAQ:OLLI) reported its quarterly earnings results on Tuesday, December, 10 and surprise all analysts.
It was a hard quarter for Ollie's Bargain Outlet (NASDAQ: OLLI). Its CEO and founder Mark Butler passed away. But despite that tragedy, the management succeeded to give his company a strong third-quarter performance. Here is the transcript.
Ollie's Bargain Outlet reported stable growth. They succeeded thanks to opening the 13 new stores and extension of its presence to 25 states. That increased revenue gains in the third quarter. Total sales recorded 15.3% of growth in the last 12 months, or $327 million. Gross margins increased over the year to 40.8%. Ollie's Bargain Outlet stated the progress came from increased margins on merchandise. At the same time, they managed to hold under control costs in the supply.
The company reported a 22% increase in operating income and it is $35.7 million.  Also, net income increased by 8.6% to $27 million, and earnings grew by 7.9% to $0.41 per diluted share.
Ollie's Bargain Outlet stock
OLLI stock rallied 12% in the extended session yesterday (Tuesday, December, 10) after reporting third-quarter results that were beyond Wall Street expectations. John Swygert became the company's president and CEO, also. In a company's press release, it is stated that the Q3 earnings report surpassed analyst expectations. Ollie's Bargain Outlet announced it earned $27 million in the quarter. That is more than $24.8 million, which was in the same quarter last year. Sales grew 15% to $327 million, from $284 million a year ago. 
Analysts' expectations were the company would report GAAP and adjusted earnings of 38 cents a share on sales of $323 million.
Today, December, 11 Ollie's stock price is $60.30 which is the growth of 0.12%. But on pre-market the stock traded at $66.45.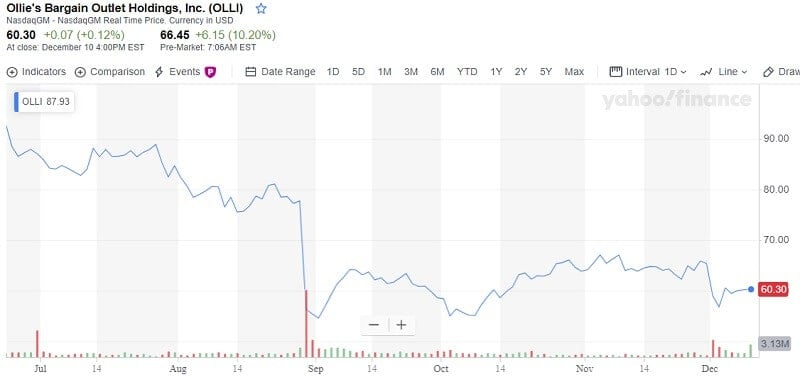 The analyst's forecasts for Ollie's stock are the median target of $75.50, a high estimate of $94.00 and a low of $65.00. The median estimate represents a +25.21% jump from the last price of $60.30.
Regarding the earnings reported, Ollie's might amaze us afresh. Traders Paradise's opinion is the stock a good buy. 
The guidance on next quarter's earnings
Ollie's Bargain Outlet updated its earnings guidance yesterday, on December 10. It provided EPS guidance of $1.95-2.00. Ollie's issued revenue guidance of $1.419-1.430 billion, which almost the same as the consensus revenue estimate of $1.43 billion. 
Some investors are short selling OLLI and 17.2% of the shares of the stock are short sold currently.
Company's ABOUT
This company is a retailer that offers food products, books, stationery, housewares, bed and bath products, health and beauty products,  electronics, toys, hardware, candy, clothing, pets, garden products. It offers its products essentially under the names: Ollie's, Ollie's Bargain Outlet, Ollie's Army, Good Stuff Cheap, Real Brands! Real Bargains, Real Brands Real Cheap!,  Steelton Tools, Sarasota Breeze, American Way, Commonwealth Classics. From this year, the company is present in 25 states in the eastern part of the US. The company's previous name was Bargain Holdings, Inc. The name was changed to Ollie's Bargain Outlet Holdings, Inc in March 2015. The company was founded in 1982 with headquarters in Harrisburg, Pennsylvania.
When unsure what's the right move, you can always trade Forex
Get the number #1 winning technical analysis ebook for trading Forex to your email.
Containing the full system rules and unique cash-making strategies. You'll be surprised to see what indicators are being used and what is the master tuning for successful trades. Including case-studies and images.