Forty Seven Inc. announced preclinical proof-of-concept data for its novel all antibody conditioning regimen. This announcement caused the stock price climbing.
Until Monday, December 9, Forty Seven Inc. (FTSV) shares were traded at $14,44. Two days ago, its price per share rose at $30.43. On Tuesday, December 10, the stock price increased for an additional 13% or $4.22 and traded at $34.65.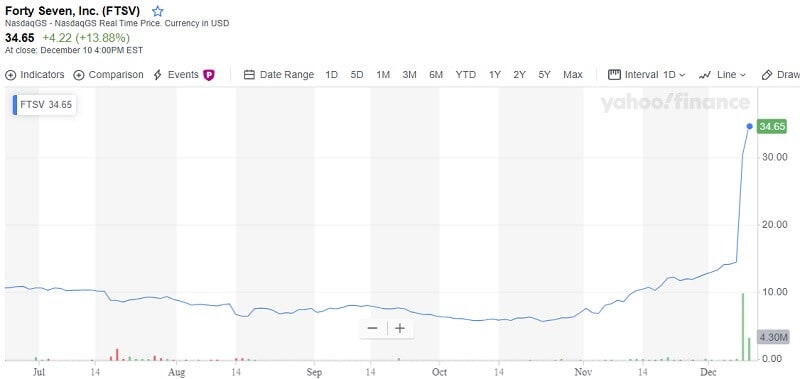 What happened?
The stock price rose upon the news. It was a response to new data from the Phase 1b clinical trial of magrolimab, in combination with Celgene's Vidaza, in treating patients with MDS and AML patients to whom induction chemo isn't suitable. The new results were shown at ASH in Orlando.
FTSV scored 110.73% gain, meaning the investors found a great opportunity here.
Guggenheim equity researchers improved the status of Forty Seven, shares to a "buy" rating in the report from November 20th, 2019. Mizuho also was rating FTSV as "Buy". Same as ROTH Capital.
Since Forty Seven Inc. announced preclinical data for its new all antibody conditioning regimen, the stock price has skyrocketed. 
Forty Seven Inc. What To Watch
The current dividend yield for FTSV is zero, this means the investors will get the return investors no matter how the company's performance will be in the future period. Furthermore, the company increased sales from quarter to the quarter which was the sign of progress. Forty Seven Inc. belongs to the healthcare sector and biotechs industry. Its market capitalization is $1.26B.
Its EPS was $-2.78 and outstanding shares were 41.40M. The shareholders have to look a bit deeper. The company has recorded a weekly performance of 134.98%. The monthly performance is at 268.85%.

FTSV is currently showing an average of 217.78K in volumes. The volatility of the stock per month is at 14.09%, and the per week volatility levels are recorded at 28.84% with 134.98% of gain in the last week.

The analysts' estimation for Forty Seven Inc is a median target of $37.50, with a high of $45.00 and a low of $20.00. This median estimate shows a +8.21% increase from the current price of 34.66. The price target established for the stock is $19.36, an awesome set of a potential movement for the stock.
The company's ABOUT
Forty Seven Inc. is a clinical-stage immuno-oncology company. It is developing treatments that target cancer immune evasion pathways. The technology for that is licensed from Stanford University.
The company's main program, magrolimab, is a monoclonal antibody against the CD47 receptor. This antibody is being estimated in various clinical studies in patients with myelodysplastic syndrome, ovarian cancer, non-Hodgkin's lymphoma, acute myeloid leukemia, and colorectal carcinoma.
The company is dedicated to developing a defense against cancer. They strongly believe that CD47-SIRP-alpha is a novel immune pathway. This approach in anti-cancer therapy means patients can fight cancer with their immune cells. Its new class of immunotherapies gives a new pathway to patients living with cancer and may have no other option. This discovery came from Irv Weissman and his colleagues at Stanford University who identified CD47-SIRP-alpha.
The company is established in 2015.
When unsure what's the right move, you can always trade Forex
Get the number #1 winning technical analysis ebook for trading Forex to your email.
Containing the full system rules and unique cash-making strategies. You'll be surprised to see what indicators are being used and what is the master tuning for successful trades. Including case-studies and images.