FCAU could be a solid portfolio addition since Fiat Chrysler Automobiles is a good investment.
The labor concerns are solved and Fiat Chrysler can switch its attention to its merger with Peugeot owner, PSA Group.
Of course, you will watch the stocks you like, but our choice of stock to watch in December is Fiat Chrysler. On Monday, December 2, its shares were changed a bit since the Fiat Chrysler stated that the automaker made an agreement with the United Auto Workers (UAW) over the last weekend. It looks that Fiat Chrysler Automobiles will avoid a strike. Previously, General Motors and Ford made agreements with the UAW.
So, it will be interesting to watch this stock in December and how this agreement will influence the stock price.
The UAW revealed some parts of the agreement. According to UAW Fiat Chrysler will invest $9 billion to add 7,900 jobs in the next four years. The negotiations were focused on benefits, salary, and job security. The deal is expected to be reviewed by UAW's national council on Wednesday, December 4. If UAW's council confirms it, the next step is Fiat Chrysler union members to ratify it. It should be happening on Friday.
The smart choice made Fiat having in mind how big financial damage experienced General Motors during the UAW strike in September and October.
General Motors's revenue declined 1% in the third quarter,  net income fell by nearly 9%. But that is not the end, General Motors easy could experience further downs next year when its Q4 earnings report is expected.
With this deal, Fiat Chrysler opened a space to continue with the merger with Peugeot owner PSA Group. The past tries to couple with this European car company, didn't result in a union. 
The Fiat Chrysler's problems grow
The Schall Law Firm announced the filing of a class-action lawsuit against Fiat Chrysler Automobiles N.V. (NYSE: FCAU) for violations of the Securities Exchange Act of 1934 and Rule 10b-5 declared thereunder by the U.S. Securities and Exchange Commission.
Investors who bought the Fiat securities between February 26, 2016, and November 20, 2019, didn't have the real data, according to the law firm.
According to the Complaint, Fiat Chrysler presented incorrect and misleading reports to the market. Fiat joined in a bribery system created to obtain beneficial terms from labor unions for its collective agreements. The top-level management was engaged or had information about the schemes. The law firm said that Fiat's "public statements were false and materially misleading throughout the class period." When the market noticed the facts about Fiat, investors experienced losses. Some of them have losses above $100,000.
The Schall Law Firm represents investors all over the world and specializes in securities class action lawsuits and shareholder rights litigation. 
Fiat Chrysler (FCAU) stock price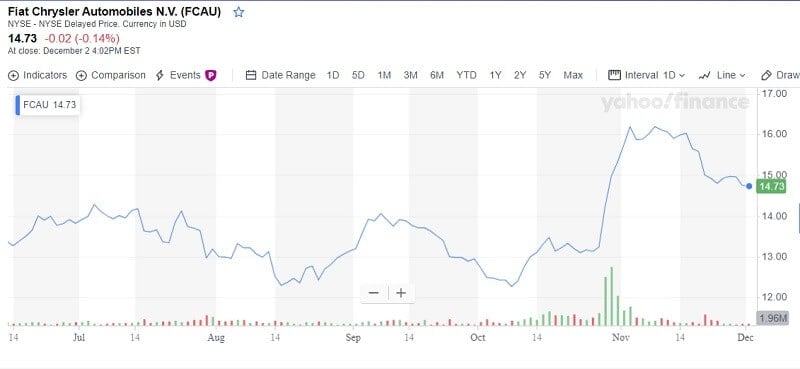 Fiat Chrysler stock was traded at $14.73 on Monday which was a decline of 0,14 %. Today it is $14.760 with an increase of 0.1017%. It is a good company, the stock can provide a good return, so we can say it is a lucrative investment option.
Based on Traders-Paradise's calculations, this stock is a good long-term investment. In the 5-years period, the revenue on your investment could be about 40% and the stock might worth above $20 at the end of that period.
The analysts forecast for Fiat Chrysler Automobiles a median target of $17.85. A high estimate is about $20 and a low estimate is around $12. The future price of the stock is predicted at $28.799 after a year according to some other analysts. On 2019 December 03, the current price of FCAU stock is $14.765 and our data shows that the stock price has been in a downtrend for the past 12 months.
FCAU stock price has been presenting a declining tendency but Check our tool to determine the best exit strategy.
When unsure what's the right move, you can always trade Forex
Get the number #1 winning technical analysis ebook for trading Forex to your email.
Containing the full system rules and unique cash-making strategies. You'll be surprised to see what indicators are being used and what is the master tuning for successful trades. Including case-studies and images.