Good and bad news may have a great influence on the stock price
These two stocks show both sides, winning and losing on the market
Top winners and top losers last week in the stock market is easy to find but what lies behind sometimes looks like a tricky part.
For example, EyeGate Pharmaceuticals, Inc. (EYEG) is one of the winners last week. But what did make it become a winner? 
The news about the high quality of its ocular bandage gel eye drops is able to provoke investors' sentiment and confidence in the company. What did that news show us? The company is investing in research and development and improve its products. 
And shares rose by more than 90%.
The news that the company's innovative eye-drop bandage worked better than the usual kinds of care. Its bandage contact lens, for the patients in need of corneal wound repair, is better than the others. EyeGate intends to submit a new application to the Food and Drug Administration in the first half of 2020.
EyeGate CEO Stephen From said: "If approved, it will be the first product indicated to repair corneal defects, as well as the first prescription hyaluronic acid eye drops in the U.S.," stated in a release. The company is expecting additional data this week. 
And what happened? 
The stock price jumped on good news.EyeGate shares rose on data for eye treatment data.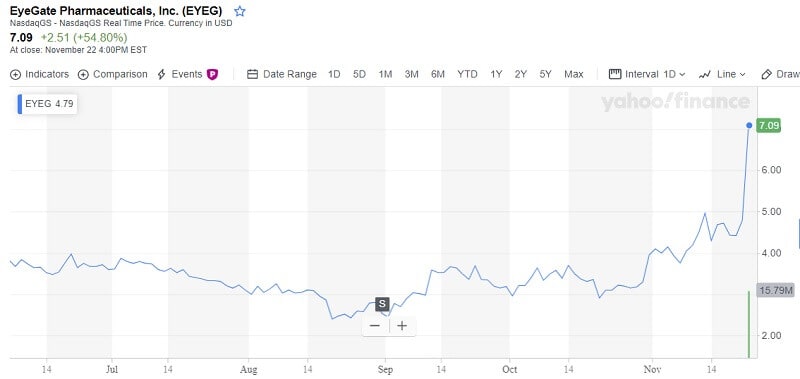 Top winners and top losers last week are always the subject of investors' attention. Yes, the stock price may jump on bad news too as well to drop on a good. Traders-Paradise wrote about it already.
Let's go a bit deeper in top losers. One of them is Pure Storage, Inc. (PSTG).
Pure Storage (PSTG) stock dropped Friday after the company reported Q3 results on Thursday. The results missed Wall Street estimates. Pure Storage is a provider of data system technology. On Thursday last week, they reported an adjusted profit of 13 cents/share but Wall Street expected a profit of 9 cents. That was good but revenue of $428.4 million missed the estimation of $440 million. The company's revenue was $11.4 million below estimation.
The stock price dropped despite the fact that the company's revenue grew 15% in comparison to the same period last year. The problem arose due to the fact that it was the slowest growth over 4 years.
Pure Storage stock dropped 15.1%, closing at $16.86 on Friday.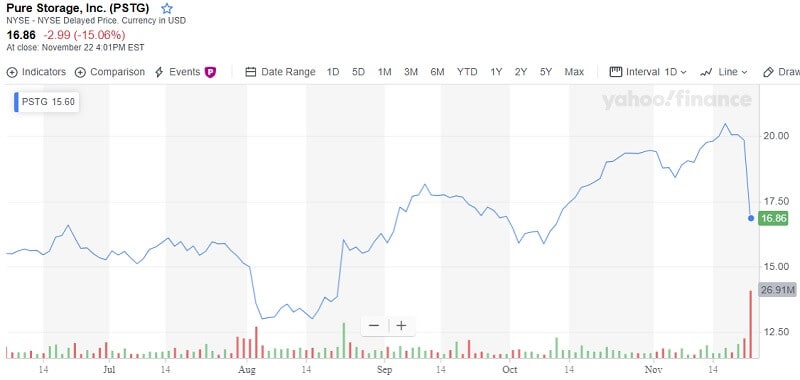 Top gainers often continue to rise and reach new highs with strong fundamentals. When a stock continues reaching new highs it's essential to pay attention since there might be a retracement.

Bottom line
What Traders-Paradise thinks about those two stocks, the top winners and top losers?
News reports about EYEG stock have been trending positive lately. That may easily cause optimism among investors and hence, the good news is likely to affect the stock price rising in the near future. So, this stock has a BUY signal. 
EyeGate Pharmaceuticals, Inc stock is a good long-term investment. If you are seeking stocks with stable returns, this one can be a beneficial investment choice. EyeGate Pharmaceuticals, Inc was traded at $7.090 last Friday. We are expecting a further increase in the next years. This stock may reach $14 in the next 4 years. If you invest $1.000 today you may have $2.000 at the end of that period since the revenue is expected to be about 100%.
This may be an early warning and the risk will be increased slightly for the next couple of days. In total, 26.89 million shares bought and sold for approximately $453.37 million.
On the other hand, Pure Storage, Inc stock can be a bad long-term investment and high-risk investment option.
Pure Storage, Inc was traded at $16.860 on Friday last week. It dropped from $19.85 and that marked a fall of 3 days in a row. Volume has grown in the last day by 21.42 million shares but on dropping prices. The Traders-Paradise opinion is the stock will continue to fall in the days ahead and your investment may be decreased in the future. 
When unsure what's the right move, you can always trade Forex
Get the number #1 winning technical analysis ebook for trading Forex to your email.
Containing the full system rules and unique cash-making strategies. You'll be surprised to see what indicators are being used and what is the master tuning for successful trades. Including case-studies and images.