The famous brand in ketchup plays catch-up

The packaged-food giant reached rock bottom and positive signs are unfortunately weak. They are not enough to warrant a buy right now.
The Kraft Heinz Company (NASDAQ: KHC) reported third-quarter 2019 financial results on October 31. The company reported lower net sales and higher input costs. So, the third quarter performances for this company were a lot below their potential but still, the company showed growth in comparison to the first six months this year.
Kraft Heinz CEO Miguel Patricio said: "We are making good progress in identifying and addressing the root causes of past performance, as well as setting our strategic direction. Although there is still much work ahead, we're encouraged by our improving performance, and are even more confident in our ability to turn around the Company and set a path of long term growth and profitability."
The Kraft Heinz Company results
Net sales were $6.1 billion, and it was 4.8% below than it was in the same period last year.
Net income increased to $899 million and diluted EPS increased to $0.74. Adjusted EBITDA declined 7.8% to $1.5 billion. The drop was caused by the drop in the United States and Canada, but there are higher overall corporate expenses also.
The Board of Directors of the Kraft Heinz Company announced a quarterly dividend of $0.40 per share of common stock. It will be payable on December 13, 2019.
The KHC stock was traded at $30.54 on Friday, November 22, which is an increase of 0.99%.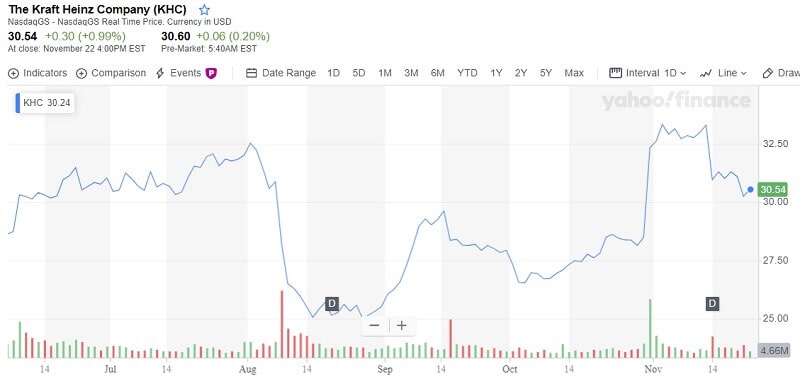 Should you buy the Kraft Heinz Company stock?
The analysts offering 12-month price predictions for Kraft Heinz Co have a median target of $32.00. Their high valuation is at $38.00 and a low at $23.00. The median shows a 4.78% rise from the current price.
The recommendation is to hold stock in Kraft Heinz Co. 
But the other group of analysts is pretty much sure that the Kraft Heinz stock couldn't have good returns. That's the reason why they claim that this stock is a bad and high-risk long-term investment. Today's quote (Nov 25) for Kraft Heinz is $30.53 which is lower than on Friday. 
Traders-Paradise opinion
Having the current price of KHC stock in our mind and with the knowledge that the stock price had a downtrend for the past 1 year, we in Traders-Paradise are not sure is this stock is good as a long-term investment. We are close to thinking that this stock could easily drop significantly in the future hitting a decline of over 100% and to end up worthless. So, we suggest staying away from this stock if you are seeking a new addition to your investment portfolio. This is important especially if you are a new player on the market and don't have enough experience. 
This stock is trading in bear markets, which is harder for new traders.
But if your plan is to buy and hold Kraft Heinz stock for a short time, for example, the next 10 days or two weeks, it can be a good choice. As we can see, the stock price could hit around $35 in the next several days.
Bottom line
The price line shows the possibility of zigzag running to the end of this year. After the end of this year, we are afraid that this stock will gain further declines.
Our opinion comes from the suspicion that the company is not able to answer the challenges of predicting consumer demands. In its latest report, we couldn't find that the company is ready to offer new products or to react to rivals' improvements.
The Kraft Heinz Company survives 150 years of challenging and produced some of the products well-known over the world. Yes, it is one of the largest global food companies, but the new era is already here and the company has to catch the moment.
The point is that General Mills or Nestle are better choices in our opinion.
We can recognize some possible upward movements, but they are weak and don't provide enough reasons to buy this stock now.

When unsure what's the right move, you can always trade Forex
Get the number #1 winning technical analysis ebook for trading Forex to your email.
Containing the full system rules and unique cash-making strategies. You'll be surprised to see what indicators are being used and what is the master tuning for successful trades. Including case-studies and images.