Bitcoin usage for laundering dirty money requires knowledge

The military wing of Hamas, the Gaza-based Brigades called their patrons to send them money using Bitcoin
Bitcoin usage for laundering the dirty money is made much more often than anyone can expect. Criminals utilize the fast-moving speed of technological development with financial transactions. That fact was confirmed many times until now. They are totally ready and educated to handle new payment methods and cryptocurrencies are extremely interesting for them.
The criminals are using cryptocurrency to launder the incomes of their criminal activities, of course. The most popular is Bitcoin, of course. But not due to its nature. The reason is there are so many exchanges where they can exchange their dirty money for bitcoins.
Their opinion is that it is easy to hide tracks of transactions just because one of the main characteristics of Bitcoin is anonymity. That way, they can hide the source of income and send cryptos all over the world without exposure to the law. 
As Bitcoin appeared, meaning since 2009, more than $2,5 billion of dirty money was laundered through Bitcoin. But, Bitcoin usage for laundering dirty money requires much more knowledge and money.
The chain of mistakes
The first mistake in their minds and education and overall knowledge about crypto – it isn't so hard to hide the tracks of transactions. Actually, it is quite easy to link Bitcoin transactions and identify the criminals. Blockchain, the technology behind the Bitcoin, is entirely transparent and browsable by literally anyone.
The criminals are not so good artists and that's why those stupid idiots are constantly caught for using Bitcoin in illegal activities. The point is that Bitcoin isn't anonymous in the sense of their opinions.
The truth is, there is hardly any crypto on the market that is able to hide identities when making transactions.
But how do they do that? Of course, we will never disclose all their tricks here even if we know a lot about them.
First of all, they are using the dark web.
For example, criminals divide Bitcoin after purchasing it and reassemble it with the help of so-called "tumblers". Tumblers are. let's say, bitcoin mixers. Their task is to clean that dirty crypto bought with dirty money or received as dirty already as payment for criminal jobs. How do they do it?
Tumblers are spreading that crypto on different addresses and wallets. It is necessary to have just one wallet on the so-called clearnet, and a few hosted on the dark web. No more details. That will be all about Bitcoin usage for laundering dirty money.
This service isn't cheap, the fees are ranged from 1-3% of the whole amount.
Hamas practices Bitcoin usage for laundering dirty money
Criminals of all colors and sorts are trying to launder their dirty money. Recently, Hamas is embracing the Bitcoin. They developed a complex cryptocurrency system to raise funds from sponsors and hide the evidence. The military wing of Hamas, the Gaza-based Izz El-Deen al-Qassam Brigades called their patrons to send them money using Bitcoin.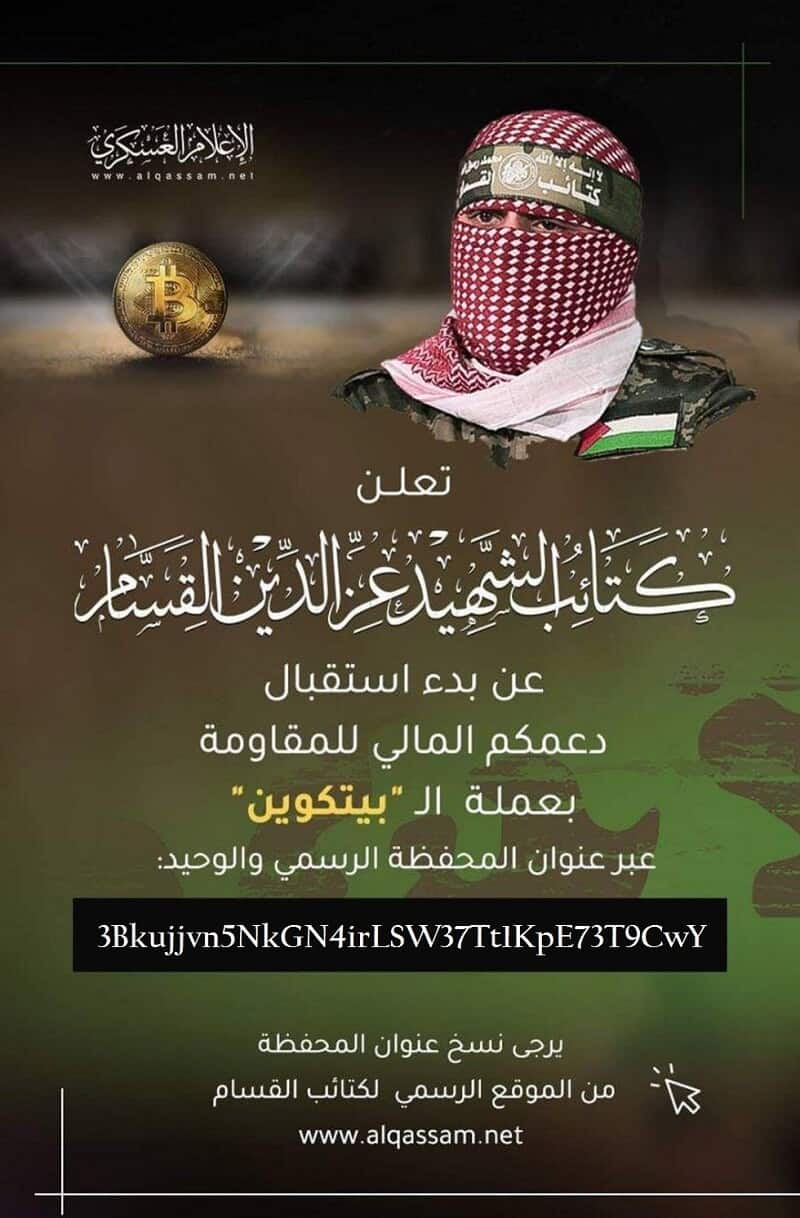 The fundraising operations are revealed online at the end of January this year. After so many misuses by one or the other sort of criminals, we have on the crypto-scene new ones – terrorists. For the terrorist's group's dark purposes, Bitcoin is useful to raise funds. 
Hamas is one of them. Hamas rises money in Bitcoin. Its Izz El-Deen al-Qassam Brigades is a terrorist group proscribed by many countries, among others, the United States, Israel, and the European Union. In truth, sending funds to Hamas is prohibited in those regions.
The complexity in Hamas' work lies in Its website which is generating a new digital wallet with each transaction.
Far more complex to track transactions but not impossible.
So, they were caught.
A leading blockchain analysis firm Elliptic identified them. They discovered where the cash came from, and also, what the Al-Qassam Brigades did with the contributions. Elliptic found that the bulk of the transferred bitcoins came from a "single, major cryptocurrency exchange". The point is that analysts didn't have such a hard task to track cash supplying Hamas. 
Yet, Hamas has to figure out how to use Bitcoin smarter and hide the tracks better. This terrorist group was targeting an international audience and supporters.
Nevertheless, the scheme employed by this terrorist group reveals the weakness of cryptocurrencies. Bitcoin has already suffered criticism in the past over suspicious websites where people have used this crypto to purchase drugs and guns, or for money laundering. Without regulations in this sector, it is quite possible for terrorists to collect money, to receive donations from sponsors, to send money over the globe, and finance their nefarious activities.
Happily, there are so many other ways to use Bitcoin for the right purpose.
When unsure what's the right move, you can always trade Forex
Get the number #1 winning technical analysis ebook for trading Forex to your email.
Containing the full system rules and unique cash-making strategies. You'll be surprised to see what indicators are being used and what is the master tuning for successful trades. Including case-studies and images.