3 min read

The best Forex broker in the UK is regulated by authorized by the Financial Conduct Authority (FCA).
FCA is the only governor that supervises the actions of brokers.
Before some Forex broker can accept UK forex and CFD traders as clients, they have to be approved by FCA.
It is the same rule for all brokerage houses, exchanges, or other financial markets. So we can say the FCA is the central guardian or watchdog.
The official website is FCA.org.uk.
The UK has been the favorite place of many a Forex brokerage for years.
The FCA is prepared as a very intelligent regulatory for brokers trading online financial services.
Where is the advantage of being regulated by FCA?
It allows authorized brokers the right to legitimately contribute through the European Economic Area.
It was the situation since now, but how Brexit will influence the FCA we will see.
But we will stay in UK territory. London is an attractive international financial hub.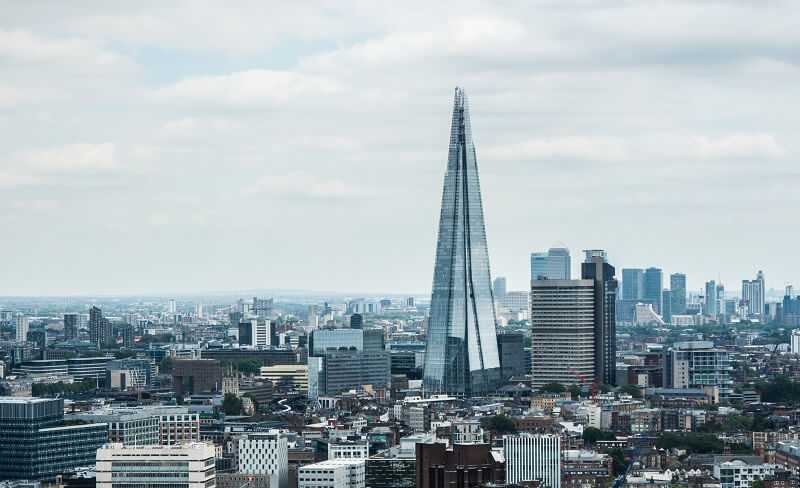 Finding the best forex brokers in the UK is simple as in the other parts of the world.
The traders are looking for great execution features, a secure platform that they can invest their deposit with confidence.
Also, traders would like some account opening bonuses, mobile-friendly trading and SMS alerts.
Anyway, we are giving you some short reviews of 5 best Forex brokers the UK regulated in order to make your search easier.

IG Group – UK FCA Regulated
Image source IG Group: Trading floor
IG is regulated over the world one the best Forex brokers in the UK. It offers traders a huge list of products, a lot of trading tools, educational material, and reasonable prices.
The IG Group could easily be the No. 1 in 2019.
They are covering the wide variety of markets, currency pairs, and CFDs including cryptocurrencies. Also, they have full trading and analysis tools and real-time market data.
According to users experiences, all specifications stated by the company on their website are true and without double standards. A live trading account can be opened fast. The same is with deposit and withdrawals and there are multiple options.
But, IG trading fees are expensive, particularly if you want to trade with a cheaper account. The other problem is that in most countries, it gives only CFD trading. 
FOREX.com – Best Forex Brokers UK
Image source Forex.com
FOREX.com gives traders the possibility to pick a standard trading account or an Active Trader account.  
The minimum opening deposit for a standard account is $50. The Active Trader account requires $20,000.
It is regulated by several authorities, the U.K., U.S., and Japan.
The minimum deposit is $50.
They are offering two types of platforms:
MetaTrader 4 (MT4) with features and tools that allows traders automatic trading. With the MT4, traders have access to more than 30 types of CFDs and 45 forex markets.
The other is the new Advanced Trading Platform. But there is third, the Dealbook where traders can choose from 120+ currency pairs.
It is robust and fully designed for trading forex. It has a wide collection of trading tools such as pattern recognition software, trading strategies, and an advanced charting package.
Also, FOREX.com offers quality educational material. Also, Advanced charting is accessible through the Forex.com DealBook platform.
In our opinion, all this makes them one of the best Forex broker in the UK.

Image source OANDA: OANDA logo
Oanda is an American Forex broker but the UK regulated.
Actually, Oanda is regulated by six regulatory agencies around the world: the UK, the US, Canada, Japan, Singapore, and Australia. They have a demo account available for as long as a trader needs. So, it is different from the majority of brokers.
Also, they have huge research sources and educational tools.
Their trading fees are low but financing rates are high.
The platform is Oanda's proprietary (they have MT4 too) and it is very user-friendly and well-designed and also, very customizable. And fully automated. That provides traders to execute more trades than they could do it manually.
Oanda has one of the best API offers we have ever seen.
They have a demo account. But Oanda offers only FX and CFDs. Also, there is no minimum deposit.
Alpari – Best Forex Brokers UK

Image source Alpari website: Alpari home page
Alpari is one of the largest forex brokers in the world and the UK regulated. That have over a million customers.  
It is easy to start trading with Alpari because they have eight different methods that accounts can be financed.
They have 75 trading instruments, such as currency pairs, spot metals, and Contract for Difference (CFDs), and cryptocurrencies too. Alpari offers a broad variety of options to trade currencies or trade in other markets. There is also, a small lot sizes. It provides traders to trade as small as 0.01 lots.
Alpari is one of the rare brokers that offer both of the MetaTrader platforms; MT4 and MT5.
It also offers mobile apps for Android and iOS.
Like most brokers, Alpari takes a fee from the spread.
You need a minimum deposit of at least €1 but they also have a demo account.
Image source eToro: eToro demo account
eToro forex broker is primarily a forex and CFD provider.  But still, one of the best forex brokers the UK regulated. With them, you can trade CFDs including stocks, commodities, currencies, ETFs, and indices. Forex trading on eToro includes 47 currency pairs. All from the main currencies pairs to the minor and exotic currency. Spreads on eToro are as low as 0.8 pips. But spreads can be wide as 200 pips for exotic assets. 
Spreads are priced as a percentage of trade's amount. If you decide not to copy other traders you will not pay any fees.
As one of the best forex brokers, eToro doesn't offer various account types. Instead, they have opted one. Every trader on eToro has one single account type. So, everyone receives the same features and advantages.
This means if you start trading with, for example, $250 on their platform, you will acquire the same benefits as the trader who start with $20,000.
CITY INDEX – Best Forex Brokers UK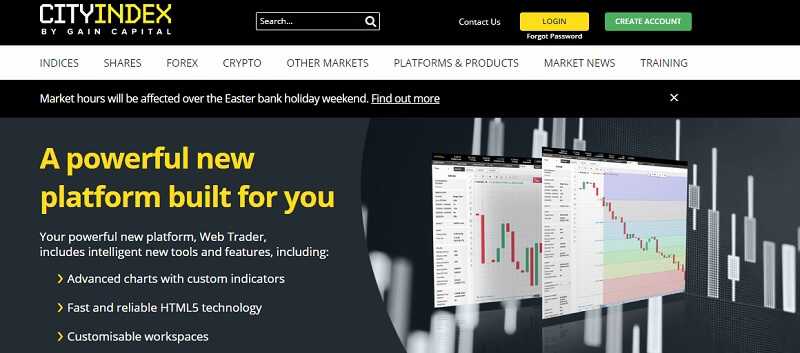 City Index is founded in 1983 in the UK. Today is one of the leading multi-asset brokers in London.
City Index is a subsidiary of publicly traded GAIN Capital Holdings (NYSE: GCAP).
With over 35 years of tradition, City Index works as a confident brand under GAIN Capital in the UK and in Asia.
It is licensed by the Financial Conduct Authority (FCA) and operates according to the European Securities and Markets Authority (ESMA) rules. That means you have limited leverage and safety from negative balance security. Also, it is regulated by ASIC, FCA, FSA(JP), IIROC, MAS, NFA.
It gives traders over 12,500 products across global markets. CityIndex offers cryptocurrency CFDs, bitcoin and a lot of other crypto pairs. Also, you can trade over 84 currency pairs including Exotic Forex pairs. And all over the world.
CityIndex has a free demo account with access to their trading platforms for 12 weeks. They will give you £10,000 in virtual money.
Also, you will have access to pricing on thousands of markets including shares, indices, and bitcoin. Moreover, it is in real time
The bottom line
To find if a forex broker is regulated by the FCA, you have to identify the register number. You can find it in the disclosure at the bottom of the broker's UK homepage.
To find the best Forex brokers UK FCA regulated you have to make research. The reviews may help you. But the best way is to test them through their demo accounts or, even better, open a real account with a small amount. Small that you can afford to lose.
That will give you the real picture about the quality the broker you are testing.
Don't waste your money! 
When unsure what's the right move, you can always trade Forex
Get the number #1 winning technical analysis ebook for trading Forex to your email.
Containing the full system rules and unique cash-making strategies. You'll be surprised to see what indicators are being used and what is the master tuning for successful trades. Including case-studies and images.