4 min read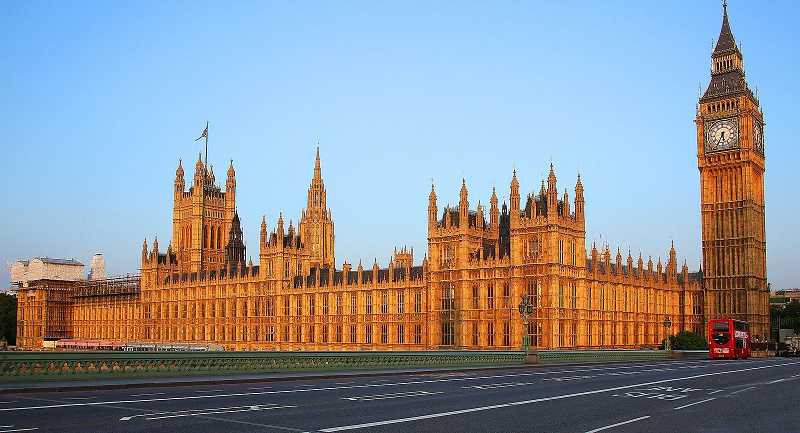 Theresa May, the British PM, looks for a compromise with her political opponents that will deliver a Brexit deal. She is entering the most delicate and dangerous negotiations of the country's split from the European Union.
On Wednesday night, there was an attempt in Parliament of opposition to oust her government in a vote of no-confidence 24 hours after her agreement with the EU was emphatically rejected by the historical margin for any sitting government of 230 votes.
But May survived and opened talks in an effort to break the deadlock. Now she must return to Parliament to set out her Plan B by Monday.
Point is that the UK has just 10 weeks left before the departure deadline.
According to Bloomberg, "May is prepared to blur her red lines to find a plan that will get through Parliament, according to a person familiar with the matter. That could mean keeping close ties to the EU, an outcome backed by opposition parties."
On the other side, the European Union demand she radically rethinks the UK's red lines. The bloc signaled its willingness to delay Britain's withdrawal for a longer time.
That means, the EU had been preparing to make limited concessions over the much-loathed Irish border backstop to help May convince Parliament to back her deal.
But the after Tuesday night it is changed: European governments now believe a more fundamental shift is needed and the move has to come from the UK side, three diplomats said.
"The government approaches these meetings in a constructive spirit and I urge others to do the same," May told the House of Commons after winning the confidence vote. "But we must find solutions that are non-negotiable and command sufficient support in this House."
Economic consequences of Brexit deal
The pound initially rose after the historic vote on the Brexit deal. There were some expectations a cross-party approach would yield a Brexit plan that protects the trading connection with the bloc.
But the Theresa May discovered that the price of her opponents' cooperation could be too high.
Rival party leaders promptly began to establish their conditions for taking part in talks to rescue May's Brexit strategy. On the table is the option of delaying Brexit and even staging a second referendum on the membership of the EU.
The leader of the main opposition Labour party, Jeremy Corbyn refused to take part at all in talks about the government's new Brexit plan.

Corbyn, the Labour leader, said May must rule out a no-deal Brexit as a precondition for discussions. After a spokesman for the prime minister later told reporters she was not doing so, Corbyn's camp said no deal was "blackmail."
A "no-deal" Brexit is where the UK would cut all ties with the European Union overnight.
Labour party, Scottish National Party, and Liberal Democrat members of Parliament favor closer trading ties with the EU. More than May has proposed. Labour party, for example, is advocating full, permanent membership of a customs union with the bloc.
That sound as anathema to many pro-Brexit members of May's Conservative party.
British authorities warn that leaving the EU without a deal could lead to a recession, with the pound falling as much as 25 percent and house prices taking as much as a 30 percent hit. Already, suppliers to manufacturers are stockpiling just in case.
Time is running short, and the prime minister has urgently scheduled calls with EU leaders to discuss the next steps.
It's unclear how much the EU can help.
The bloc is willing to extend the Article 50 negotiating period beyond the summer. In order to find a deal if necessary, according to some diplomats. But on Wednesday, the EU's chief Brexit negotiator, Michel Barnier said there's no way to remove the need for the most contentious part of the agreement, the so-called backstop plan for the Irish border.
According to some diplomats, European governments are willing to delay Britain's departure well into the second half of the year.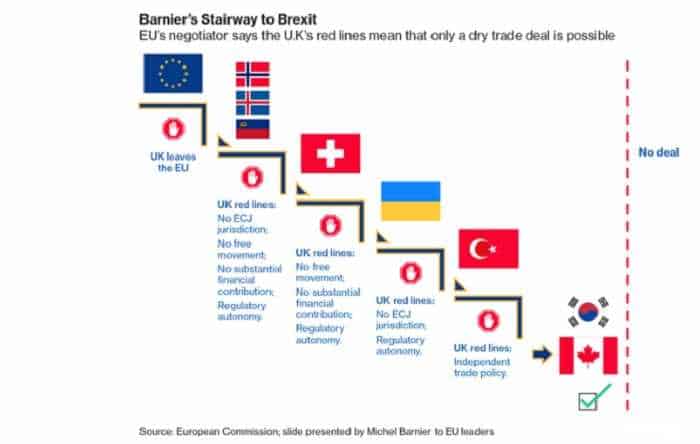 So, there is a chance for Brexit to not happen on the long-ago scheduled date of March 29.
The economic exodus because of Brexit deal
The increasing likelihood of a no-deal split is pushing wealthy Europeans, who have made their homes in the UK, to move out. According to Anthony Ward Thomas, founder of a firm of the same name that specializes in overseas relocation.
He confirmed 296 moves away from Britain in 2018. That is an increase of 82 percent. Favored destinations are Paris, Brussels, Zurich, and Geneva, as well as southern France and Spanish locations such as Majorca. In other words the territories of EU countries.
Popular destinations also include the Channel Islands, which don't apply capital gains or inheritance taxes. Relocation inquiries increased more than 50 percent in the second half last year compared to the first six months.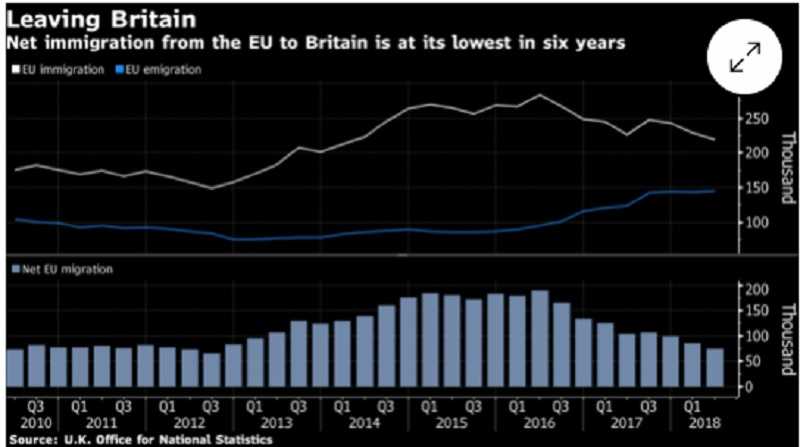 Customers are typically wealthy, having at least 5 million pounds ($6.4 million) at their disposal. They are European Union citizens moving with their families. There are some retirees seeking warmer weather but also favoring "more stable" political climate.
It pretty much looks that the people are abandoning the ship because it is sinking.
And the exodus may accelerate after the rejection of Theresa May's Brexit deal.
You would like to read: What makes the Swedish economy unique and should the world follow its economic model?
Italy has also emerged as a magnet for moves, spurred by Brexit and the introduction of a new tax regime two years ago. This country was previously a focus mainly of the second-home owners. But these days, a new home buyer in Italy is, for example, entrepreneur or hedge-fund manager. They moved their families, bought homes, and started to work remotely.
Financial consequences
The pound drifted on Wednesday and gilts sold off even though the margin of the Prime Minister's loss was way above the threshold many analysts feared would trigger panic. The prospect of a no-confidence vote in May later that evening has also failed to disrupt assets amid a general assumption she will prevail.

The one soft spot was the FTSE 100 Index of shares, which tends to fall when the currency performs well.
The key to the robust showing from UK assets appears to be in the scale of May's defeat. A belief is growing among many financial professionals that there's an increasing chance of a so-called soft-Brexit or even no Brexit at all. Those are outcomes many investors would cheer.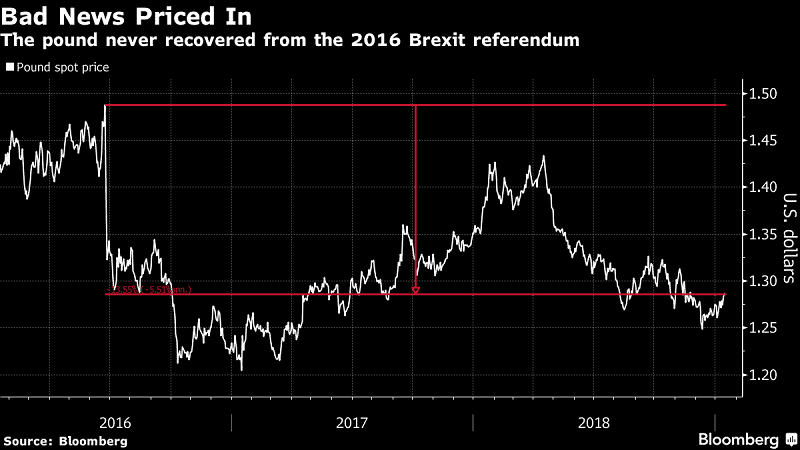 It looks that the chances of a no-deal Brexit are so slim now it's not even really worth considering anymore. It looks that the resolution will be an even softer version than May's proposal or a new referendum.
You would like to read Investment prediction for 2019 – Traders Paradise prediction
That's a view shared by a host of analysts who expected May to survive the no-confidence vote called by the opposition.
The markets offer evidence of a pickup in confidence among traders. The cost of insuring UK banks' subordinated debt fell, while volatility on pound options has slumped.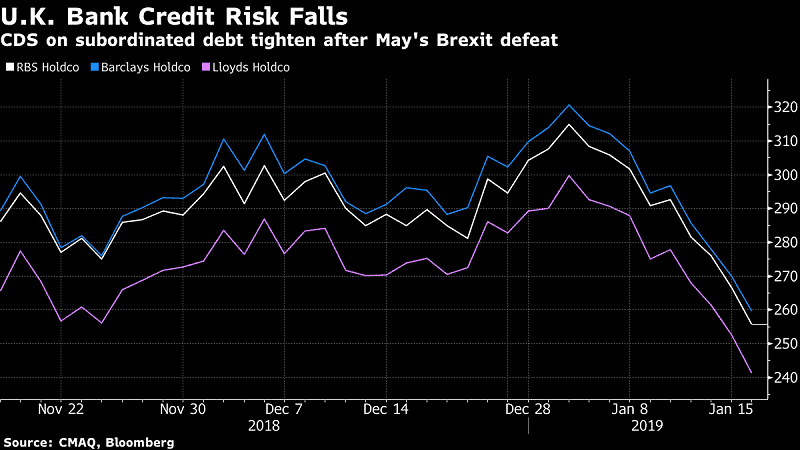 So, we can say that Prime Minister Theresa May's record defeat in Parliament over her Brexit divorce deal caused a curious response from markets: Optimism.
The pound drifted on Wednesday and gilts, which is a traditionally safe investment, sold off even though the margin fell way below the threshold. And many analysts feared it would trigger panic. The prospect of a no-confidence vote in May later that evening has also failed to disrupt asset prices amid a general assumption she will prevail.
Not everyone sees the glass as half full
One undeniable outcome of the defeat of May's deal is a further delay to the Brexit process and yet more uncertainty for traders. Dean Turner of UBS Global Wealth Management is among those recommending caution.
Fidelity International Leigh Himsworth is also wary. He's reminding investors that a no-deal Brexit remains the default option. And that the mechanics of any other possibilities are difficult. He recommends investing in liquid assets and hedging against the various outcomes.
Brussels' chief negotiator, Michel Barnier stated Brexit is at a standstill after the crushing rejection of Theresa May's deal by MPs but offered to return to the negotiating table if parliament forces her to shift the "red lines".
So, we will see. Monday is coming very soon.
Risk Disclosure (read carefully!)
When unsure what's the right move, you can always trade Forex
Get the number #1 winning technical analysis ebook for trading Forex to your email.
Containing the full system rules and unique cash-making strategies. You'll be surprised to see what indicators are being used and what is the master tuning for successful trades. Including case-studies and images.