1 min read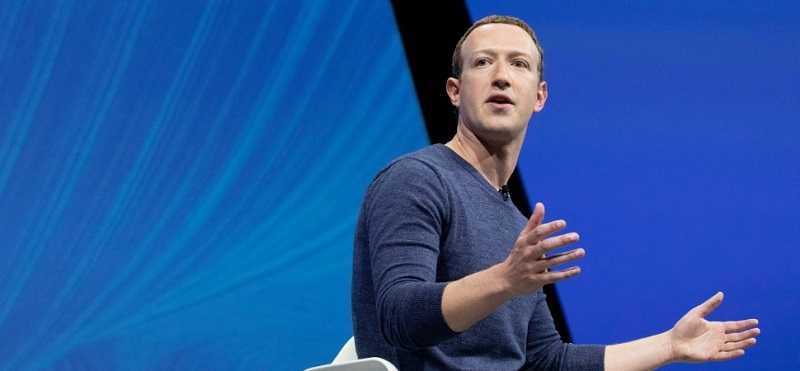 Some time ago we got news from Facebook. They confirmed that they were planning to launch a new team dedicated to the blockchain.
Well, most of us have some knowledge about blockchain but the main question about Facebook is how would they be using it, if we have in mind the recent events related to the use, as we thought, protected data by this social network?
But the main question at Facebook is WHAT IS THE BLOCKCHAIN.
The responsibility to find the answer fell on David Marcus, the Facebook executive who has been running the company's standalone messaging app, the Messenger.
The task for him and his team is to explore the blockchain technology.
In the beginning, this team will be small.
Besides Marcus, the place in this team will take a few key Instagram executives who are moving over: Instagram's VP of Engineering, James Everingham, and Instagram's VP of Product, Kevin Weil.
David Marcus was a president of PayPal which indicate that he has a lot of payment processing expertise and has been in charge of Messenger through a lot of significant changes over the years.
Marcus's contribution to the development of Messenger is great. In fact, Facebook's decision to split Messenger out of the core app so that users had to download the standalone app in order to receive messages on mobile happened during Marcus's first month on the job.
Interesting choice!

But why? Will Facebook make its own David Marcus, VP of Messaging Products at Facebook?
Well, there are several answers and I'll try to discover some of them.
First of all, the blockchain, which serves as the technical foundation for all cryptocurrencies like bitcoin, is all the rage. Facebook's decision to pursue blockchain technology will most certainly add some validity to the crypto industry, which has been very chaotic. This doesn't mean that Facebook will build its own cryptocurrency, but there are many ways that blockchain technology could be used that have nothing to do with cryptocurrencies, including encrypted data storage.
Marcus does have a personal interest in cryptocurrencies, though.
David Marcus, VP of Messaging Products at Facebook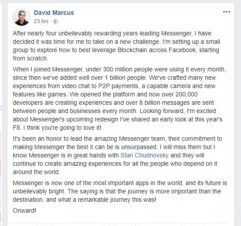 He joined the board of cryptocurrency exchange Coinbase in December last year. Marcus posted on his Facebook profile some time ago: "After nearly four unbelievably rewarding years leading Messenger, I have decided it was time for me to take on a new challenge. I'm setting up a small group to explore how to best leverage Blockchain across Facebook, starting from scratch.
When I joined Messenger, under 300 million people were using it every month, since then we've added well over 1 billion people. We've crafted many new experiences from video chat to P2P payments, a capable camera and new features like games. We opened the platform and now over 200,000 developers are creating experiences and over 8 billion messages are sent between people and businesses every month. Looking forward, I'm excited about Messenger's upcoming redesign I've shared an early look at this year's F8. I think you're going to love it!
It's been an honor to lead the amazing Messenger team, their commitment to making Messenger the best it can be is unsurpassed. I will miss them but I know Messenger is in great hands with Stan Chudnovsky and they will continue to create amazing experiences for all the people who depend on it around the world. Messenger is now one of the most important apps in the world, and its future is unbelievably bright. The saying is that the journey is more important than the destination, and what a remarkable journey this was! Onward!''
Weil, who joined Instagram from Twitter back in early 2016, is one of the new additions to the blockchain team. The other one is Instagram's VP of Engineering, James Everingham.
It's no surprise that Facebook wants to test the functionality of new technologies.
This is a good news.
But, could this also be bad news?
I can't imagine they would launch an ICO considering they already have billions in the bank. Then this might also be a catalyst for other giants to do one, making many coins obsolete.
We will see.
For now, it is evident that Mark Zuckerberg and his team have something big on the mind.
When unsure what's the right move, you can always trade Forex
Get the number #1 winning technical analysis ebook for trading Forex to your email.
Containing the full system rules and unique cash-making strategies. You'll be surprised to see what indicators are being used and what is the master tuning for successful trades. Including case-studies and images.