(Tami)flu brings down Hoffmann-La Roche

La Roche defrauded U.S. federal and state governments for $1.5 billion. The company was lying that its influenza drug Tamiflu was effective at preventing potential pandemics.
Drug company La Roche (OTCMKTS: RHHBY) cheated U.S. federal and state governments out of $1.5 billion. The company was falsifying clinical studies and incorrectly declaring that its influenza medicine Tamiflu was effective at suppressing potential pandemics. That is stated in recently unsealed court documents.
The lawsuit alleges the La Roche company by publishing misleading articles incorrectly affirming that Tamiflu can reduce complications, mortality, and transmission of influenza, mislead the public and regulators. The problem is that the company used those articles for aggressive marketing. Its goal was to assure the US federal and state governments that Tamiflu is efficient for pandemic use. 
Governments spent around $1.5 billion to stockpile Tamiflu
According to the complaint, governments spent around $1.5 billion to stock with Tamiflu in good faith to Roche's claims. But Hoffmann-La Roche caught lying about Tamiflu.
The lawsuit comes under the False Claims Act. According to this Act, individuals can bring claims on behalf of the government. It is stated in the lawsuit that the reimbursement is seeking in the name of taxpayers whose funds were spent on buying Tamiflu. The governments bought tens of millions of units of Tamiflu for the Strategic National Stockpile and spent, from 2005 $1,5 billion for that. 
Possible penalties
Roche could pay judgment bellow $4.5 billion but this one, the False Claims Act requires payment of triple damages, and civil penalties are added.
The whistleblower is Dr. Thomas Jefferson, a doctor and public health researcher in the global Cochrane Collaboration research network.
He has researched inhibitors and among them, Tamiflu also. He works in this field over the past twenty years. When he started to examine Tamiflu's efficacy in 2009 he demanded from the company to release the underlying clinical study data. Dr. Thomas Jefferson got data four years after. It was 2013 when he realized that Tamiflu's effectiveness didn't fit Roche's statements about the use in an influenza pandemic, the lawsuit states.
To make this more unbelievable, as early as 2000 the Food and Drug Administration (FDA) analyzed Roche's data about clinical trials of Tamiflu and warned the company that data showed different effectiveness than Roche claimed. Moreover, the FDA found that Tamiflu gives a small benefit of reducing the duration of flu symptoms but the drug isn't able to prevent transmission nor infection. Hence, the FDA also warned Roche that its statement was misleading.
The lawsuit declares that Roche was aware that Tamiflu is an inefficient drug for resisting influenza pandemics. Yet, Roche marketed this medicine to fill Roche's account at taxpayers' expense. 
Hoffmann-La Roche caught lying a long time ago
This drug was originally produced as an answer to seasonal influenza. But the competition was great and Roche wasn't satisfied with the revenue the drug generated. So, they started to promote Tamiflu as neuraminidase inhibitors, which are intended to prevent clinically relevant influenza virus strains from spreading inside the body. But the data was false.
Almost six years ago The Guardian reported about how Tamiflu is efficient. At that time, the Cochrane Collaboration, a not-for-profit consortium of 14,000 academics and researchers who periodically examine the medical literature to assess the safety and effectiveness of various treatments. obtained all data despite Roche's willingness to withhold the results of its clinical trials.
By having the data, the Cochrane Collaboration has found that Tamiflu has little or no impact on problems of flu infection, for example, it couldn't prevent pneumonia.
In December 2009, the British medical journal (BMJ wrote about an investigation that proved that Tamiflu couldn't prevent serious complications or death in people that have the flu. At that time, the British medical journal suggested that Roche, the Swiss company that produces and sells Tamiflu, has misled governments and doctors.
Roche has claimed that its medicine decreases hospital admissions by 61% in patients who were healthy before they got the flu. It has also claimed that Tamiflu reduces complications like bronchitis, pneumonia, and sinusitis by 67%, and lower respiratory tract infections requiring antibiotics by 55%. All lies.
Still unrevealed
Who can answer the question of why governments all over the world have invested $3 billion in one year, according to the investment bank, JP Morgan, from the emergence of H1N1 in spring 2008 to the end of 2009, for a drug that is not efficient.  
Tamiflu's luck began in 2003, after the SARS outbreak and the emergence of bird flu. And governments started to pile up the drug in a fear of pandemic.
Roche Holding AG Stock (ROG.SW), (OTCMKTS: RHHBY)
Despite the mentioned scandal with Tamiflu and lawsuits, Roche Holding AG stock seems to be a good long-term investment. RHHBY (ROG.SW) could be a profitable investment option if you are looking for stocks with good returns.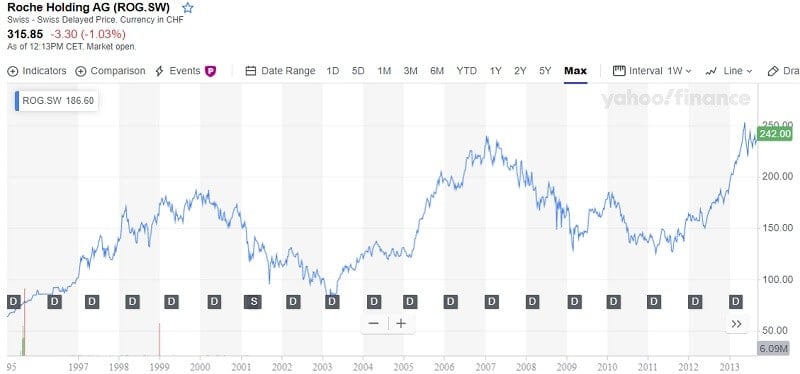 The stock traded at a bit above $41 on January 14 this year. Experts anticipate that RHHBY could go above $73 in the next five years. But the whole pharma sector isn't in such a good position right now. Especially, European pharmaceuticals.
The interesting thing, Bank of America anticipates European stocks to rise this year. But with the exception of the pharmaceutical sector.
The pharma stocks, related to the broad market, move in the opposite course to U.S. bond yields. So if yields rise (the Bank of America expects it will) then the pharmaceutical sector should be damaged. But also, there are some other problems for this sector too. It is its sensitivity to the dollar. It is normal because 40% of the sector's sales come from the U.S. With the reduction in trade tensions between the US and China, it is expected for the US dollar to weaken.
If we put all of this together, the European drug sector could underperform the broader index by 13% over six months. Maybe some influence could have a reducing drug price. But we will not bet on it. It's better to put it on a political field not financial.
Bottom line
The analysts have issued 12-month target prices for Roche Holding Ltd. Genussscheine's shares. Their forecasts are from CHF 225 to CHF 375. On average, they anticipate Roche share price to reach CHF 318.17 in the next year. 
Twelve Wall Street analysts have issued "buy," "hold," and "sell" ratings for Roche Holding Ltd. in the last year. Currently, there are 2 sell ratings, 2 hold ratings and 8 buy ratings for this stock. So, a consensus recommendation is "Buy." After the last lawsuit that alleges the Hoffmann-La Roche company was incorrectly affirming that Tamiflu can reduce complications and death in people with flu, everything is possible. The company can be punished by investors and they may start hard selling. That will decrease the stock price. Since things work that way in the market, some other investors will see the opportunity to buy more at a lower price.
When unsure what's the right move, you can always trade Forex
Get the number #1 winning technical analysis ebook for trading Forex to your email.
Containing the full system rules and unique cash-making strategies. You'll be surprised to see what indicators are being used and what is the master tuning for successful trades. Including case-studies and images.