Oracle is one of ten companies with the greatest cash in the US.
Since its 2016 fiscal year, the company spent more than $75 billion on buyback shares
Oracle Corp. issued a sales outlook for the current quarter. As we can see, it was exactly what analysts estimate. The company plans to increase its revenue by 1% to 3% in the fiscal third quarter which is in line with Wall Street estimation of a 2.3% rise. This software company outperformed expected earnings for its fiscal second quarter. Oracle reported a revenue rise of 0.4%. That is the 6th quarter in a row that the company had revenue growth under 5% in comparison to last year.
During the conference call on Thursday, December 12, the company's  Chief Executive Safra Catz said that revenue is expected to grow from 1% to 3%, but the problem was currency fluctuations.
The stock price declined 3% in extended trading (after the release of the results) and traded at $56.47.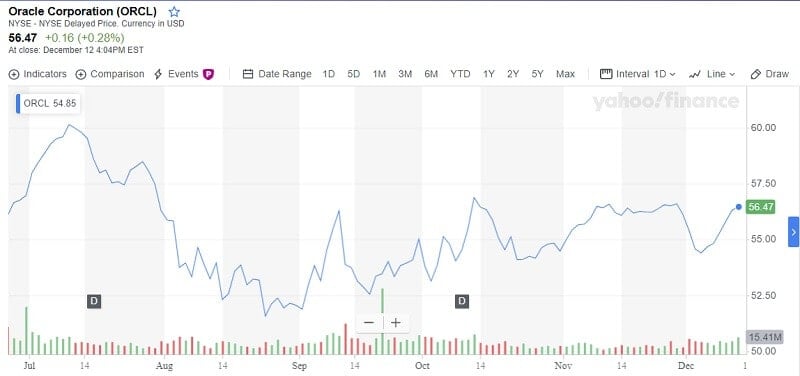 The company previously reported sales increased less than 1% to $9.61, which is less than analysts' projections of $9.65 billion. But the stock has increased by 25% this year while the S&P 500 SPX, has increased by 27%.
This Oracle's report was the first after Mark Hurd, the company's top sales executive, died in October. Safra Catz stayed as sole CEO since Hurd was one of two chief executives.
Oracle made some progress in cloud computing and storage, but it is still a leader in the field of enterprise database software. Oracle's trump card is a new Autonomous Database that runs without human administrators. But the strong competition comes from Amazon.com Inc's enterprise solutions. 
The truth is that Oracle had unsteady sales growth in the past five years. Earlier, in September this year, Catz promised to investors that revenue would quicken in this fiscal year and next. Also, the earnings per share is supposed to grow by a double-digit percentage. The company announced in the same month a new AI-driven operating system and partnerships with Box Inc. and VMware Inc.
But, cloud license sales declined 7.5% to $1.13 billion in the period, which means the company is getting fewer new deals. 
The Oracle (ORCL) stock
In the current quarter, Oracle Corp. predicted earnings of 95 to 97 cents per share. Analysts estimated 96 cents per share. 
The analysts' median target is $57.00 which will be a 0.94% increase from the current price of $56.47. A high estimate is $66.00 and a low estimate of $35.00. This stock has a strong HOLD recommendation.
Traders Paradise app can help you to define your exit strategy for ORCL. Try and find the best strategy for your trade.

The company's ABOUT
Oracle Corp is headquartered in Redwood City, CA. The company is a hardware and software behemoth, specialized in business software products. Oracle started in 1977 as Software Development Laboratories. 
This software giant has a lot of borrowing and spending. The company has spent about $75 billion to buy back stock since its 2016 fiscal year. Also, it spent $41 billion in the last five quarters. That's a lot of money for the company with $19 billion in free cash flow. The buying back shares has pushed the company into a net debt of $35.7 billion in cash.
According to FactSet Research, Oracle is among ten companies with the greatest cash in the US. But its net cash is negative $17 billion. Since 2016, it is about $32 billion declines and the company took a lot of cheap debt to finance buying back shares. That's probably the reason why the stock rose by only 35%.
More problems for Oracle Corp.
Maybe the biggest problem for Oracle is its hesitation to react to the increase of cloud computing. Oracle's main rivals Salesforce, Workday, Amazon, and Microsoft, are taking market share from Oracle.
The dynamic buybacks may arise from the fact that co-founder Larry Ellison himself owns 35% of Oracle's shares, according to a statement filed in September with the SEC. Also, the reason could be some M&A activity. All companies would like to have more cash and less debt, that's not in question. Microsoft,  Apple, or Berkshire Hathaway, have over $100 billion of cash, for example.
Oracle has $35.70B.
When unsure what's the right move, you can always trade Forex
Get the number #1 winning technical analysis ebook for trading Forex to your email.
Containing the full system rules and unique cash-making strategies. You'll be surprised to see what indicators are being used and what is the master tuning for successful trades. Including case-studies and images.