These Asian undervalued stocks are the companies with good competitive power, with stable balance sheets, low debts, and good cash flows.
Asian undervalued stocks are the same as any other undervalued stock. It is a stock that is selling at a price below what is expected to be its intrinsic value. For example, if a stock is selling for $20, but it is deserving $50 based on future cash flows, we can say it is an undervalued stock.
Finding an undervalued stock isn't easy. Such stock usually isn't in the public eye. Even if they are, the media reports are too negative.
But don't be shy to buy undervalued stock. Yes, the risk can be a bit higher but rarely. Such companies maybe have temporary problems and will recover soon. Most of them are working to solve the business problem and it will grow their prospects in the future.
With this in mind, here are three Asian undervalued stocks to buy. By holding them your portfolio may gain a big boost when these stocks come into investors' courtesy again. 
What are Asian undervalued stocks?
Japan Tobacco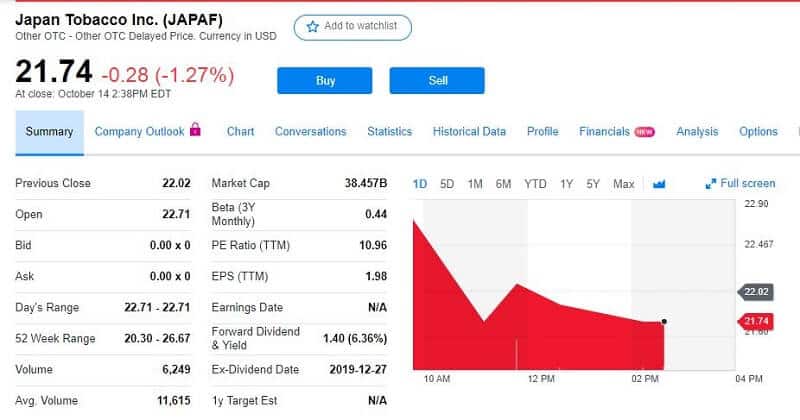 Ticker symbol JAPAF
Market Cap $38.457B
Current price $21.74
The first of Asian undervalued stocks is Japan Tobacco, Inc. The company started in 1898 and its headquarter is in Tokyo, Japan.
Its interests are in the manufacture and sale of tobacco, pharmaceutical, and frozen and ambient temperature processed food. 
The company spreads its operations through four business segments. Domestic Tobacco's focus is on the production and sale of tobacco products. International Tobacco covers the production and sale of tobacco products through JT International S.A. The Medical segment's focus is on the development, research, production, and sale of medical drugs. The Food Processing section has engagements in the manufacture and sale of frozen and ambient temperature processed foods, bakery, seasoning, etc. The Company also works in the leasing of real estate.
Sinopharm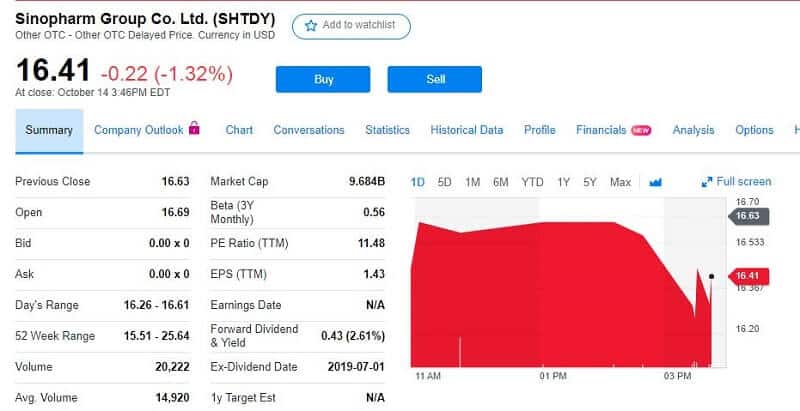 Ticker symbol SHTDY
Market Cap $9.684B
Current price $16.41
Sinopharm Group Co. Ltd. was founded in 2003 and is headquartered in Shanghai, China.
The company's focus is on the wholesale and retail of pharmaceutical and healthcare products in China. Its Pharmaceutical Distribution section distributes medicines, medical devices, and pharmaceutical products to hospitals, retail drug stores, clinics, other distributors. The company's Retail Pharmacy section manages and franchises a network of retail drug stores. They have over 5,100 retail pharmacies. Medical Device section distributes medical devices.
Also, Sinopharm focus is on the production, sale, and financial leasing of pharmaceutical products, chemical reagents, and laboratory supplies. The company also rents properties; distributes medical instruments, Chinese herbal medicines, antibiotics, and biological products. Also, it offers information technology development and medical consultation, investment, goods and technology import and export, business consultation, health consultation, medical consultation, market information consultation and investigation, and convention and exhibition services. In addition, it manages medical project investment, consulting, etc.
CK Infrastructure Holding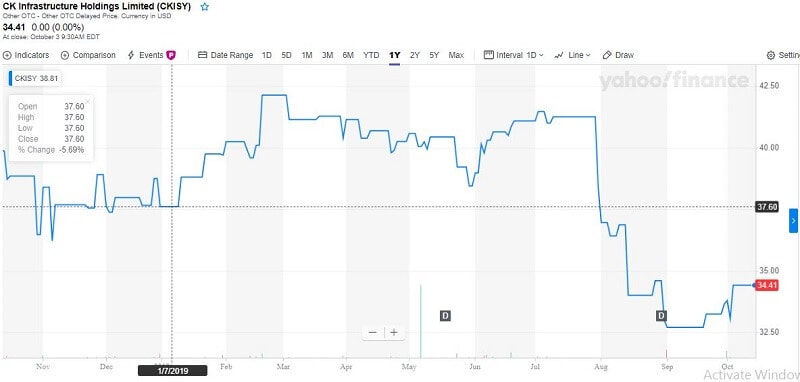 Ticker symbol CKISY
Market cap $18.2B
Current price 34.41
CK Infrastructure Holdings Limited was founded as Cheung Kong Infrastructure Holdings Limited and changed its name to CK Infrastructure Holdings Limited in May 2017. Its headquarters are in Central, Hong Kong.
It is an infrastructure company. It develops, invests, and operates infrastructure businesses in Hong Kong, Mainland China, but it spreads its operations in the United Kingdom, Continental Europe, Australia, New Zealand, and Canada. The main investing focus is on energy infrastructure, transportation infrastructure, water infrastructure, waste management, waste-to-energy, household infrastructure, and infrastructure-related businesses. Its focus is on the production and laying of asphalt. It also distributes, and sale of cement. Property investment and financing businesses are in their focus. Also, waste management services, including waste collection, resource recovery, and disposal services.  In fact, the company is a branch of Hutchison Infrastructure Holdings Ltd. Due to its international operations, this can be one of the best Asian undervalued stocks to buy right now.
Is it good if a stock is undervalued?
The advantage of investing in undervalued stocks is that investors get a high rate of return expansion. This comes because you are buying undervalued stocks while their P/E ratio is low. That will generate great future returns because the P/E ratio will move back into alignment with fair value. The other advantage is that when the stock price is low you can buy more of them and you will receive more dividends. Also, the yield from investing in undervalued dividend stocks is the highest when the cost is low. Hence, the value of cumulative total dividends will be greater over time.
Also, they are less risky. This may sound contradictory, but here is the explanation. Let's say you purchased an overvalued stock and its price drops. It will cause big losses. But if your stock drops from fair to undervalue, the recovery will be more prompt. This is the opposite of traditional thinking that only big risks produce big returns.
How to trade Asian undervalued stocks?
Undervalued stocks have noteworthy potential to yield solid returns. It's up to investors to correctly evaluate and analyze all the different variables related to undervalued stocks. This requires some level of knowledge to recognize if the company is worth investing in.
For example, value investors will wait for the stock price to reach the value below its intrinsic value. The principle is obvious if they can buy a stock at a discounted price, why should they buy it at its current price or even higher.
Investors with strong knowledge over the stock market maybe are the only ones who should trade undervalued stock. Trading undervalued stocks can be risky if traders follow the suspicious analysis. The data proved by analysts and experts must be accurate. The other problem both for traders and investors is that undervalued stocks are time-consuming. In other words, they'll have to wait maybe much longer for important changes in stock price.
Traders-Paradise selects these three Asian undervalued stocks based on several criteria mentioned above but you can choose on some others. But remember, ratios under 1 will show you that some stock is undervalued.
When unsure what's the right move, you can always trade Forex
Get the number #1 winning technical analysis ebook for trading Forex to your email.
Containing the full system rules and unique cash-making strategies. You'll be surprised to see what indicators are being used and what is the master tuning for successful trades. Including case-studies and images.