All problems with online banking

Managing money online can be troublesome. It is smart to use some app to work for you
Managing money online can be a tricky game. Cryptocurrencies, often associated with "geeks" or with those who want to get money quickly, have become a popular form of payment.
According to a recent report by Kaspersky Lab, every tenth user (13%) has used crypto for purchases so far. However, cybercriminals also accept this trend and increasingly target crypto-markets. By transforming the old threats, these new scammers attack investors.
Kaspersky Lab examined the habits of 12,448 consumers in 22 countries.
The crypto users are at constant risk of losing their savings stored through this technology. The hackers develop sophisticated techniques for accessing others' finances. There is an increasing number of companies offering cryptocurrencies as a payment method, where they are now accepted by both retailers and, for example, food stores.
Interest for crypto is raising, and even major sports teams are joining on crypto-exchanges. However, people show more interest in using cryptos for investment as well as for spending money. Hence, their digital assets are increasingly subject to theft. Incidents, where stolen digital tokens worth nearly $ 530 million, are known.
Managing money online
Visiting the favorite online retailers is fast growing the most comfortable way to make must-have shopping.  Their advantages are fast-tracked delivery, exclusive discounts, and free returns. This made online shopping an interesting and vital part of the present life.
It's determined that three-quarters of us have shopped online. Even browsing for goods has become a popular pastime.
Frankly, all of us are doing it when we are on our breaks, traveling to work, or sitting in front of the television.
The e-commerce boom has made it easy to spend money online. You can buy almost everything online, from groceries and gifts, clothes, through to paying service providers, or buying a yacht. The opportunities are infinite and the variety of payment options is expanding.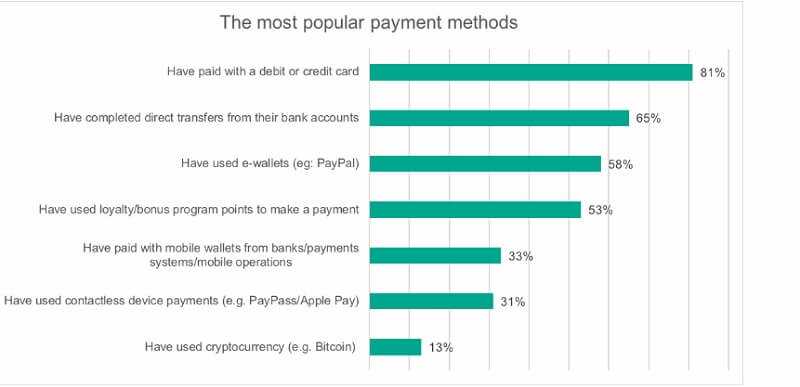 The image source: kaspersky.com
The majority of retailers are encouraged us to use whatever payment method we prefer. Of course, in order to stop us from moving elsewhere. From credit card transactions and bank transfers to cryptocurrency, subscriptions, and loyalty points, we can pay for assets and services in more ways than ever before.
A large-scale spectrum of payment options offers us both choice and flexibility. But it also gives us the difficulty of protecting our financial details in various areas.
Kaspersky Lab figures suggest that 60% of consumers are worried about online banking fraud. The majority of people having various online shopping accounts, digital wallets, and login credentials. So, it can be a big challenge to hold everything in order and remember every PIN, password, and code.
Nowadays it isn't so easy to stay in control.
Some of us have the problem to remember the email address we used to register with a particular service.
Kaspersky Lab has uncovered how people manage their finances online. They examined their attitudes toward financial cyber threats. In detail, how safe their money is, and how they value it against the security or other sensitive information.

And they revealed the risks people are prepared to take when making transactions online. What do the people do to protect their credentials to avoid their hard-earned money to fall into the wrong hands?
Is our money safe?
Online shopping now is standard. So, cybercriminals are ready to take advantage of those who fail to protect themselves online. You can't even imagine how vulnerable our financial information is online.
For example, in October 2018, American HSBC customers' account details were accessed by hackers through an advanced breach. That was affecting hundreds of thousands of people. This is a great example of how important is to take control of our own security and not relying on others. No one will keep our information safe as we can do it by ourselves. What can we do ourselves to minimize the chances of becoming a target?
Trying to write down your financial credentials puts you at risk. Writing a credit card PIN in a notepad, or saving a bank account passcode on a laptop, could expose you more to attack. Hence, result in monetary losses.
Kaspersky's survey revealed that a fifth of people (20%) still rely on their smartphone or other devices as a way of noting down private banking information. This is the potential to fall into the wrong hands.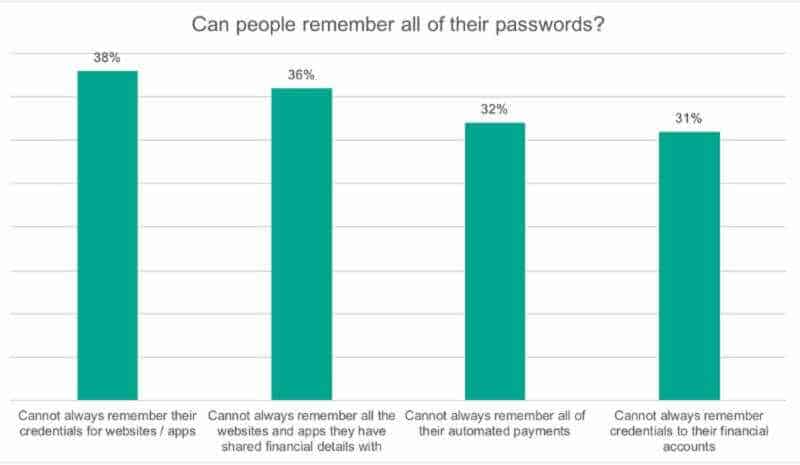 The image source: kaspersky.com
How to remember all our passwords
Kaspersky Lab found a third of people (31%) still struggle to remember their online banking credentials, admitting that they have either forgotten them or do not even try to remember them.
Signing up for subscription services is also incredibly tempting. Because it gives us the opportunity to quickly access our favorite television shows, movies, and products. The registration is easy, but it can become very tricky to track spending. 32% of people who answered the survey do not always remember every service or automated payment (direct debit) they have subscribed to. Signing up for two streaming services, a few magazines, and a gym plan can quickly lead to costly fees from multiple brands.
Password panic when managing money online
Kaspersky Lab statistics show that more than half of people (52%) are worried about being vulnerable when buying products or making financial transactions online. This result means that a small number of them would prefer if this could be done more securely. The survey also revealed that nearly half of the people (46%) would like to pay for goods online more often. All they need is a reliable protection for these financial transactions.
A third of shoppers (32%) revealed that they had a financial incident in the past year. This left many of them (26%) out of pocket. As we all know from personal experiences, they were not compensated by any payment provider or retailer involved.
The good news is that the strong majority of people (83%) believe the most important thing is to set a strong password for online banking, speaking about managing money online.
Bottom line
Managing money online, keeping expenses in order, and planning a budget can be tough. You can use personal finance sites that do everything from tracking your spending to helping you get out of debt to managing your bills for you.
Best of all, if they're all free.
When unsure what's the right move, you can always trade Forex
Get the number #1 winning technical analysis ebook for trading Forex to your email.
Containing the full system rules and unique cash-making strategies. You'll be surprised to see what indicators are being used and what is the master tuning for successful trades. Including case-studies and images.