1 min read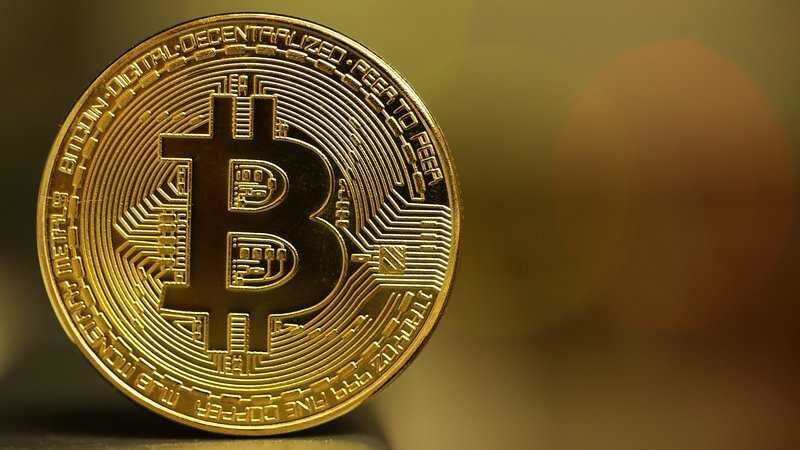 Bitcoin, Ethereum, Litecoin, and EOS have all experienced an unexpected rally in the last seven days.
Bitcoin is up 9.84%, Ethereum is up 21.24%, Litecoin is up 23.13%, and EOS is up 35.72%
This shows that the rally has strength. It looks that fresh money is flowing into the entire area.
"Interestingly, it appears that the momentum behind the recent Bitcoin rise comes more from fiat and stable coins than from other cryptocurrencies," says Michael Noel, CEO Blockchain Consultants. "This move from Fiat currencies shows at least some consensus that BTC value, is better long term than in traditional currencies."
BTC

/

USD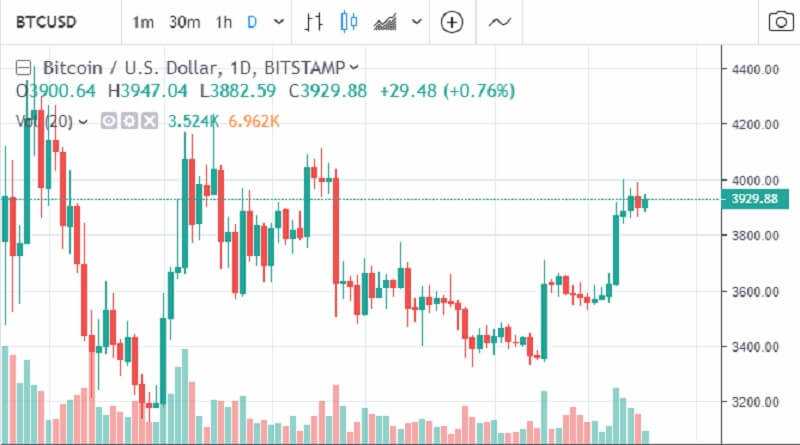 BTC/EUR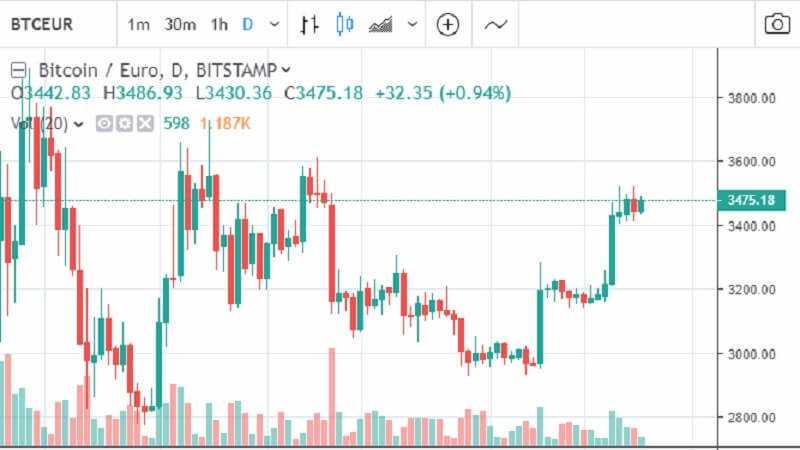 BTC price – 2/22/2019
The last bull flag had a golden cross and this is the main reason why Bitcoin plummeted.
It seems the Bitcoin rise comes from fiat
This new support of over $3,900 looks strong. More money is coming into the market and people want gains like it was in 2017. Fear of missing out is another factor why people will buy BTC. Many claims there is still a bear market but they can't confirm when will it hit a bottom. It looks that BTC will be fluctuating between $3700 – $6,000 for a long period.
Bitcoin price plunge to $3,700 expected, the traders say. A retreat is a blessing for crypto.
Following a rapid surge in the Bitcoin price from $3,614 to $4,000 within a span of three days, traders are expecting BTC to retrace by around 7 percent to $3,700.
The projection on the price trend of the ruling crypto asset comes after the failure of Bitcoin to climb beyond the crucial $4,000 resistance level.
On February 19, it achieved $4,000 across major crypto exchanges including Bitstamp and Binance. But soon, it fell to the low $3,900 region and today, below the $3,900 level.
The price trend of Bitcoin in the past four days is similar to its trend from February 8 to February 12.

In early February, in a frame of four days, the price of BTC surged from $3,337 to $3,711 and pulled back to the $3,500 region.
In the upcoming days, traders foresee Bitcoin demonstrating a similar movement as before.
The bottom line
The near-term minor correction of Bitcoin could positively affect the trend of the crypto market in the next weeks. We can see more stability and a strong spot to begin short-term rallies.
BTC showed an expansive period of stability and initiated a strong rally to $4,000.
If the asset regains momentum in the upcoming days and potentially establishes a strong floor to cleanly break out of the critical $4,000 resistance level, it may benefit the market.
CCN reported that economist Alex Krüger stated that although $3,700 remains as a strong support level, breaking out of the
$4,200 resistance level could trigger a rapid upside movement.
The explanation for the short-term prosperity of the crypto market is for Bitcoin to break out of major resistance levels with strength.
The daily volume of the market has largely recovered. And the interested in the asset class has significantly increased. So, we will see. Bitcoin looks stronger than some expects.
When unsure what's the right move, you can always trade Forex
Get the number #1 winning technical analysis ebook for trading Forex to your email.
Containing the full system rules and unique cash-making strategies. You'll be surprised to see what indicators are being used and what is the master tuning for successful trades. Including case-studies and images.