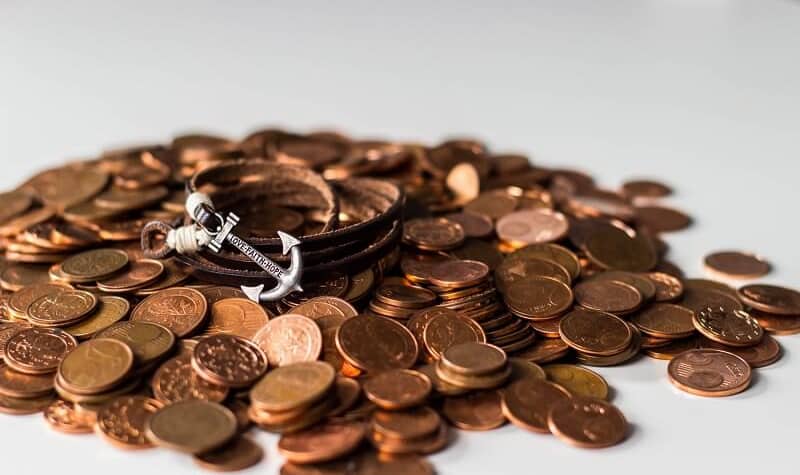 By Gorica Gligorijevic

This company has two subsidiaries Stolle Milk Biologics, Inc., NuVim Powder, LLC. and stock price under one dollar

Maybe you still didn't notice this stock. But don't worry, many didn't. NuVim Inc stock is currently very cheap as penny stocks. It was traded at $0.0133 at the close of trading on October 21. But it is a stock worth looking out.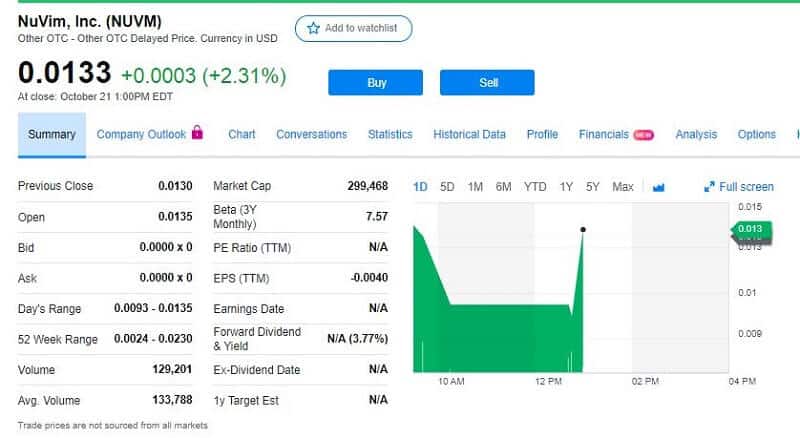 Market cap $299,468
Current price $0,0133
NuVim Inc is a company from New Jersey. Actually, it was established in 1999 and is based in Lewes, Delaware. It sells vitamins and dietary supplement drinks. Why this particular stock is interesting to watch?
Well, its current CEO Rick Kundrat was VP at Unilever's Thomas J. Lipton Inc and managed the merger with Pepsi in 1991. This deserves to be noticed because of the fast-expanding cannabidiol (CBD) market global. Rick Kundrat has talked about a possible merger for NuVim merger partners. If the company moves into CBD-infused drinks it could be huge progress and stocks could be a goldmine.
Cannabidiol is used for pain reduction. Moreover, it speeds up healing muscles and joints when have been weakened from hard exercise. But maybe the most important effect is in the field of arthritis or similar illnesses where it can help to reduce chronic pain. 
NuVim, Inc. produces, distributes and sells beverage products
The NuVim is a dietary supplement accessible in the refrigerated juice sections of elite supermarkets and fitness stores. You can find it in three flavors: chocolate, vanilla, and strawberry.  It helps to sustain the immune system, improves calcium absorption and digestion. NuVim contains a clinically proven natural prebiotic fiber. 
NuVim INc is a small company with only 3 full-time employees, according to data from Yahoo Finance. From everything we know about this company, it falls into the packaged foods industry. The Company covers a range of user needs, like joint pain, muscle flexibility, wellness, weight control, nutrient supplement, and muscle recovery.
When we put this company under the phrase "under the radar" we didn't have its unrecognition among the investors in mind. The lack of information is obvious. It is very hard to find full information about them. The last info came from the short report:
"During the second quarter of 2019, the company sold 1,000,000 shares of stock to Derek Spence for $10,000."
This was really cheap.
As Traders-Paradise found, Derek R. Spence is Vi3's CEO and Chairman of the Board. He joined Vi3 as an investor in 2012 and became a board member in 2014.

Bottom line
But what we all can see from its 3-months chart is the stock is doing well.
Yes, it is a very low float stock that is actively seeking and interviewing merger partners. The merger could send this stock very high. Grab this stock while it is cheap and wait for it to grow.
It isn't expensive, honestly, it is very cheap. But this company has interesting potential. As support for this opinion, let's repeat where is its focus. It is cannabidiol that is fast-expanding and becoming part of medicines, supplements, drinks. This company wants success and seeking for partnership telling us a lot. Grab it.

When unsure what's the right move, you can always trade Forex
Get the number #1 winning technical analysis ebook for trading Forex to your email.
Containing the full system rules and unique cash-making strategies. You'll be surprised to see what indicators are being used and what is the master tuning for successful trades. Including case-studies and images.