The low-cost stocks are extremely volatile but worth investing in

Stocks under $5 can be a good opportunity, they are low-cost but can generate a large percentage gains
Why should anyone invest in stocks under 5 dollars per share? Just read this post to the end. There is no excuse for not investing. You can do it with just $5 per share. Traders-Paradise presents you three stocks under 5 dollars per share with pretty great potential. There is a great risk involved too since they are really volatile. Be aware, all stocks under $5 are volatile. Because of their nature, these stocks may provide you great returns but large losses too.
So, these are our tips on stocks to buy right now and make a profit.
Reebonz Holding Limited 
Ticker – RBZ
Market cap – $16.053M
Reebonz is an online platform with a focus on buying and selling luxury products. Headquarter is in Singapore. The company was founded in 2009, today it is the leading online platform for buying and selling luxury products in the Asia Pacific region. It has offices in Singapore, Thailand, Hong Kong, Korea, Taiwan, Japan, China, Australia, the United States, and many other countries.
On Friday it stated that will release its unaudited business results for the first half of 2019, before the opening of U.S. markets on September 23. So, we will see. 
Until then, let's see what do we know about this company.
This platform operates as an eco-system of B2C e-tail and B2C marketplace covering more than 1,000 brands. It is supported by C2C which provides private members to sell luxury products. Shopping is very easy since the company's UI is user-friendly. Reebonz sources collections of many brands from luxury boutiques from all over the world.
The current price per share is $2.58. The analysts estimated the RBZ stock will be one year from now at $11. Our suggestion is to buy its shares.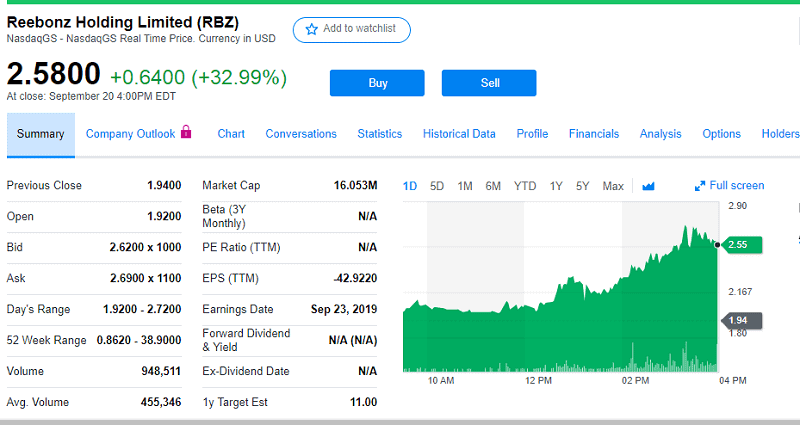 ReneSola Ltd 
Ticker – SOL
Market cap – $71.59M
ReneSola Ltd was founded in 2005. ReneSola Ltd is headquartered in Shanghai, China. The company is listed on the New York Stock Exchange in 2008. It is an international technology provider of green energy products. 
It is a Chinese producer of the range one solar panel with a 10-year product and 25-year performance warranties. Their panels are corrosion resistant, and that fact makes them very convenient for installation by the sea. Renesola has offices in Sydney and Melbourne too.
The company produces string inverters, microinverters, and LED lighting too. It provides the highest quality green energy products and services for EPC, installers, and green energy projects all over the world.
The current price per share is $1,88. So, our suggestion is to purchase since the shares are undervalued for no reason. These shares are good. They already beat analysts' expectations.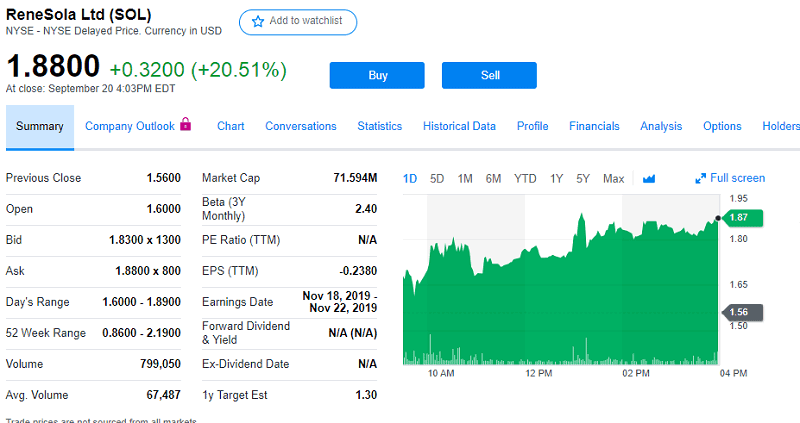 Trevi Therapeutics Inc.
Ticker TRVI
Market cap $82,930,751
Trevi Therapeutics was founded in 2011. Its headquarter is in New Haven, the U.S. state of Connecticut. They are developing nalbuphine ER, treatment for uremic pruritus, improving "the quality of life of patients suffering from the serious symptoms associated with chronic neurologically mediated conditions" as they stated on the official website.
The Trevi Therapeutics' team is highly engaged and experienced in life science clinical development, successful commercialization, and building companies of exceptional value. 
Since launching, Trevi has raised $92.2 million in the financing, according to the filing for its IPO this May. 
Trevi Therapeutics, Inc. is focused on the development and commercialization of nalbuphine ER to treat serious neurologically mediated conditions. The company's nalbuphine ER  is in a clinical trial. The purpose is for the treatment of chronic pruritus, chronic cough in patients with idiopathic pulmonary fibrosis, and levodopa-induced dyskinesia in patients with Parkinson's disease.
The current price per share is $4,5 but analysts predict that easily can be over $16 in the next 12 months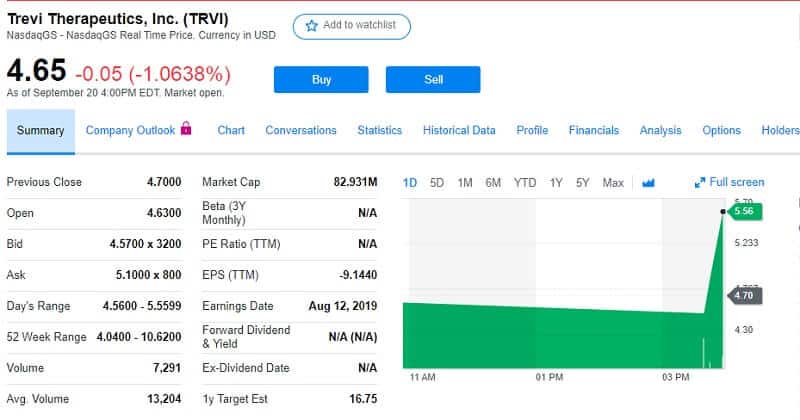 These are only three stocks under 5 dollars worth to buy right now. There are more, of course. The price per share is low, the growth potential is reasonably good. But remember, the low-cost stocks are extremely volatile. The high potential risk is involved but the reward can be great also. Everything is up to you when it comes to stocks under $5. This is just a suggestion. But I would like to give more info on trading so-called penny stocks.

Why trade penny stocks?

As I just gave you a suggestion of stocks under $5 I would like you to know that these are so-called penny stocks. So, penny stocks represent the companies whose stocks are valued under $5. You can find that definition can vary but, in essence, this is the right explanation. At least, it isn't wrong. So, let's put aside the definition. You may ask yourself why should you trade penny stocks.
Trading penny stocks has one reasonable goal: to turn a little money into the big money. Traders' profit comes from small changes in stock price but from large percentage gains. They trade with large leverage. That's the point. Also, that's the way how you can trade with a little money and earn very nice. Once I said don't be shy to buy cheap stocks, stocks under 5 dollars. This is especially valuable for the penny and undervalued stocks.

At the end of the day what really matters is your profit. Happy investing!
When unsure what's the right move, you can always trade Forex
Get the number #1 winning technical analysis ebook for trading Forex to your email.
Containing the full system rules and unique cash-making strategies. You'll be surprised to see what indicators are being used and what is the master tuning for successful trades. Including case-studies and images.