2 min read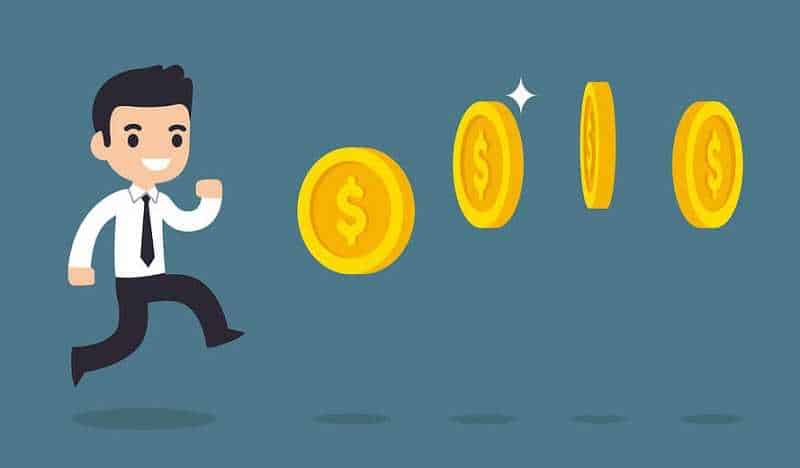 What is the Forex market? Actually simply. It's the global market that provides the exchange of one currency for another.
Also known as foreign exchange, FX or currency trading is a decentralized global market where all the world's currencies trade.
The forex market is the biggest, most liquid global market with an average daily trading volume exceeding $5 trillion. All the world's stock markets together can't even come close to this. But what does that really mean?
Forex has no centralized market. Instead, an Forex market exists wherever the trade of two foreign currencies are taking place.
Do you know it is open 24 hours a day, five days a week? Forex exists to handle investment and trade. The main trading centers are London, Paris, New York, Tokyo, Zurich, Frankfurt, Sydney, and Singapore.
All levels of traders, from central banks to speculators, trade currencies with one another.
The Foreign Exchange market, also called FOREX or FX, is the most exciting financial market in the world.
Whether you sell $100 to buy YEN or a bank exchange $200 million for EURO with another bank, we are speaking about Forex deals. The participants on the FOREX market range from huge financial organizations trading billions, to people trading a few hundred dollars.
Without this tool in place, foreign trade and investment would be obstructed. The major players on this field are the U.S. dollar, the British pound, and the euro. This machinery provides a clearinghouse to trade those major currencies.
Thanks to the internet, you can trade on the FOREX market the way traders from the largest banks and investment funds do.
All you need to get started is a computer with internet access and a trading account with a Forex broker.
If you've ever traveled to some foreign country, you've made a forex transaction. Take a trip to Germany and you convert your dollars or some other currency into euros. When you do so, the forex exchange rate between the two currencies determines how many euros you get for your dollars. And the exchange rate fluctuates continuously because, this market, like many others, is based on supply and demand.
How does Forex market work?
On the Forex market, one currency is exchanged for another. The single most important thing with respect to the Forex market is the exchange rate between two currencies (a currency pair).
You've probably seen it on the news or somewhere on the internet: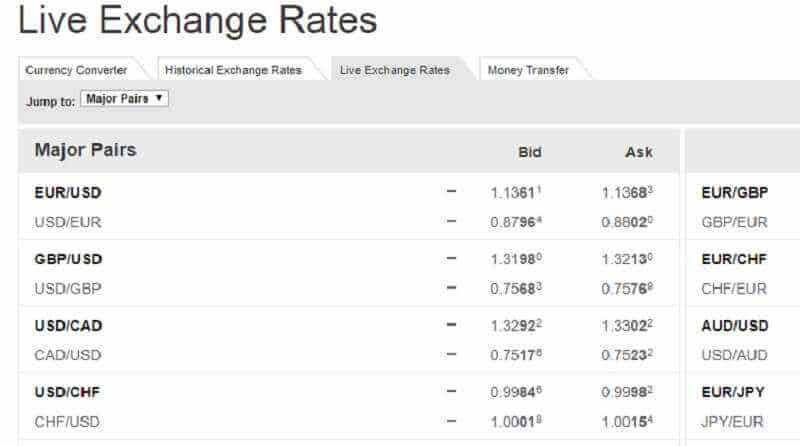 And you noticed the small changes if you paid attention. This small change may not seem like a big deal.
But think of it on a larger scale.
A giant international company may need to pay abroad employees. Imagine what that could do if simply exchanging one currency for another cost you more depending on when you do it? These few coins add up quickly. In both cases, you may want to hold your money until the forex exchange rate is more favorable.
An exchange rate can experience prompt changes. Sometimes several times a second. So there's a lot of activity going on 24 hours a day, 5 days a week.
In overall, the currency exchange rate reflects the health of an economy in comparison to others. If the economies of the Eurozone are doing better than the US economy, the euro will go up compared to the dollar and vice-versa.
You can trade currency based on what you think its value is. Just like stocks. But the difference with forex is that you can trade up or down just as easily. If you think a currency will increase in value, you can buy it.
If you think it will decrease, you can sell it.
Honestly, finding a buyer when you're selling and a seller when you're buying is much easier than in other markets. Maybe you hear on the news that Australia (this is just an example, don't worry) is devaluing its currency to attract more foreign interest into its country. If you think that trend will continue, you could make a forex trade by selling the Australian dollar currency against, say, the US dollar. The more the Australian dollar devalues against the US dollar, the higher your profits. If the Australian dollar increases in value while you have a sell position open, then your losses increase. Hence, you will like to get out of the trade.
In the moment of writing this post the chart looks like this:


When people talk about the "market", they usually mean the stock market. So the NYSE, for example, sounds big.
But if you compare it to the forex market, it would look like this: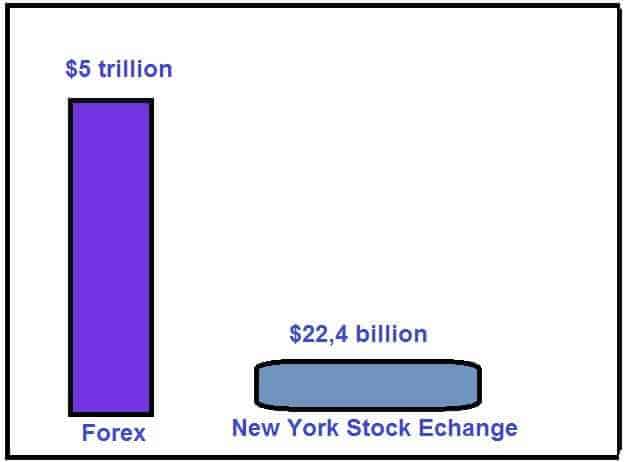 The currency market is over 200 times bigger!
The tremendous number of $5 trillion covers the complete global foreign exchange market. But daily trading volume from retail traders makes up between 5-6% of overall volume, or between $300-400 billion. So, you see. It isn't so big.
The forex market is unmistakably huge, but not as huge as the others would like you to believe.
Just to be honest.
And remember'!
Don't waste your money!
When unsure what's the right move, you can always trade Forex
Get the number #1 winning technical analysis ebook for trading Forex to your email.
Containing the full system rules and unique cash-making strategies. You'll be surprised to see what indicators are being used and what is the master tuning for successful trades. Including case-studies and images.