3 min read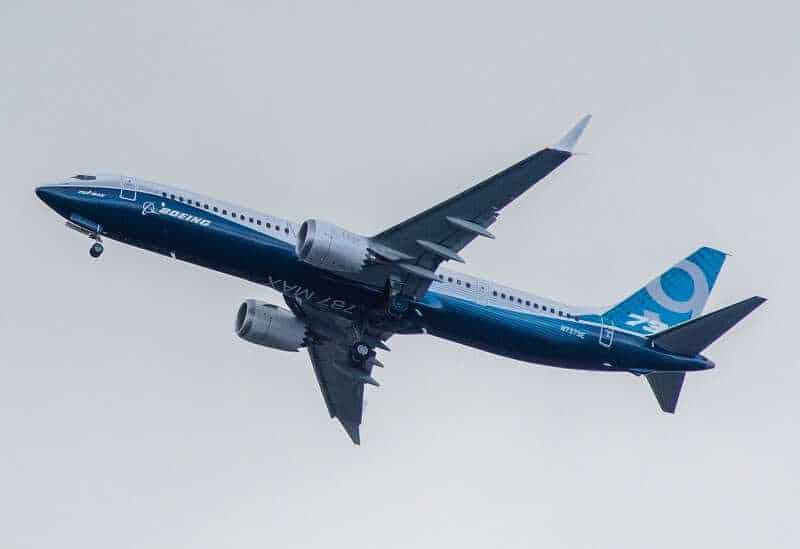 The Boeing shares marked significant down since the March 10 crash.
One of its most profitable lines, the 737 Max 8 recorded the second crash of a 737 in less than five months.
Boeing (NYSE:BA) Co shares dropped by more than 2,2% early on Monday. It happened after a pair of newspaper reports asked more questions about the certification process for its 737 MAX jets before two recent fatal crashes.
A Wall Street Journal report on Sunday said that the U.S. Transportation Department was examining the Federal Aviation Administration's (FAA) approval of the 737 MAX. In particular its anti-stall (MCAS) system.
According to "Refinitiv" data,  Boeing shares have declined by about 10% since March 10. Accidents of its aircraft drained nearly $25 billion off its market capitalization.
Investors started selling Boeing shares Monday morning after the deadly crash of Ethiopian Airlines flight.
The stock dropped nearly 13% in trading since the crash.
It is obvious that Boeing is in crisis.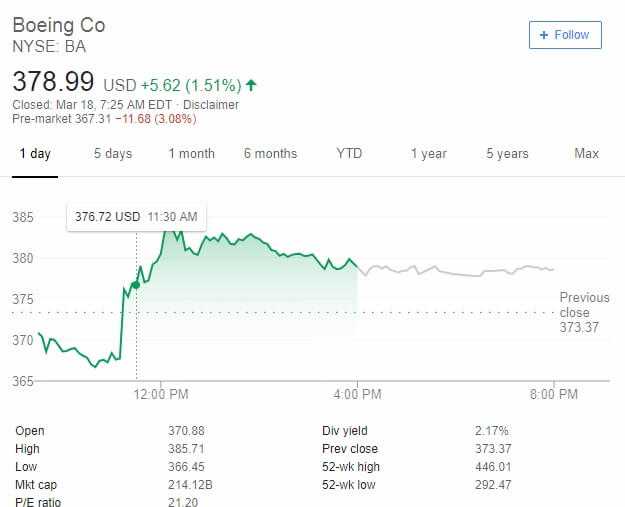 Is Boeing still a good investment?
Boeing has been one of the champions of the 10-year-old bull market. Boeing shares were higher more than 1,000% compared with a 315 percent increase of the Standard & Poor's 500-stock index.
If you invested in Boeing 10 years ago, that arrangement has paid off.
For example, your $1,000 investment in 2009 is worth more than $14,000 as of March 15, 2019. That is a total return of over 1,000 percent. In the same period, the S&P 500 was up 270 percent. Say, your $1,000 would be worth just over $3,700, by contrast.
If you read our posts, you already know.

Any individual stock can over-perform or under-perform. Also, past returns can not foretell future results.
Boeing paused the delivery of 737 Max planes after the Ethiopian crash. It came less than five months after the previous deadly crash in Indonesia. Moreover, it was the same model.
The several major airlines said they would give up ticket-change fees and fare differences for those affected by the FAA's grounding order.
Moreover, the flight-booking site Kayak also introduced a new search feature that allows users to exclude specific plane models.
We feel safer now, indeed.
The Boeing declared plans to roll out a software fix in the next several weeks.
The Boeing will take about 3-6 months to confirm the fix
However, Bank of America analyst Ronald Epstein said Thursday that the fix could take a longer: "Once Boeing identifies the issue … the most likely scenario is the company will take about 3-6 months to come up with and certify the fix," he said in a note.
The truth is, airlines are still planning on flying these planes.
Boeing said in some comment it will "continue to build 737 Max airplanes while assessing how the situation, including potential capacity constraints, will impact our production system. "
Last Monday, Boeing said it would expand a software upgrade to the 737 MAX 8, hours after the FAA said it would mandate "design changes" in the aircraft by April.
So, how to protect your investment?
The expert investor as Warren Buffett suggests you start with index funds. Index funds hold every stock in an index, they have low turnover rates, fees, and tax bills. They also shift with the market to reduce the risk of picking individual stocks.
Some people invest in individual stocks for excitement.
It can be a game, with emotions as volatile as prices of underlying stocks.
But are you sure you want to waste your time picking individual stocks?
Okay, maybe you really want to spend the time necessary to follow the market. How we can know what kind of character you are?
Maybe don't mind the brokerage fees at all.
Oops, yes!
You have allocated the rest of your portfolio wisely to pad against possible losses.
The wide majority of investors invest in equities through funds, not individual stocks.
And you may be asking why.
Individual stocks are not easy.
Investing in individual stocks without the knowledge to perform fundamental analysis can cause you to jump in when at or near the zenith of the stock's performance. If you found a stock in a list of "hot" stock tips, it is possible that its growth phase is at or near decline.
You should be careful.
Every time you make a decision to buy or sell, it will cost you commission fees. These fees can range from $4 to $30 or more.
And you should decide whether to make a transaction or not.
It is possible that you hold onto a stock far longer than you should in order to avoid the transaction costs. Right?
But you're still settled to invest in individual stocks for profit, not for fun.
Then, try a stock screener.
A stock screener neither selects winning stocks nor keeps you focused on long-term goals. It does not make any real predictions or absolute judgments. It merely links to a data source based on the statistics you select.
If you really want a clever way to choose which stocks are performing well and which companies are currently robust and which ones are failing, stock screeners are a great place to start.
Don't waste your money!

When unsure what's the right move, you can always trade Forex
Get the number #1 winning technical analysis ebook for trading Forex to your email.
Containing the full system rules and unique cash-making strategies. You'll be surprised to see what indicators are being used and what is the master tuning for successful trades. Including case-studies and images.