The cryptocurrency market has achieved a bottom?
2 min read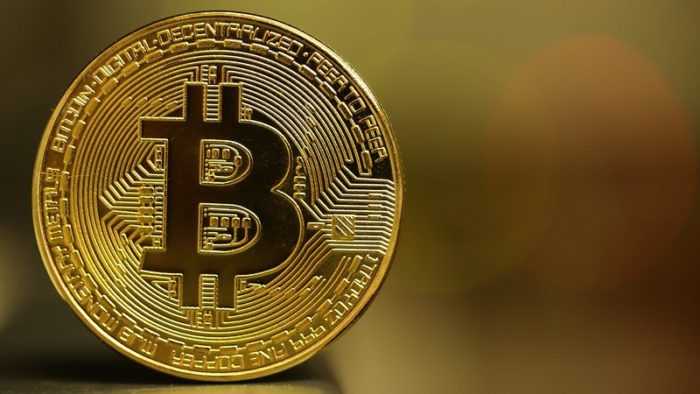 Bitcoin price fall again. 'Bitcoin Black Friday is a one-day event that brings together bitcoin merchants and bitcoin users.
Merchants simply list their bitcoin exclusive deals, and users can check out all the deals in one place. This year, we're focused on quality merchants that care about the bitcoin community states the Bitcoin Black Friday website. It says it will publish all the best deals from merchants on Friday, 23 November. 
Bitcoin price fall by around $2,000 over the last week. It marks the big losses in this year for the world's leading cryptocurrency.
The falling price of bitcoin in past days has led to some cryptocurrency analysts joking that bitcoin has gone on sale. Just in time for Black Friday.
But it is an opportunity for savvy investors. They understand that digital currencies are the future of money. They will be capitalizing on the lower prices in order to build their portfolios and shore-up their positions
"Prices might fall further over the next few days, but we can expect a long-term upward trajectory for the crypto sector", said Nigel Green, founder, and CEO of financial services firm deVere Group.
The future of Bitcoin
The cryptocurrency market has slowed over the past few months. However, Robert Sluymer and Tom Lee, both from market analysis firm, Fundstrat, also believe that this will change very shortly.
Tom Lee is one of the most prominent cryptocurrency bulls out in the space right now. We all can see him on mainstream media sources covering topics related to the cryptocurrency industry.
On Wednesday, Lee doubled down on his $25,000 prediction. He didn't sound skeptical in his belief one bit.
He noted: 'The fully loaded cost of (to mine) Bitcoin next year, is going to be like $14,000, reflecting the difficulty'.
Why he is holding strong on this prediction?
He believes that traditional institutions, like banks, will begin to stack as they see "lucrative" business opportunities arise. Lee also believes that the regulatory climate around cryptocurrencies will only improve as cryptocurrencies reach higher levels of institutional and retail adoption.
Robert Sluymer, also from Fundstrat, sees bitcoin bottoming.

Sluymer pointed out the series of higher lows which the price of Bitcoin should hold at if the market stays in a bearish state.
'We think Bitcoin is starting to bottom off some very key support around $7,000 and we think it's going to start a recovery process here.'
He repeated that he believes that Bitcoin is about to "challenge its downtrend," with Bitcoin's price movement possibly turning to the upside if it breaks through the current downtrend levels.
Bitcoin price is sitting at quite a low level.
And it is similar to the levels seen before previous temporary movements to the upside seen earlier this year.
Truth is that what we need is to see is the bitcoin actually breakout and move through the key levels. Sluymer noted that one of these key levels is at $7800, with Bitcoin struggling to surpass that level.
Over the past days, Bitcoin's range had tightened up and seemed like another wild move will take place. We are not quite sure in which direction. From one side, the market is eager and deserves a correction back to the $5K+ area. But on the other hand, there is still a lot of panic selling, and Bitcoin look like has to go lower.
Some bitcoin exchanges are even offering bitcoin giveaways in an effort to entice people to their platforms.
Crash but still hope
Bitcoin has experienced five major corrections to date, and the recent bear market of 2018 is the smallest major correction to date.
As seen in a table shared by a renowned trader and technical analyst Peter Brandt, bitcoin price fall of 79.7 percent in the past eleven months as its price declined from $19,500 to $4,035.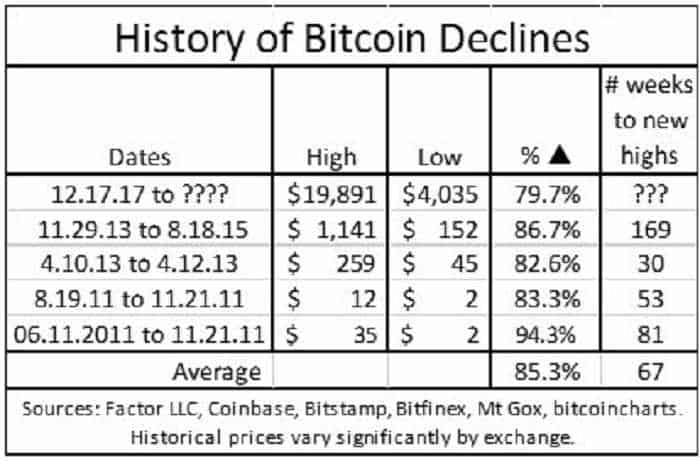 In 2011, 2013, and 2015, Bitcoin recorded drops in the range of 82.6 percent to 94.3 percent, declining by 85.3 percent on average. For BTC to record an 85 percent loss from its all-time high, it would have to drop to $2,950. But, there still is strong support at the $4,000 support level. Even if BTC drops to $2,950, an 85 percent drop from its all-time high is only the average loss BTC recorded in the past four major corrections.
The 79% decline in the price of bitcoin from $19,500 is mainly caused by a lack of liquidity in Bitcoin markets. Trading giant Susquehanna executive Bart Smith noted that there are no viable investment vehicles for a regular retail trader. That means it is still difficult to invest in the cryptocurrency market.
The short-term price trend of cryptocurrencies does not accurately portray the last eleven months of positive developments in the cryptocurrency sector. For that reason, high profile investors like billionaire Tim Draper, Mike Novogratz, and Susquehanna executive Bart Smith are optimistic in the long-term trend of Bitcoin.
It is too early to confirm that the cryptocurrency market has achieved a bottom and that bitcoin has stabilized in the low price range of $4,000 to $4,500.
Depending on the short-term price trend of bitcoin throughout November, could trigger an accumulation period throughout the first quarter of 2019.
Risk Disclosure (read carefully!)
When unsure what's the right move, you can always trade Forex
Get the number #1 winning technical analysis ebook for trading Forex to your email.
Containing the full system rules and unique cash-making strategies. You'll be surprised to see what indicators are being used and what is the master tuning for successful trades. Including case-studies and images.